A couple named Jan Mercado (25) and Rhea Sangil (23) who mauled a Grab driver in Quezon City for refusing to board five people for a GrabCar service are now under police custody. They were nabbed for physical injury and malicious mischief.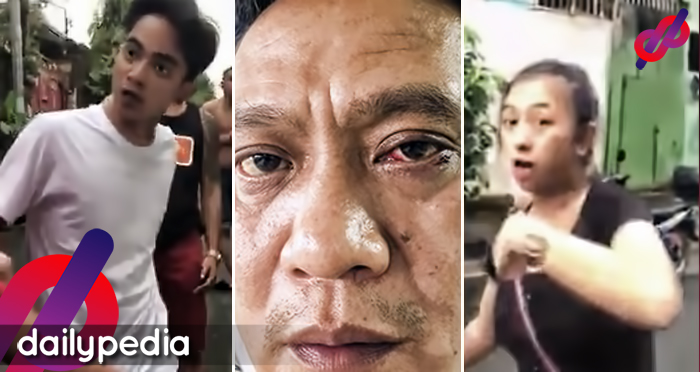 As seen in the viral video, the suspects and three others, including a child, booked a Grab Car driven by 47-year-old Reynaldo Tugade at Apollo Street in Barangay Del Monte last Monday (September 9) morning. While the passengers were about to board the car, the Grab driver stopped them and explained that GrabCar can only accommodate up to four passengers or it will be considered as overloading.
"Babasagin ko yang cellphone mo," the passenger said while someone tried to stop him.
"Security ko 'to 'nak. Anak, security ko 'to. Wala kang karapatang manakit," the driver said while taking video.
"Wala kang karapatan na pababain yung pinsan ko, nagga-Grab yung pinsan ko di ba?" the cousin of the passenger insisted. "Bata lang 'yon 'di ba? Bata lang sasakay sa 'yo. Wala pa ngang dalawang taon yan 'di ba? Ba't pababain mo? Ba't babastusin mo?"
The driver continued to explain about the passenger limit of a four-seater vehicle, while the supposed passengers were insistent while pointing to the kid saying, "Ayan o! Bata lang yan."
Mercado also claimed that he is also a Grab driver so he knows the rules. "Grab rin ako p're" he said while he continues to insist that a two-year-old kid is not considered as one passenger and questioned the rules of grab.
"Kung grab ka alam mo ang rules," the driver answered.
At the last part of the video, it was seen that another girl passenger scolded the driver while showing her face on the camera. "Kukunan mo ako? Sige videohan mo ko, videohan mo ko".
According to the GrabCar, they only allow 4 passengers for a 4-seater vehicle and 6 passengers for 6-seater vehicle including babies. It was also mentioned that when there is 4 of you and 1 baby, these passengers will have to take a 6 seater Grab vehicle.
"Kahit sanggol po ay hindi po talaga iaallow. Kahit bata po ay considered as 1 passenger," Jack Tan, Grab manager said in Raffy Tulfo's interview. "Naioorient naman po sila ng maayos ayaw lang po maniwala ng passengers."
Brian Cu, President of Grab company also cleared that overloading is strictly prohibited. He also mentioned that the company will provide medical assistance to the driver and offered to cover the damage of the said vehicle and they will also provide legal assistance to fight for his case.
"'Yan ang goal natin, makulong sila," he said. "We don't tolerate violent behavior whether passenger or driver, hindi natin tinotolerate yan."
Meanwhile, the statement of Mercado family appeared on Grab driver's group expressing their side. the family admitted that their brother, Jan Mercado has done wrong. They asked the netizens to also listen to their side.
"Hindi naman po talaga yon ang nangyare," a family member named Aby Gail said. She also stated the whole story defending her family.
"Nauna naman talagang sumigaw si manong driver.sinabihan pa nga ni Jan jan na wag sumigaw
kase natatakot yung bata."
It also stated that they were offended on how the driver treated them. "Siya ang unang sumigaw at
naghamon ng suntukan. at nung nag vivideo na siya biglang tinawag na niyang anak ang kapatid ko." she added.