One of the biggest challenges educators face is student motivation.
This issue affects all levels of education from kindergarten to colleges. Concordia University-Portland shares ideas to reward academic achievement that can be applied in almost any setting.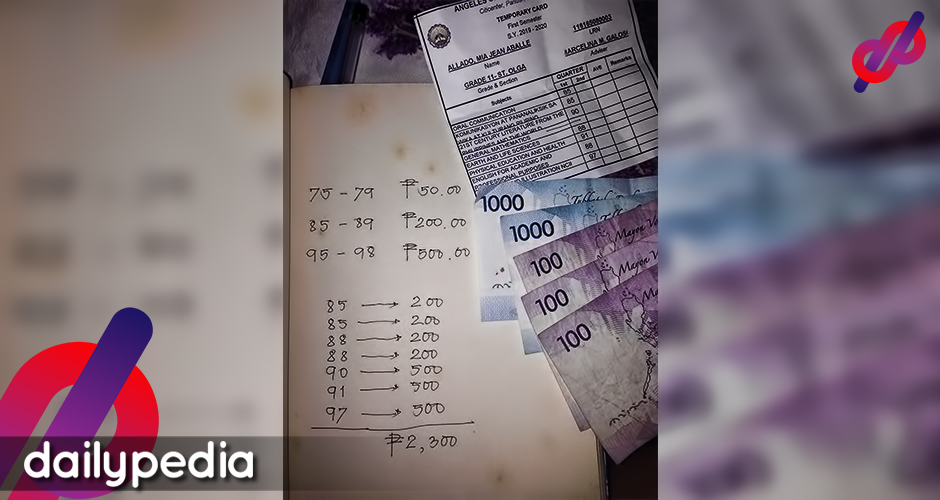 Last September 8, Grade 11 student Mia Jean Aballe Allado posted a status about a reward given to her by her uncle for her high grades. The post went viral.
"Thankyou po sa nagbigay saken.😇☺️Kahit wala pong kapalit yung grades ko magsisikap parin po akong mag-aral ng mabuti kahit di po ako matalino. *Yung Gen.Math ko wala pang grade.✌️
There were a lot of positive reactions from netizens, most of them agreeing on a "high grades-cash reward" system.
Adara Falcon commented "Ang galing naman. mabuti yan oara ganahan naman mag aral ang mga bata."
"ate, sana all" Princess ella Pajo also placed a comment.
Mia said that she strived hard to get high grades for she was promised Php50.00 for a grade of 75% to 79%, Php200.00 for 80% to 89%, and Php500.00 for 90% to 98%.
She also said, "Kahit wala pong kapalit 'yung grades ko magsikap pa rin po akong mag-aral ng mabuti kahit 'di po ako matalino. 'Yung Gen. Math ko wala pang grade."
Extrinsic rewards can facilitate a student's interest in something that they originally did not have any interest in, a study said. It allows the student to acquire new skills and knowledge, which can eventually lead to intrinsic motivation if the student continues to pursue the activity.
This allows them to think outside the box and use their creativity as they further develop their passions or interests.