13 passengers were going to Limasawa Island when their boat was capsized due to bad weather
She reveals the true scenario behind their traumatic experience
They were all rescued except for the woman who suffered from cardiac arrest
In  Southern Leyte, a small bangka with 13 passengers was going to Limasawa Island when it capsized due to bad weather on July 14, 2019.
One of the survivors named Megan Bardillon shared what happened on her Facebook account, revealing the true scenario behind their traumatic experience.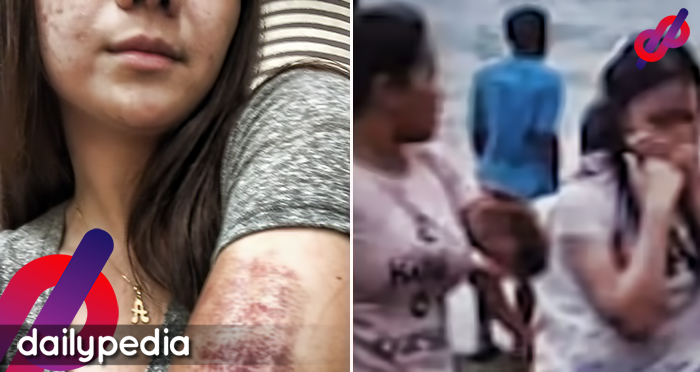 It was 12:45 pm when Bardillon together with her friends Angel Bula and Raul Marteja Oronos arrived at Padre Burgos. Because the weather wasn't that good, she remembered her father's warning not to ride a small boat.
Despite her father's warning, they decided to ride a bangka. At exactly 1 pm, the boat left the port.
It was her first time seeing such massive waves which made her shout and breath heavily. She felt like she was on a roller coaster ride. A priest named Father Arthur, who was a resident of Limasawa Island, kept laughing at her the whole time while her friends were seated in front of her right next to each other.
After 30 minutes, their boat capsized due to bad weather condition. Bardillon was trapped underneath the boat so she removed her life jacket and swam further down to clear the boat.
When she reached the surface, she started looking for Angel and grabbed her hand and pulled her over so they could hold on to the boat. Her friend Raul had drunk a lot of saltwater so he was continuously puking while holding on to the boat.
The boat operator named Rogelio did a headcount to see if somebody was missing out of 13 passengers. All of them were holding on to the boat with their life jacket except for Bardillon. The group started to think a way on how they could get help and survive, so they looked for their mobile phones to see which one was still working. Her phone was completely shut down, but luckily her friend Raul's phone was still working. They hoped he could text the owner of the Dakdak Resort where they were supposed to staying for help, but because he did not have the presence of mind to think clearly, he wasn't sure if he was able to send the message or not.
After half an hour, one of the passengers told the priest, "Father di ko na kaya" as she suddenly passed out. While it seemed as if she had initially passed out, she suffered cardiac arrest and left behind her nine-year-old granddaughter in their care.
Bardillon cried while looking at the woman's dead body but she had to calm her self while having no idea how long they would be waiting for rescuers.
Bardillion remembers asking the boat operator if somebody from the island knew that they were arriving, sadly, he answered "No". The priest also asked if they had rope they can hold on to because the waves were getting bigger and any one of them could slip off the boat because of it.
They asked the boat operator if it was possible for him to swim to the island to ask for help. He said it is possible but will take him 15- 20 minutes due to huge waves and it will be very dangerous but still, Rogelio swam desperately to save everyone.
She kept on asking Raul about the time since his watch was still working.
It was already 4:10 PM and they were starting to lose hope but they still kept on praying. She was already shivering and thought about swimming to the island as well but fear and worry made her stay put.
They were all felt relieved when three pump boats came to rescue them. It was the owner of the resort who initiated the search for them after receiving Raul's message. They were all grateful for all the people of Limasawa who had helped them survive especially for the resort owner whom she called "Nanay." It was 4:30 in the afternoon when they got rescued.
With that traumatic experience with her friends, she had learned a lot saying:
"Lessons Learned:
1. Never ride a pumpboat that doesn't have a license. Ask around the community – that is approved by the municipality.
2. Before visiting an island, check the weather forecast, if it says LPA (Low-Pressure Area) stay home.
3. If you're visiting an island, riding a lancha – Seal your phone with a Ziploc or any plastic that will help you use your phone while underwater.
4. In situations like this, always remember by heart the phone number of your parents, relative, or anyone who is close to you.
5. Never underestimate the sea."
Bardillon has since returned to Dubai for work.