Ticong-nicolas Jimma shared pictures of her husband who is a seaman
Her husband can be seen very exhausted
Says that seamen should be treated better
Ticong-Nicolas Jimma had netizens reacting as she shared photos of her seaman husband.
Jimma was on a boat headed to Singapore, and her husband was one of the seamen there.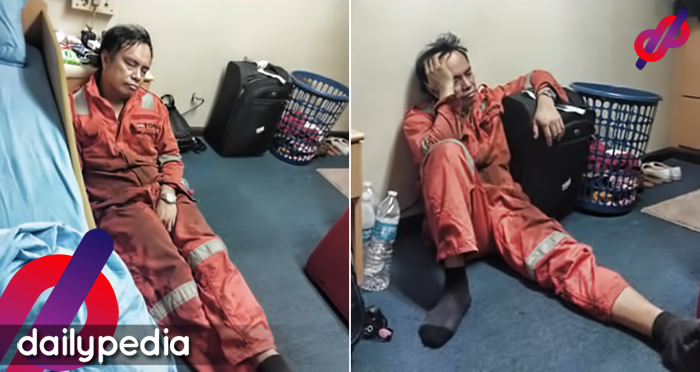 The photos were taken at 3 am and they show her husband sitting on the floor taking a nap while looking exhausted.
One of the crew members of the ship told her that she can see the true nature of the work her husband does. She saw her husband taking a nap on the floor while waiting for the next task. That sight made her realize the hard work that her man has to go through on the regular.
"I realized that my husband's work is not a bed of roses not just my husband but for all those seamen."
She says that seamen shouldn't be looked at as paychecks, instead they should be treated a little more special for their hard work.
"I think our partners deserve extra care and love when they are not on board instead of nagging telling them 'You go now. Call the office because we need $$$."
Jimma understands that the occupation does bring in a lot of money, but most seamen waste their money on vices and it shouldn't be that way.
Jimma also says that the family and friends of seamen should know that not all of them experience happiness even with the income. The occupation itself takes a lot of dedication and effort.
"For those relatives who always think that your relative seaman are sleeping with money just watch this pics maybe it's a wake up call where some of families are fighting because of seaman's money…there's no excuse here maps official or ratings there's no excuse this is their real life."
Netizens reacted.
Tama din na naisasama pag may chance ang wife sa barko para makita talaga hirap ng trabaho nila
 tamah hindi madali ang trabho nila .handa sila mag buwis buhay . tini-tiis wlang tulog 24hours po .actual nakita ko gaano ka pelegro ang trabaho nang seamn .kaya .yung perang penapadala nang husband nyo.i gasto nyo nang maayos
akala talaga ng marami npakadali ang trabaho ng mga seaman..d nla alam ung hirap at pagud na knilang pnahdaanan..
Wawa tlaga ,,seaman at sundalo ,,,tapos ung mga asawa nila bili dun bili dito ,,maarte pa sa pagkain,,laging namamasyal at may mga bisyo na rin ,,may kabit pa ung iba,,padalhan sila pera ng asawa nipa ginagasto lang nila sa lalaki nila at bisyo,,
Sana maintindihan din nila ang sitwasyon na ito, ang problema kasi sa tao ay pera agad ang nakikita pero yung taong nagsasakripisyo ng todo ay hindi nila makamusta kung okay lang ba siya, masakit isipin na yung padala, souvenir, etc mo yung inaabangan lang nila, hindi man lang nila na appreciate yung presense mo na nakauwi ka ng ligtas