Grab driver posted pictures of the panty that was left behind
Netizens react
Grab drivers are used to their passengers leaving their trash inside the vehicle but some are more unusual than others.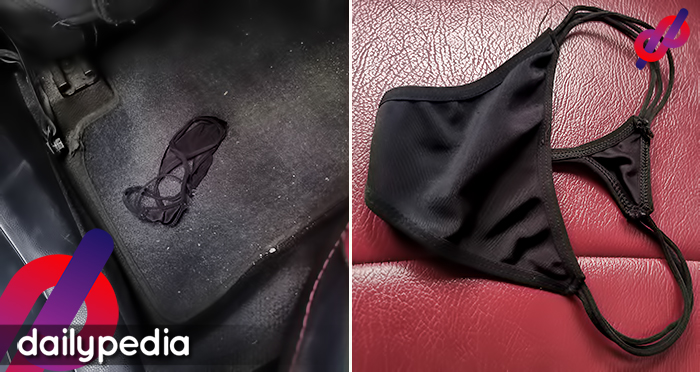 Leiah Codera shared a funny story about one of her Grab passengers.
Codera drove her first passenger to NAIA. At the same time, she had a pending trip to pick up a passenger at the same place. Codera helped her passenger with their luggage when she saw that her first passenger had left behind some garbage.
"Binuksan ko ang pinakalikod para mailagay ang kanyang bagahe ng matanaw ko mula sa likod na merong Coco Milk Tea! Sa isip-isip ko OMG!"
"Ano ba naman tong pasahero nato may pambili ng Coco Milk tea walang manners magtapon ng pinaginuman sa tamang basurahan!" she added.
When she grabbed the empty container, she saw that there was something black below. She thought it was her mask but it was actually a panty.
"Pagkuha ko nakita ko sa ibaba na may itim, sabi ko hala ung mask ko nakarating dito sa likod, pagpulot ko, anu to? Like, what the heck! T-BACK? May t-back talaga?"
Her passenger was about to enter the car so she just took the panty with her to avoid any embarrassment on her side.
"E di papasok na ung pasahero ko, ako pa ang guilty, itinago ko binitbit ko pagsakay ko sa harap baka kasi makita na hawak ko yun kaloka hahaha!"
She said she had a lot of passengers in the past that leave trash behind, but this one was different.
"Ang salaula Marie! Anyare. Totoo palang ngyayare to akala ko sa mga group page lang! Lahat na ng klase ng basura nakapag-iwan na yung mga pasahero ko. Pero eto kakaiba talaga eh."
"Amuyin mo pre.. Pg ma anta nag polbo ng pekpek yan nalimutan isuot ulit.."
"Laglag panty gang yan hanggang sa mahilo ka at makaligtaan mong di pa pala siya nagbayad.Haha"
"Nagmadali bang bumaba si marie at hindi na naisuot ang T-back?😁😁😁"
"Hahaha bading pala my ari no hahah gugulpihin ko kagad un pag nakita qng naghuhubad nd q papaalisis ng kotse un ng nd tanggal dalawang ipen hahahaa"
"Yehe may sarangola ka na paps sapinan mo na lng manila paper"