A Good Samaritan becomes a victim of the very same people she was trying to help
The robbers even took her ATM card and withdraw all the money she had on her account amounting ten thousand pesos
A Facebook user named Danielle Ersando reposted a Facebook post of a certain Michelle Gapasin who warned netizens to be careful as she related her experience when she met an old lady carrying a baby with three kids in tow near SM Southmall.
Michelle said she was on her way to work when the old lady asked her for food because she said they hadn't eaten yet.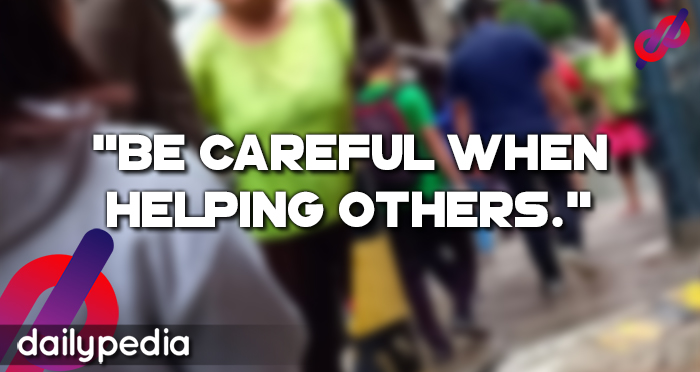 The woman added that they came from the province and didn't have any money. She felt pity for the old lady and the kids who seemed to be crying asking for help. She opened her wallet and saw that she only had a thousand pesos total in 2 500-peso bills. Michelle decided to hand over 500 pesos to the old woman so they could buy some food.
After the old lady received the money, she asked another favor and said, "Iha, tulungan mo naman kami makasakay sa jeep (pa zapote) para my magkarga din ng mga gamit namin. Mabigat kasi at madami din." Since she still had enough time to help the old lady, she said, "'Sige po, total maaga pa naman po at 8pm pa pasok ko,' (7:05pm sa watch ko)," she said.
After they crossed the street to get to the jeepney, the old lady was in a panic because their things went missing.
"hala ineng, andito lang yung gamit namin eh. bkt nawawala?! andito lang namin yun iniwan bago kame nanglimos sayo kanina. nawawala," the old woman said.
"iha, saglit lang ah. dito ka lang. hahanapin ko lng yung mga gamit nmin. dito ka na muna. antayin mo kame makasakay. Iiwan ko dto ung apo ko," she added.
The old lady then left her with a seven-year-old girl whom she believed was the woman's apo. Around 7:30 p.m. she started to worry because she had to report to work by 8 pm, but then the little girl begged her to stay and said "ate, wag mo ko iwan ditto, hindi ko kabisado dito. Natatakot ako baka may nangunguha ng bata dito".
After ten more minutes of waiting, somebody held her from behind and whispered, "HOLDAP TO. AKIN NA PERA MO. SUBUKAN MONG SUMIGAW AT ISANG KALABIT KO LNG SYO, PATAY KA". She felt a gun pointed on her side as she was trembling in fear. She also saw three more men around them whom she thought were the accomplices. She started to cry and said, "Maawa ka sa akin kuya. Wag mo ko sasaktan. May pamilya ako. mag bibigay naman ako eh." She took the 500 pesos she had in her wallet and gave it to the robbers.
But the robbers were not content and had her use her ATM card and withdraw all the money she had in her account which amounted to ten thousand pesos.
"withrawhin mo lahat yan. wag ka nang pumalag. masasaktan ka talaga" the robber said
After they got all the money they asked her to walk as if nothing happened. They let her ride in a white van with four other men who held on to her legs. All she could do was to cry and told them, "kuya, maawa naman na kyo sa akin. Wag naman na po. nakuha nyo na yung pera ko. pakawalan nyo na ko at may pasok pa po ako sa trabaho. parang awa nyo na,"
One of the guys spoke up and said that they should release her because they already have the money they needed.
"oo pre, tara na.. nakuha na natin pera nya. ok na to. sapat na to. at bka my bigla pang dumating na pulis," he said.
To get to her office, she asked people money for her fare and she was so grateful that somebody had helped her. When she reached the office, she broke down and cried.
She thanked the Lord that despite what happened to her, she was still safe and alive.
"Salamat pa din Lord at kahit papaano, safe po ako, nawalan man ako ng pera at least buhay ako.."