A student created a portrait to thank all his teachers
He made his mother proud
Netizens admired his efforts
Whether we like to admit it or not, teachers have always been significant to our lives. They are there to teach us things that we need to know, in order to progress in life.
Most choose this occupation not because of the salary, but because they love teaching.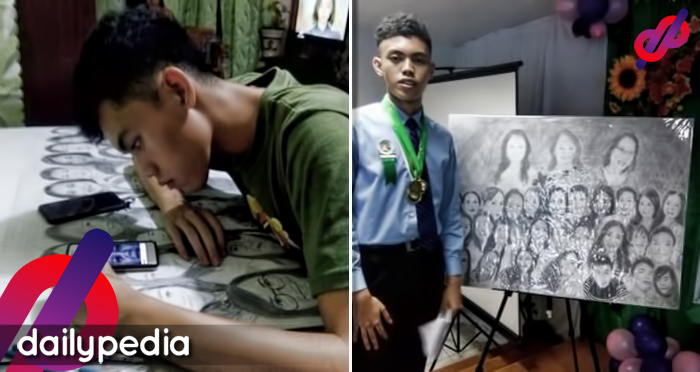 Teachers do not really get the recognition they deserve as students come and go, but one guy thought that maybe he should do things a little different.
Marc Ostria, a 10th Grade student from a prestigious school, decided to draw a portrait of his teachers from nursery to high school. He said he did it as a sign of gratitude, and that some of those teachers really contributed to his being a great artist. He drew the masterpiece while looking at photos from his phone. The artwork took several days to complete.
His mother, Miramar Ostria, posted photos of the handiwork on Facebook.
"Congratulations Kuya. Sa pagpupuyat para lang magawa mo ito. Way para mapasalamatan ang lahat ng naging mga teachers mo, from nursery to high school. So proud of you. God bless. Thank you teachers," Miramar proudly said in her post.
Marc brought the portrait with him during his moving up ceremony. While on stage, he put the portrait in the middle and gave a brief speech. He looked a little shaky as he did not get enough sleep the night prior, because he was still finishing the portrait.
Netizens showed admiration towards his efforts.
Not only is he talented, but also intelligent as he graduated with high honors. You can watch his speech on Miramar Ostria's Facebook account.