There has been tension between China and the Philippines in recent years. This is mostly regarding territorial and economical issues. These days, it is safe to say that the tension has gone to a smaller scale. There have been reports or stories that say Filipinos are getting pushed around by the Chinese in their own country.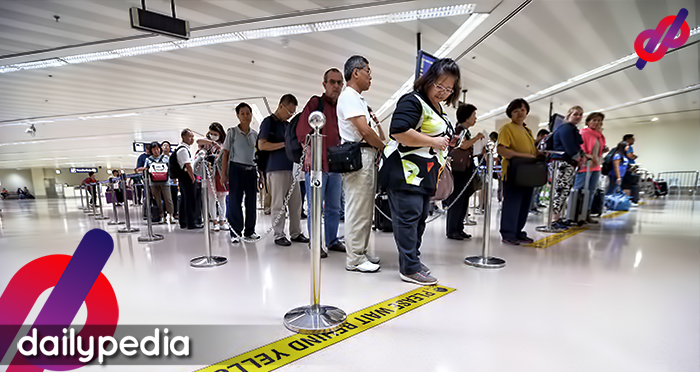 While at Ninoy Aquino International Airport (NAIA)  Terminal 3 pre-departure area, Aileen Lizada, commisioner of the Civil Service Commission, saw that four to five chinky-eyed people, who appeared to be Chinese nationals, walked past the people who were standing in line.
Lizada said, "Papasok po ako sa pre-departure na area, lahat po ng mga Pilipino ay properly pong naka-pila, pati po ako naka-pila po ako. Out of nowhere, four to five what appeared to be mga Chinese nationals, sumuong po sa ilalim no'ng parang barrier."
Lizada also said that the Chinese were laughing at the people who were standing in line and headed straight to the x-ray machines.
"It does not look good on us that's why sinabi ko ho sa Office of Transportation Security (OTS), and the office immediately took action.
"'Yon lang ho ang point ko dito is we have our laws, na pinapasunod ho natin sa lahat na ho ng mga Filipino citizens, they (foreigners) are not above the laws.
"Kasi mukhang hindi ho maganda na tayong mga Pilipino sumusunod sa ating batas and we just allow 'yong mga foreigners na kagaya ho no'ng gano'n na hindi sundin 'yong ating mga patakaran," she added.  "Nakita ko ho how blatantly and how happy pa sila at proud na hindi sila sumunod, na hindi sila pumila."
When in Rome, do as the Romans do is basically what Lizada is saying.
There have also been other incidents where Filipinos felt disrespected by Chinese.
One incident back in February at MRT-3, a Chinese woman threw her taho at a policeman because he would not let her enter since liquids are prohibited inside the station. She was then brought to a police precinct.
Another disrespectful incident happened in a mall elevator where a Chinese woman pushed the wheelchair of her son against another person so they would move. There are many more incidents of queue jumping by Chinese nationals shared on social media.
Pinoys have aired their frustration through social media about the whole NAIA incident.
self entitled chinese nationals who have complete disregard of basic manners whilst travelling overseas. shame! shame! shame! money can't buy you manners eh, do us a favour could you please go back to where you came from?https://t.co/srszWiWBsV

— Durian Gray💚🏹 (@MitochondReon) May 2, 2019
Ni hao!!! Welcome to Philippines, the southeastern province of China. https://t.co/1CftQK1RsC

— DJMNZ (@SasukePunk22) May 2, 2019
Why do we allow ds chingchongs na ganyanin tayo maka bwiset! https://t.co/Ab0dlEtpm2

— jayenayeley (@janilathegreat) May 2, 2019
Follow the rules and laws, everyone follows the rules. Why should a certain set of people who do not follow, are rude, undocumented and some are even illegal aliens are allowed to skip Philippines rules and laws? https://t.co/hx7KN1JfAI

— Dana Gimarangan • Homes and More (@sexyDanaG) May 2, 2019
Rude Chinese tourists are not new. They have been around for a long time but since there is still tension between the two countries, attention on these incidents has been increased. Let's just hope that Pinoys will not tolerate further disrespect.