Lilian Abenoja, an OFW in Riyadh, Saudi Arabia made it home with the help of ABS-CBN's Tulong Center
ABS-CBN's Tulong Center offers free legal and medical assistance to Filipinos in need
During her visit at the Tulong Center, Lilian shared her bad experiences with her employer
An overseas Filipino worker (OFW) who was recently in danger made it home safely to her husband and children thanks to the quick action of the ABS-CBN Tulong Center, the "ABS-CBN Lingkod Kapamilya sa DZMM" radio program, and government agencies.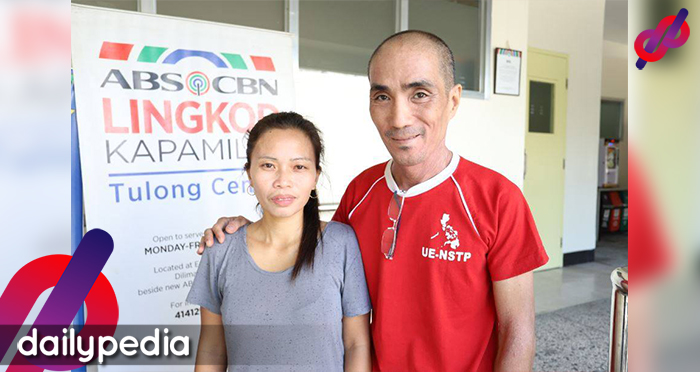 Lilian Abenoja, who worked as a helper in Riyadh, Saudi Arabia, alerted her husband Renato Rimando after repeatedly suffering various forms of abuse in the hands of her employer. Renato rushed to the Tulong Center in Quezon City frantic for help upon getting a call from his wife, who feared that her employer would rape her or worse, at any moment.
The center, which provides Filipinos with free legal and medical assistance through connecting them to appropriate organizations and agencies, immediately gave him with an endorsement letter to the Overseas Workers Welfare Administration (OWWA) and endorsed Lilian's case to the"ABS-CBN Lingkod Kapamilya sa DZMM" radio program with Julius Babao and Bernadette Sembrano-Aguinaldo. They featured Renato and Lilian's situation on air and connected them to OWWA's Repatriation Assistance Unit, making immediate action on it possible. They got the agency's commitment to tap other concerned government agencies here and in Riyadh to rescue Lilian.
Within a month, she was back home with her family.
During a recent visit to the Tulong Center, Lilian shared how her male employer tried to intimidate her into giving him sexual favors, while her female employer accused her of seducing her husband and retaliated by withholding her wages, food, and basic needs. Moreover, even the children she cared for were hurting and mistreating her too.
"We are so grateful for the help extended to us," said Renato. "We know about others who've had to wait for months to be rescued, and the horror stories of starvation, rape, and worse. But thanks to ABS-CBN, who alerted the authorities on our situation attention and acted quickly, my wife was saved from further harm," he added.
Launched in February 2014, the Tulong Center aims to serve Kapamilyas in need of legal, medical and other forms of assistance and has served more than 40,000 individuals and counting since then. While it doesn't provide direct financial assistance like cash, it works with various groups, including hospitals, pharmacies and government agencies to respond to the needs of Kapamilyas who need help. The Tulong Center also connects the clients with DZMM TeleRadyo's "Lingkod Kapamilya" program who air their stories and pleas for help to alert the organizations and government agencies to take action immediately.
The Tulong Center is located along Eugenio Lopez Drive at the ABS-CBN Compound in Quezon City every weekday from 8 am to 5 pm. They can also call the hotline at 4141296 or 4145431, or get in touch via Facebook at facebook.com/abscbnfoundationkapamilya. Pleas for help sent via phone, email, social media, or referrals are acted upon within 24 hours. Volunteers and interested donors and partners can call the same hotline to join the Tulong Centers efforts.
For more information, go tofacebook.com/abscbnfoundationkapamilya. For updates, follow @abscbnpr on Facebook, Twitter, and Instagram, or go abscbnpr.com.