Floyd Mayweather is called 'chicken' by an old Pinay while visiting a mall in Manila.
The Pinay brazenly told the boxer she hates him.
A Netizen posted the video online and it was shown that Mayweather's response to the woman was a thumbs-up and a smile; Mayweather is in the country for a vacation and was recently unveiled as a new Belo endorser.
In a world full of "Dalagang Filipina," a recent trend among social media users that portray young women as timid and classy, one broke the mold by being feisty, albeit already in her late age.
This old Filipina cheekily called the undefeated American boxing superstar Floyd Mayweather Jr. a "chicken" while he was out visiting a mall in the Philippines.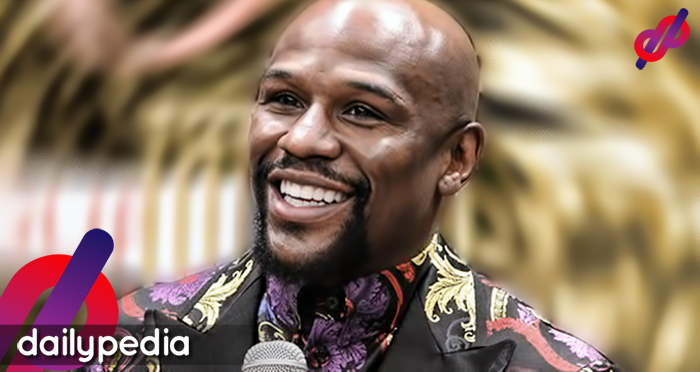 Twitter user EditinKing Boxing posted a video on Thursday of Mayweather going down an escalator in a Metro Manila mall with his security staff; he was waving and smiling at his Filipino fans when a woman off-screen made an outburst.
"I don't like you," the woman yelled to the boxer. "Chicken. You're a chicken. I hate you."
Mayweather seemed to have heard the old woman's hollers and tilted his head towards the direction of her voice. To his credit, he simply gave the woman a thumbs up and a smile.
https://twitter.com/EditinKing/status/1113525807073431552
This particular incident is proof that there are still Filipinos who have not forgotten Mayweather's rivalry with the country's very own champion Manny Pacquiao. Their fight back in 2015 was billed as the Fight of the Century, or the Battle for Greatness and Mayweather won the contest by unanimous decision.
Before their fight, the American boxing star has been accused of cherry-picking his opponents, ducking anyone who may be a danger to him and allegedly wins matches by running from his opposition.
The possibility of a rematch began on September 15, 2018 when both Mayweather and Pacquiao posted videos on Instagram depicting an encounter between the two at Ultra Japan. Remarks were made of a fight happening but formal negotiations have yet to actually occur.
Saw #FloydMayweather– the one in the bright colored hoodie (or at least a glimpse of him) malling here at #UptownBGC magaling talaga umiwas!

Posted by Ed Uy on Saturday, April 6, 2019
Mayweather's second visit to the country was spent on a vacation in Boracay this past weekend, and then returning to Manila where he was unveiled as a new Belo endorser.
He was supposedly scheduled to attend a press conference at Resorts World Manila but was a no-show, leaving media men waiting for over eight hours.
https://news.abs-cbn.com/sports/04/04/19/watch-for-one-pinay-floyd-is-still-a-chicken?fbclid=IwAR3FILwOAsDsFbsfCGgWkConWG5QzjQe-PHhDuKhoQHJTJhctoLNp7hBY5Y