A 23-year-old woman who's been living saddled with Lupus for 7 years raises funds on FB as she is now diagnosed with stage 5 Chronic Kidney Disease

'This is my chance of getting my life back… Any help is greatly appreciated,' says Sarsozo on her fund-raising efforts
Netizens sympathized with Sarsozo and flooded the comments section of her post with prayers and well-wishes
A young woman posted on Facebook her story of being saddled with lupus for seven years, and now wants to raise funds for a possible kidney transplant as she is presently diagnosed with stage 5 Chronic Kidney Disease. Netizens flocked to her post to show support and encouragement.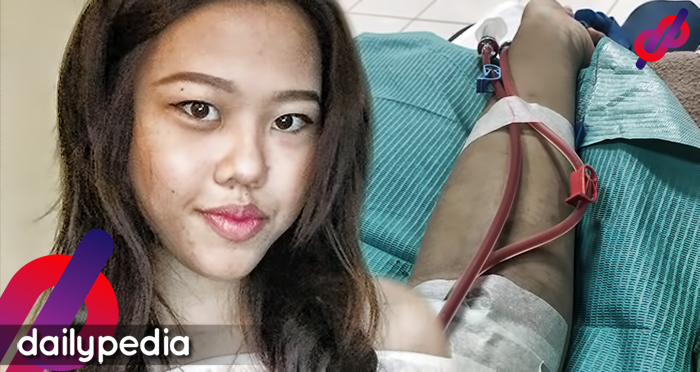 Olga Nicoli Sarsozo, 23, who lives in Cebu, Philippines shared that she was diagnosed with Lupus back in 2012.
It is a long-term auto-immune disease in which the body's immune system becomes hyperactive and attacks normal, healthy tissue and due to its complex nature, people sometimes call lupus the "disease of 1,000 faces," according to Medical News Today.
Sarsozo lived with the disease for seven years and had a lot of complications through it all.
"I had to do chemotherapy sessions while I was going through college. I was in and out of the hospital for five years, while studying Management Accounting. It was a hard battle but I graduated! But this disease has its ups and downs. I experienced seizures, elevated blood pressure, severe anemia, fatigue, edema, arthritis — just to name a few," she wrote.
https://www.instagram.com/p/BnX4W-IgwKl/?utm_source=ig_web_copy_link
"Last June 2018, I had my worst inflammation that led to the failure of my kidneys. My doctor decided to put me in Hemodialysis. I am now diagnosed with cStage 5. This unnatural life support and kidney disease lead to many problems including high blood pressure, inability to make urine, chronic fatigue, anemia, swelling, brain fog, anxiety, muscle weakness, joint weakness, shortness of breath, headaches, and overall discomfort. And worst of all, having to hook myself in a machine for 4 hours, 3 times a week," added Sarsozo.
She is still thankful that the dialysis is keeping her alive but for a young woman like her, this is not the life she envisioned for herself.
"I want to be able to live my normal life again. I have to quit my work because I'm too weak to function. I want to spend quality time with my family and friends. Most importantly, I want my family to have peace of mind that I am doing well. I am hoping to raise funds for a possible kidney transplant but I need your help to be able to afford it," the lupus warrior declared.
https://www.instagram.com/p/BwFLi-SAgkj/?utm_source=ig_web_copy_link
The surgery amounts to about 1.2 million but is cut in half by government assistance. She only needs to at least raise PHP 600,000 for her pre- and post-operation medication expenses.
"This is my chance of getting my life back… Any help is greatly appreciated," said Sarsozo. Her heart-breaking story received eight thousand reactions and nine thousand shares online, with netizens commenting that they are praying for her recovery.
"I am diagnosed with Lupus for 6 years and that is really a tough time, no year that you will be admitted in the Hospital with different complications. And God is still good as He can make the impossible possible. I survived a lot of times and given a lot of chances to live. You just need to hold your faith and be strong. You can do all things with God who strengthens you. #LUPUSWARRIOR," replied Tasha Lauchengco on her post.
Gray Gonzales said "You may not know me and I may not know you personally but I want to extend my prayers to you and your family. I know God will heal you, just have faith. Stay strong and beautiful, baby girl! ♥️🙏🏻♥️"
Interested parties who want to help the patient may donate cash on the following accounts:
Name: Olga Nicoli M. Sarsozo
Metrobank Acct. Number:
700-3-700-05144-8
BPI Acct. Number:
9269 1223 98
GCASH Account & Mobile Number:
0949 802 5863
Sarsozo also made a personal blog on Instagram with the handle @kidneyfornic for her hemodialysis and fund-raising updates.