Madam Kilay and her new boyfriend tried to eat some street food
Netizens admired the Afam's attitude for being simple and easy going
Madam Kilay brings joy to netizens with her newest video
Madam Kilay was so inspired by his new Afam BF as she let him try some street food in the Philippines.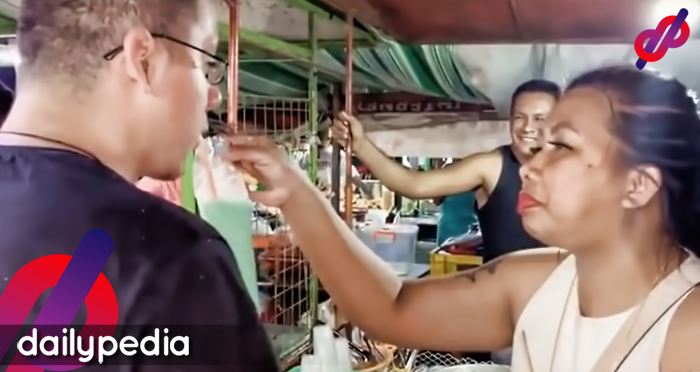 The famous Youtuber Madam Kilay announced her new relationship with a new boyfriend, after posting a video about her separation with her husband. She also continuously updated her friends and followers by posting random photos and videos of their sweet moments on her social media accounts.
On April 18, Madan Kilay uploaded a video on Facebook and Youtube about her plan to let her new boyfriend try eating street food and the Afam BF accepted the challenge.
On her next video, Madam Kilay brought her Afam BF to try some street food. Afam was so game and had a taste of the varied street food offered to him. He was able to try fish balls, kwek-kwek, lumpiang toge, lugaw with egg, pork barbecue, and pandan drink which only cost them 200 pesos.
https://www.facebook.com/MadamKilayOfficial/videos/2884019318274714/
Netizens admired Afam for being simple and easy going as he gamely tried eating the street food.
"Game na game ang afam for the food street. Hindi maarte…hehe galing!
"Nakakatuwa po husband mo hindi maarte, parang kagaya ng hubby ko hindi mapili sa foods😊 lagi ako nanunuod ng videos mo pero ngayon lang naglakas loob mag comment…😊 miss ko na street foods!"
"ang cute naman ni AFAM😍😍 walang ka arte2x kumain ng mga streetfood sa pinas😂😂 kahit nabibilaukan na kain parin sya😆😆"
Madam Kilay's was dancing to the beat of the music with her natural funny flair and this brings joy to the viewers online.
"Hehehehe mag budots ka jan madam kilay😂😂😂yabyuh joker ka talaga kahit kailan tanggal stress😊😂"
"I love u Madam kilay🥰nawawala stress ko sayo😍😍"
"Idol talaga kita madam kilay, nawawala kahit papano problema ko pag napapanood ko mga video mo salamat talaga, ngayon lang ako nag comment sayo pero lagi ako nanood sa mga video mo, idol! salamat, napapatawa mo talaga ako, idol"
"Madam Kilay, nawawala stress ko bagay na bagay kayu ni afam, huwag mo nang pakawalan, hahahaha"
The internet sensation Madam Kilay has now 2.4 million followers on Facebook and almost 400,000 subscribers on Youtube.