Aby Maraño remains positive despite being diagnosed with psoriasis, shows off her patches on Facebook
Maraño also pointed out that psoriasis is not contagious to those who may think otherwise
Netizens sent the volleyball star support and expressed admiration for her fighting spirit
A strong woman on and off the court, volleyball star Aby Maraño took to Facebook to erase the public's stigma against psoriasis by showing off her own patches caused by her chronic auto-immune disease.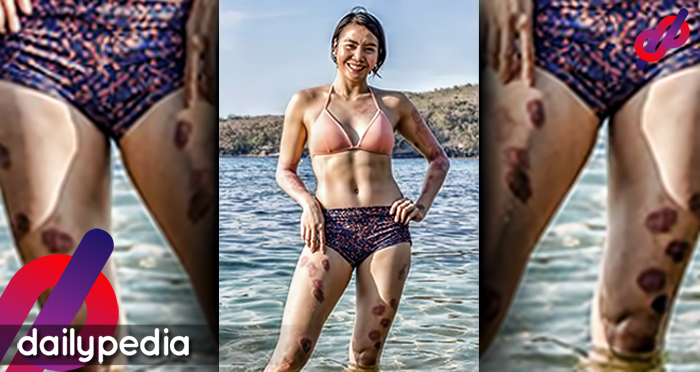 Proudly wearing bikini in her Facebook picture, Maraño, 26, wrote the caption, "Showing my patches like they aren't a damn thing anymore. 💯 I know most of Psoriasis patients don't have the courage to show their skin. I heard some stopped going to school at yung iba ayaw lumabas ng bahay. Sad, I know. There are times that I feel uncomfortable too but my confidence is greater than my insecurities."
She then stressed that psoriasis is not contagious in contrast to what others believe.
"Hindi naman kami nakakahawa. Hindi rin ito sumpa," she said. Generally thought to be a genetic disease that is triggered by environmental factors, psoriasis is said to be a long-lasting auto-immune disease characterized by patches of abnormal skin.
Various treatments can help control the symptoms of the said condition, but there is no known cure for psoriasis, however.
https://www.facebook.com/abypotpot.marano/posts/2624599307582450
"Everyday is a battle. I gotta fight 'cause if I don't, I might just stop playing. Simple psoriasis might lead to psoriatic arthritis that may really affect my condition in playing and I definitely don't want that to happen," shared Maraño.
"So if you know someone who has Psoriasis like me, HUG them as they are not contagious. The only contagious is kindness 💕 I am Aby Maraño, I have psoriasis but psoriasis don't have me. 💪🏻 #PsoriasisWarrior #PsoriasisFashion #Confident #Respect #Abylieve," ended the volleyball player and F2 Logistics middle blocker.
The former La Salle star athlete received an outpour of support from social media users, making her post viral with 63 thousand reactions. Netizens admired her fighting spirit and bravery.
In a report by ABS-CBN News, they listed Kim Kardashian, Cara Delevingne, LeAnn Rimes, and Liam Gallagher as other celebrities who have opened up about living with psoriasis.