A netizen paid for Jollibee meals to 2 street kids, after they fulfilled their promise to him
Patrick Alcantara asked the kids to use the money he'd given them to pay for meals & not use it on other 'detrimental' ends
Alcantara was delighted to find that the kids kept their promise, and so were other social media users
Nowadays, people tend to think twice in giving charity to others who are in need. as some cases utilized given charity for malicious ends–that instead of lending a hand to better themselves, in some instances, one had helped them detract from living an honest life.
This is often directed to street children who ask for money only to be seen buying rugby and hitting it the next.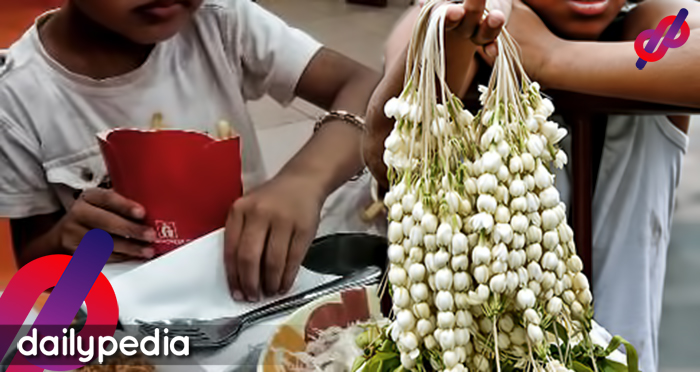 One Facebook user had such reservation when a young girl approached her to sell her Sampaguita leis, while lining up to withdraw cash from a BDO ATM outlet. He gave the child a 20 peso bill, and when he noticed her friend selling his own Sampaguita at the nearby 7-Eleven, the netizen called after the boy so he could also give him money.
Patrick Alcantara wrote his account of the events: "I told them, 'Teka. Bibigyan ko pa kayo ng P100, pero promise niyo na ikakain niyo 'to. Hindi niyo dadalhin kung saan.' Both nodded with a smile on their faces. So after my business with the ATM, I looked out for them at the Jollibee across the street, cos I had the feeling that they were going to eat there. I found no one. When I left, I saw them coming out from the carinderia right beside the fastfood restaurant and they had the 100-peso bill broken down to two 50s."
Alcantara then narrated that the two children headed to Jollibee, after they split what they earned. He joined them and was pleasantly surprised that they were holding the end of their bargain earlier. Delighted, he decided to upgrade the drinks of the kids' Spaghetti meal, so they would be full by the end.
The girl and the boy were very grateful of him.
"Right after the cashier gave me the receipt, the boy handed me the P70 he had and said, 'Sir, ito po oh. Kayo naman po pala magbabayad e.' Of course, I refused to accept. 'Hindi na, dahil tinupad niyo yung promise niyo, tago niyo na 'yan," added Alcantara.
He ended his post with "Masarap talaga sa pakiramdam lalo na kapag hindi ka nagkamali ng tinutulungan e, no?"
Social media users commended Alcantara's good deed and were happy at how the events turned out well for both Alcantara and the street kids.