Pinay OFW shared online her hilarious conversation with Malaysian employer
"Ok maam, I don't cook you…I just cook, sir" line especially got netizens reeling with amusement
Netizens enjoyed reading the conversation and were amazed that Landong and her employer were still in sync, despite the language barrier
An overseas Filipina worker in Malaysia has shared on Facebook her somewhat confusing but amusing conversation with an employer, which had netizens' enjoying with a good laugh.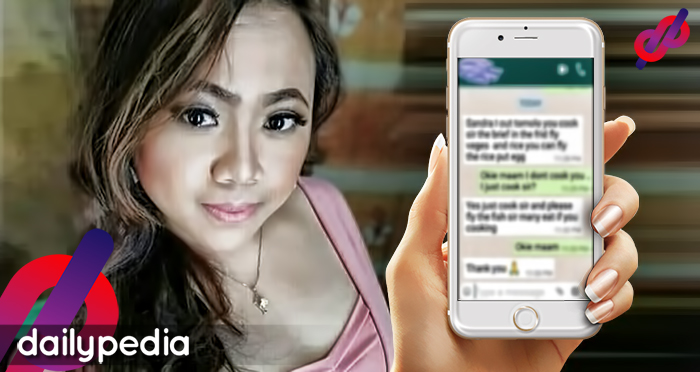 Valleryn Caranza Landong who is originally from Bato, Camarines Sur now works in Gelang Patah, Johor Malaysia. She posted a screenshot of the hilarious conversation on her account:
Employer: Sandra I out tomolo you cook sir the brief in the frid fly veges and rice you can fly the rice put egg
Valleryn: Okie maam I dont cook you… I just cook sir?
Employer: Yes just cook sir and please fly the fish sir many eat if you cooking
Valleryn: Okie maam
Employer: Thank you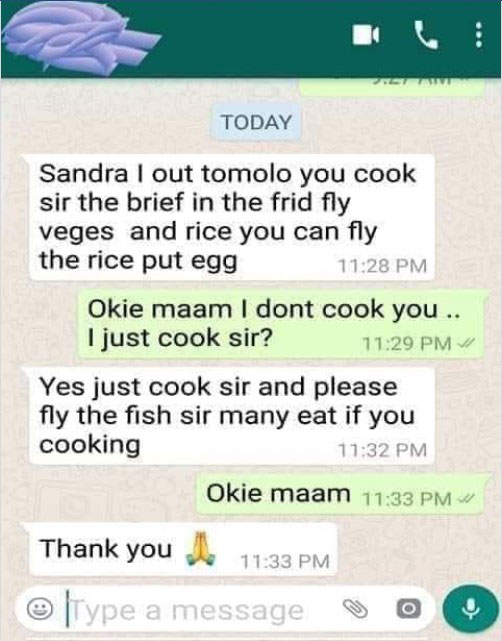 In broken English, Landong's employer wanted her to cook the beef in the fridge, and fry the vegetables and rice while putting an egg on it, while she's out tomorrow.
And despite the confusing string of sentences, Landong was perfectly able to understand what her employer meant. She replied with a broken English of her own, probably for the employer to better understand her, considering that she doesn't speak proper English either.
What had netizens rolling in laughter though was the OFW's response of "I just cook sir?"
Only about 20 percent of the world's population speaks English as a first or secondary language. Language, especially English, is always shifting, evolving, and adapting to the needs of its users—something that Landong and her employer perfectly demonstrated.
Mastery of it is only secondary, in the face of achieving understanding when it comes to communicating.
The female employer also remarked that if Landong is the one cooking, her male employer eats a lot. What is commendable is that she properly knew how to say please and thank you, a sign of good etiquette and respect amidst news of maltreatment that OFWs suffer from their employers on almost a daily basis.