A principal allegedly ordered a Grade 1 pupil to write a promissory note over an unpaid tuition balance
The child was also removed from the list of awardees, due to the school's "no permit, no exam" policy
Promissory note 'does not define you as a parent' says Facebook user to the mother of the child, who works hard to provide for her children
A Facebook user recently shared a post about a school principal who allegedly ordered a Grade 1 pupil to write a promissory note, due to an unsettled school payment.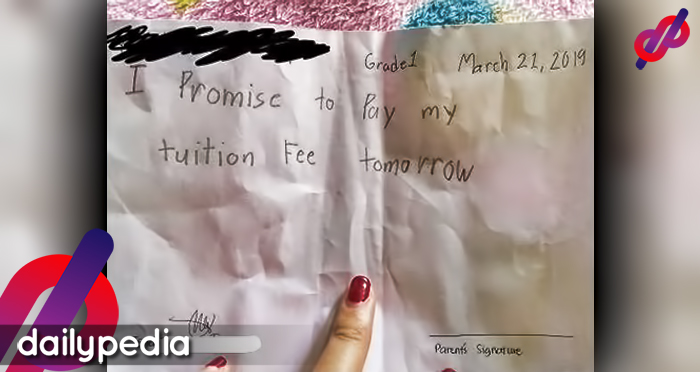 The student was also said to be removed from the list of awardees, even though it was already announced a week before that she was part of the said list.
Clen Limpin, the concerned original poster, shared what happened to the child, who was studying at Our Lady of Lourdes School in Novaliches. She admonished the principal of the school for allegedly embarrassing her friend's daughter over a tuition balance of 3,000 pesos.
In her post, a handwritten note by the child can be seen which states, "I promise to pay my tuition fee tomorrow."
https://www.facebook.com/photo.php?fbid=2475825799136298&set=pcb.2475825815802963&type=3&theater
"Hindi para sa akin kundi sa kaibigan ko ang sulat na'to pero damang-dama ko 'yung sakit because I'm a mom too. Ang tanong ko lang po tama po ba ito? Ang ipamukha ng mismong PRINCIPAL ng eskwelahan sa bata na nagkukulang ang kanyang ina sa kanya dahil lang sa late na pagbayad ng tuition fee? I feel not just for my friend but mostly for her daughter. I can't even imagine the shame na pinamukha niya sa bata. Imbes na papuri ang ibigay ninyo sa kanya dahil I know she is a d*mn good student eh ito ang ipinamumukha ninyo. Nakakagalit. You can call the parent naman diba? Yes, we parents know our dues and we can talk privately without shaming the child! You can put us in shame all you want pero 'wag yung bata! You never know what's going on with our lives para gawin niyo 'to. Ano sa tingin mo ang naiisip ng bata sa mga panahon na pinasusulat mo 'to? Para saan? Ganito na ba talaga ang dapat ituro sa mga estudyante ngayon?" wrote Limpin.
Later, she updated her now viral-post with an additional note, and a few screenshots of a conversation between the mother of the child in the post and another teacher from the school. The photos provided context on why the child was removed from the school's List of Awardees on Recognition Day.
Based on the exchange, the teacher was trying to explain that she overlooked what happened, and that due to the school's "no permit, no exam" policy, it affected the child's status of being an awardee. The teacher was sorry for the incident, but confessed she did not know what the principal did to the young student.
https://www.facebook.com/clen.limpin/posts/2475825815802963
Limpin ended her post with a praise to her friend, who was providing for her two children, with, "Please always remember that YOU ARE A GOOD MOM! I've witnessed all your sacrifices and I'M VERY PROUD OF YOU. You deserve all the praise, and this letter does not define you as a parent."
The viral post has more than 18 thousand reactions now and 14 thousand shares, with netizens crying foul over what happened. A few even lamented on how private schools become profit-driven in this day and age.
The school has yet to provide a statement over this.