A Netizen shared an important lesson after experiencing a heartbreaking situation.
He stated that the public mustn't be too quick to judge others and be more open-minded about the situations of others.
When passengers booked a ride via Grab for transportation services, most often than not, passengers have the tendencies to be impatient especially when the driver failed to show up on time as expected.
But a Netizen posted a situation he experienced that made him see a driver's situation in a new light.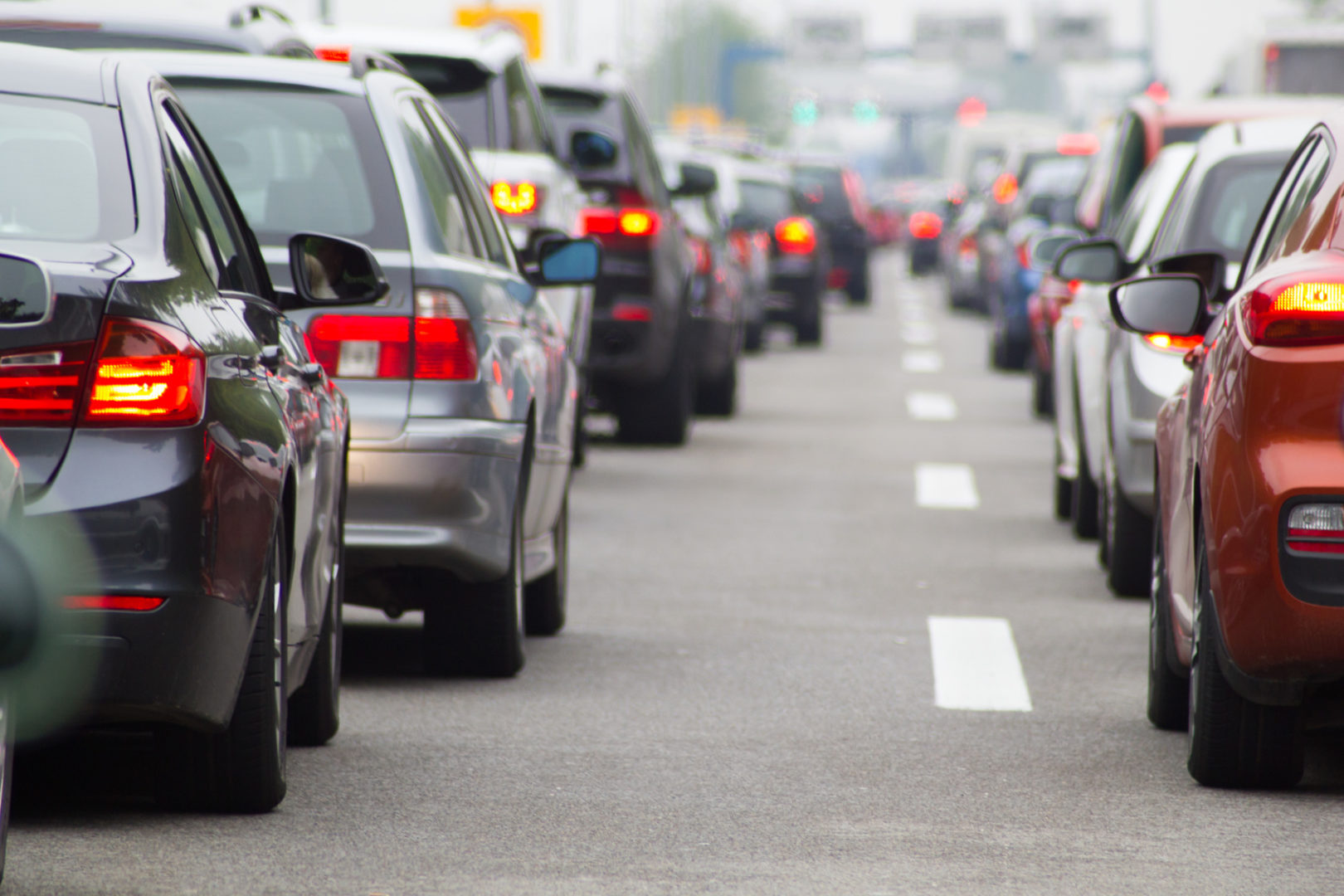 Facebook user Sid Maderazo narrated his story. He said that he was booking for a ride for his helper on the night of November 16 and after waiting for 10 minutes, the driver called and asked for directions. And as the driver's tone is slurry and slightly rude, he hang up. When he saw that the car was approaching the village gate, the Netizen called him up.
The driver then sounded much worse which made Maderazo assume he was under the influence of drugs. After trying to talk to each other, the driver hang up and the Netizen cancelled the booking.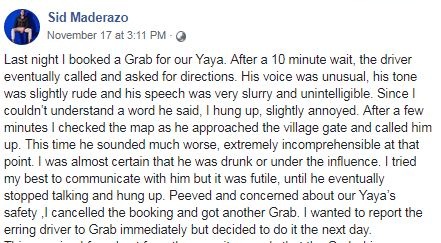 Last night I booked a Grab for our Yaya. After a 10 minute wait, the driver eventually called and asked for directions. His voice was unusual, his tone was slightly rude and his speech was very slurry and unintelligible. Since I couldn't understand a word he said, I hung up, slightly annoyed. After a few minutes I checked the map as he approached the village gate and called him up. This time he sounded much worse, extremely incomprehensible at that point. I was almost certain that he was drunk or under the influence. I tried my best to communicate with him but it was futile, until he eventually stopped talking and hung up. Peeved and concerned about our Yaya's safety ,I cancelled the booking and got another Grab. I wanted to report the erring driver to Grab immediately but decided to do it the next day. 
The following morning, he found out that the Grab driver suffered from a heart attack in front of their village gate. When he called the number that the driver previously used, a woman answered and informed him that he passed away.

This morning I found out from the security guards that the Grab driver suffered a heart attack in front of the village gate and was rushed in an ambulance to the hospital. Apparently he was having a stroke while I was talking to him last night. I called his number and a woman answered the phone, I explained who I was, and that I wanted to know if he was ok and if I could assist in any way. The woman tearfully said , " Wala na po si Papa.." 
He then shared a lesson saying that people should not be quick to judge and be more open minded about possible situations. An update was added, narrating the last moments of the Grab driver named Rudy Salvo according to the village guard  who was on duty that night.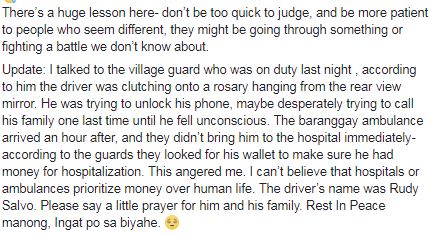 There's a huge lesson here- don't be too quick to judge, and be more patient to people who seem different, they might be going through something or fighting a battle we don't know about.

Update: I talked to the village guard who was on duty last night , according to him the driver was clutching onto a rosary hanging from the rear view mirror. He was trying to unlock his phone, maybe desperately trying to call his family one last time until he fell unconscious. The baranggay ambulance arrived an hour after, and they didn't bring him to the hospital immediately- according to the guards they looked for his wallet to make sure he had money for hospitalization. This angered me. I can't believe that hospitals or ambulances prioritize money over human life. The driver's name was Rudy Salvo. Please say a little prayer for him and his family. Rest In Peace manong, Ingat po sa biyahe.