Filipinos experience another round of oil price hike.
Celebrities and netizens can't help but tweet their disappointment regarding the expensive gas.
You think the price of gas is high now? Well, another round of oil price hike greeted Filipinos on Tuesday as there were substantial adjustments in the prices of petroleum products.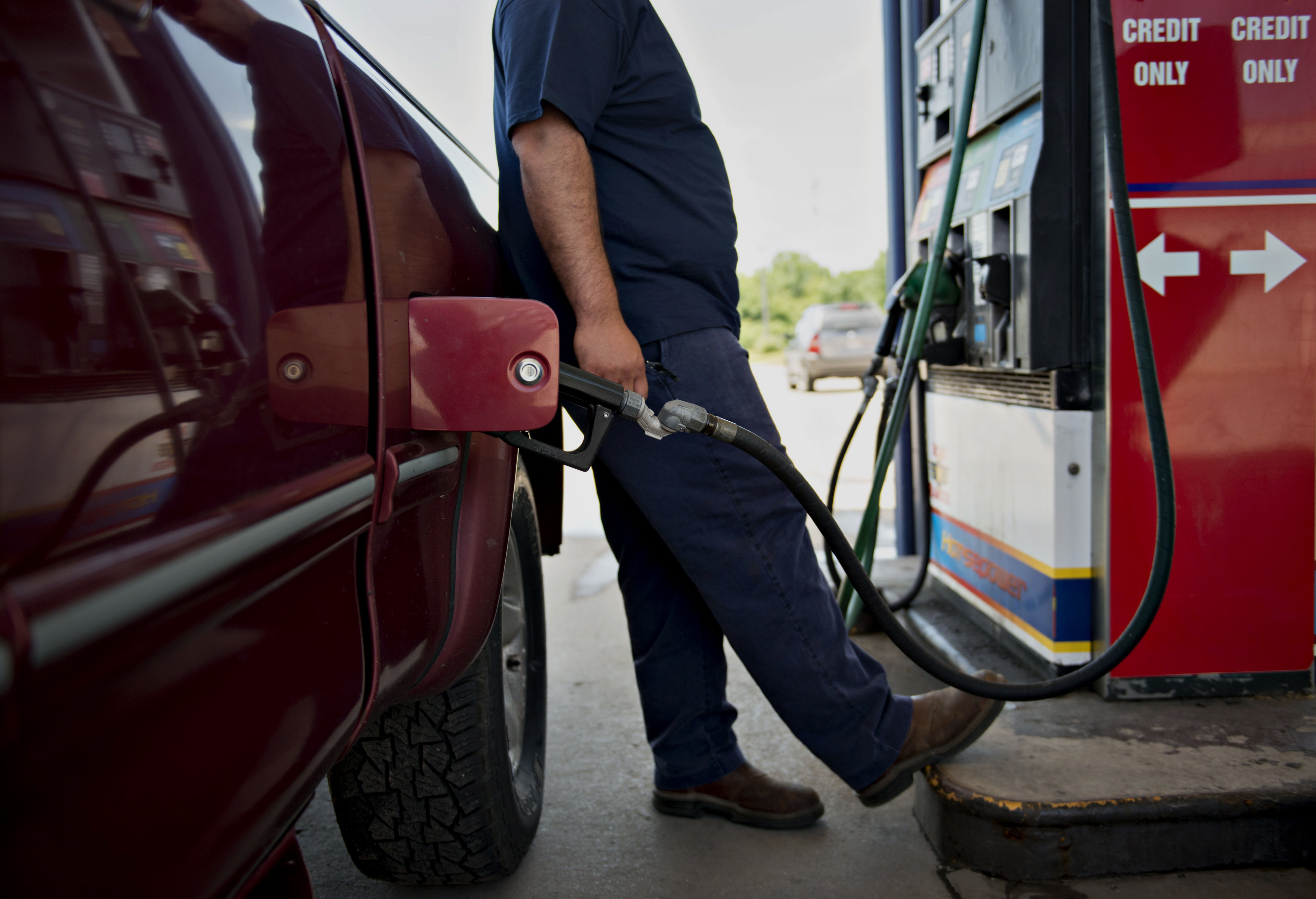 It is said that the price of diesel will rise from ₱1.30 to ₱1.45 per liter while gasoline would increase from ₱0.85 to ₱1.00 per liter.
The liquefied petroleum gas (LPG) will also have a price hike, increasing its current cost by ₱2 to ₱2.50 per kilogram or ₱22 to ₱27.50 per 11 kilogram tank.
With this addition to the Filipinos' expense, television personalities such as Bella Padilla and Maris Racal can't help but tweet about it.

How is diesel 57 pesos a litre now?!?!
A netizen answered Bela's question by stating the factors that contributed to the high cost of diesel.
It's mostly due to the dictate of the world market. But there are factors also contributing to it like the imposition of additional excise tax on fuel cost under Duterte's Train Law and the weakening peso.
On the other hand, Maris shared that she got a headache after going to the gas station for a refill.

I gasped, my head hurts.

God bless, Philippines.

: \
Other netizens also tweeted about the expensive gasoline price. Mayel said that she wants to buy a car, but there's just too many factors to consider.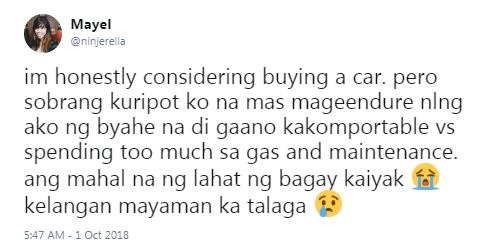 im honestly considering buying a car. pero sobrang kuripot ko na mas mageendure nlng ako ng byahe na di gaano kakomportable vs spending too much sa gas and maintenance. ang mahal na ng lahat ng bagay kaiyak 😭 kelangan mayaman ka talaga 😢
A Twitter user decided to use the situation to be smooth and drop a pick-up line.

Mahal na ang bigas, gas, langis, prutas. Lahat, pati pamasahe, mahal. Ikaw, kailan ka magmamahal?
Another one actually felt thankful that he doesn't have a car.

t*ngina ang mahal ng gas buti n lang wala akong kotse
A Twitter user shared that she actually wants to sell their car because of the gas price.

Konti na lang parang gusto na lang namin ibenta na yung kotse. Hahaha. Napaka mahal ng gas, please lang myghad ughhhh

Tatin compared the gas price last year to this year.

sobrang mahal na ng gas from 38 pesos last year ngayon 60 pesos per liter na!! yung diesel naabutan ko pa na bente pesos ngayon singkwenta na huhu

There is a near ₱20 difference in the price of diesel last year when compared to now. The gas price back then was just around ₱46.