Netizens reacted over Valium scene in the hit film 'Miss Granny' where it depicted the drug as an over-the-counter medicine.
Viva Films clarified and said that they regret the confusion caused by the said scene. 
Sarah Geronimo's latest film, 'Miss Granny', has reached more than ₱85 Million on its first week, but the movie got embroiled in a confusion with its audience especially the Netizens who tweeted about the scene that showed Valium as an over-the-counter drug as opposed to as a prescription drug.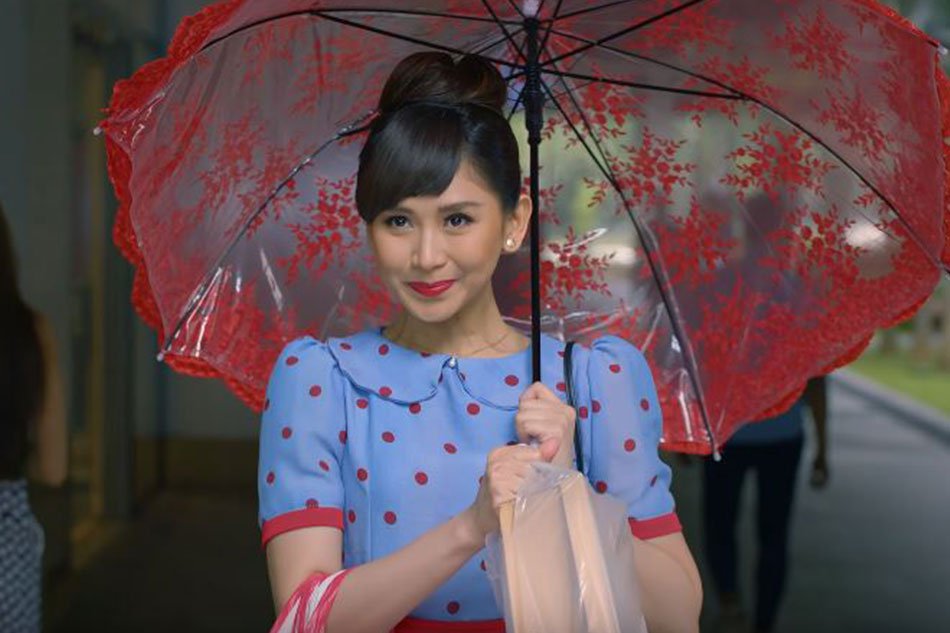 In the said scene, Fely magically found herself transformed into younger version of herself, she felt agitated and disturbed, which led her to rush to a drugstore and purchased a drug called Valium (Diazepam) over the counter.
The viewers tweeted out of confusion as the medicine was easily sold to Fely without any prescription from a doctor.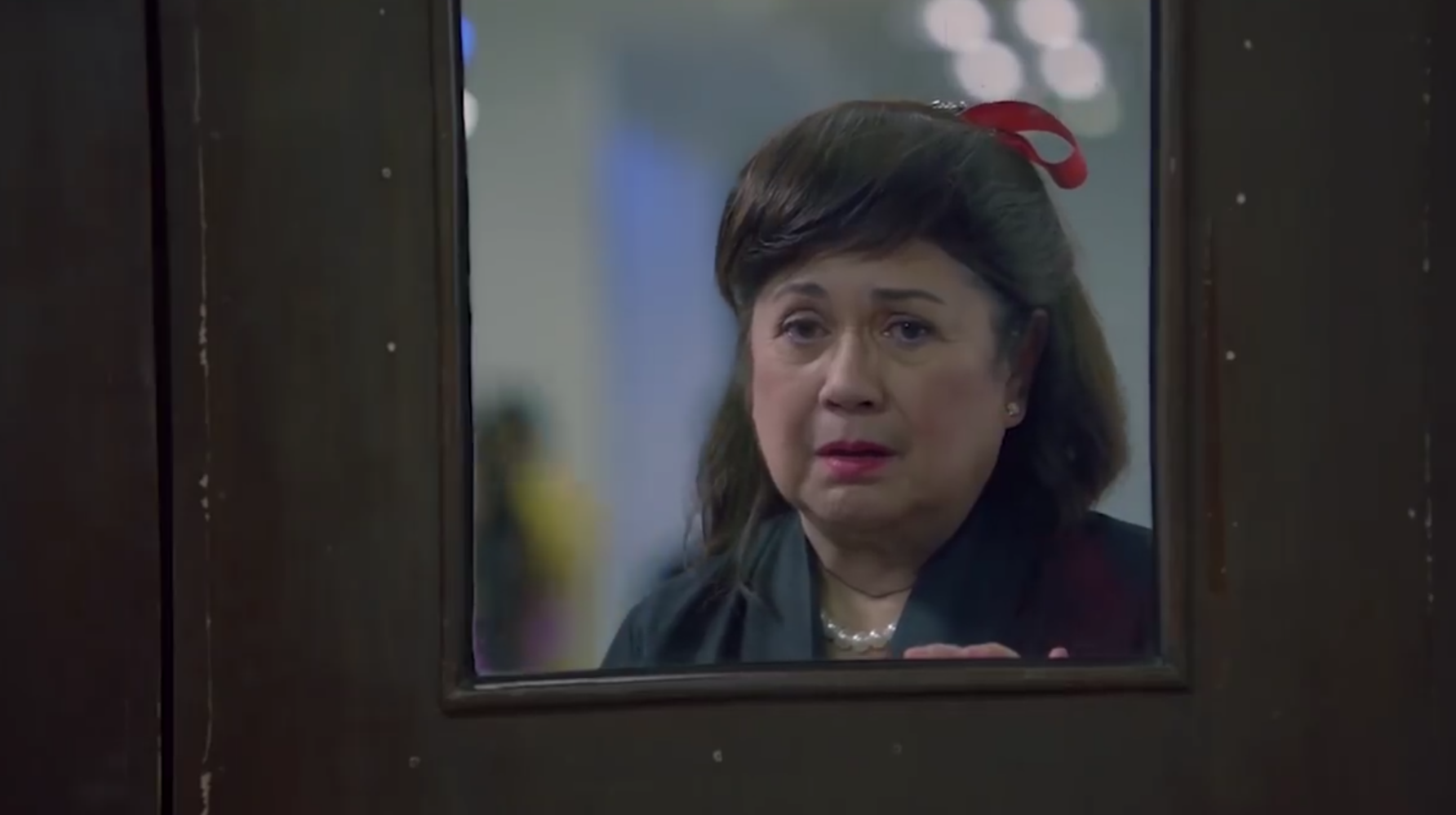 A Twitter user Chin Balares complimented Sarah's performance in the movie, however, she hopes that their profession will be represented professionally.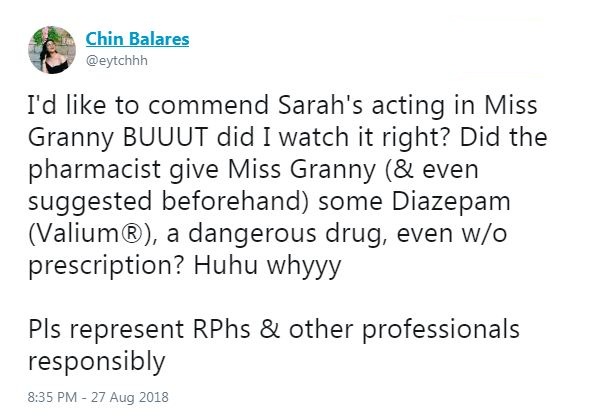 I'd like to commend Sarah's acting in Miss Granny BUUUT did I watch it right? Did the pharmacist give Miss Granny (& even suggested beforehand) some Diazepam (Valium®), a dangerous drug, even w/o prescription? Huhu whyyy

Pls represent RPhs & other professionals responsibly
@chinnitagwapa expressed the factors that was wrong about the scene and how it disappointed her.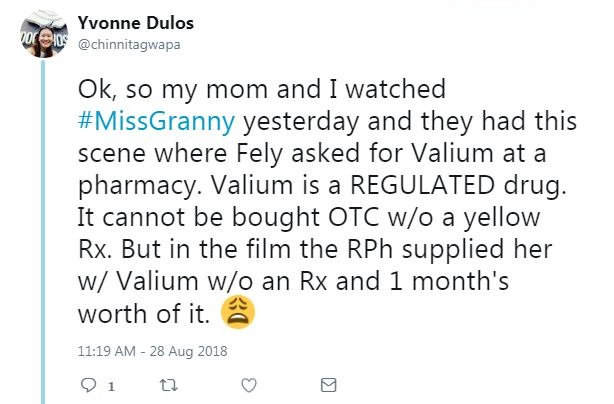 Ok, so my mom and I watched #MissGranny yesterday and they had this scene where Fely asked for Valium at a pharmacy. Valium is a REGULATED drug. It cannot be bought OTC w/o a yellow Rx. But in the film the RPh supplied her w/ Valium w/o an Rx and 1 month's worth of it. 😩

We loved the movie, but that one scene was a little disappointing.
Mark Anthony Bascon worried about the confusion that can happen just because of the scene.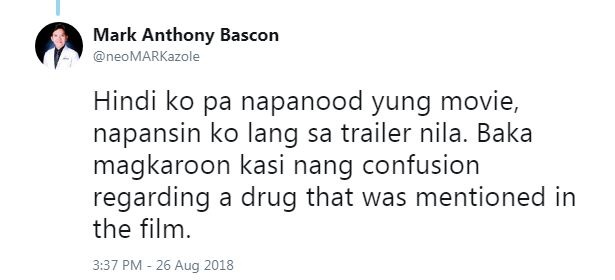 Hindi ko pa napanood yung movie, napansin ko lang sa trailer nila. Baka magkaroon kasi nang confusion regarding a drug that was mentioned in the film.
Another netizen shared that she was watched the movie with two doctors so they noticed the mistake right away.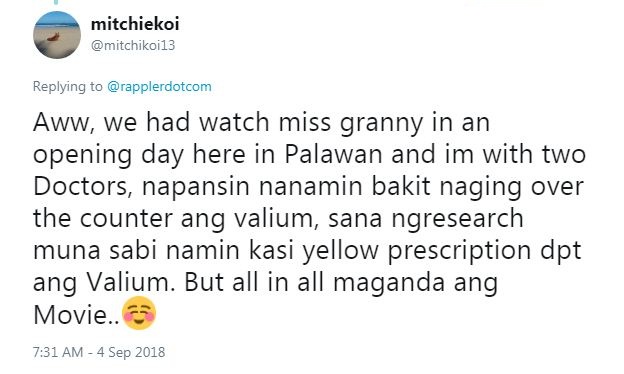 Aww, we had watch miss granny in an opening day here in Palawan and im with two Doctors, napansin nanamin bakit naging over the counter ang valium, sana ngresearch muna sabi namin kasi yellow prescription dpt ang Valium. But all in all maganda ang Movie..☺
@iamjamabdlh implied that the Valium scene shouldn't be a big deal since the story doesn't revolve around the drug.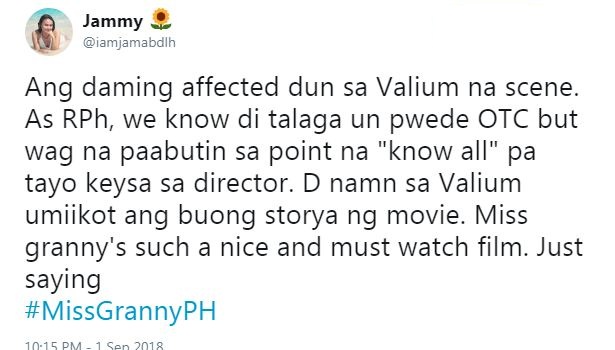 Ang daming affected dun sa Valium na scene. As RPh, we know di talaga un pwede OTC but wag na paabutin sa point na "know all" pa tayo keysa sa director. D namn sa Valium umiikot ang buong storya ng movie. Miss granny's such a nice and must watch film. Just saying
#MissGrannyPH
Another Twitter user expressed how the issue made her watch the film even more.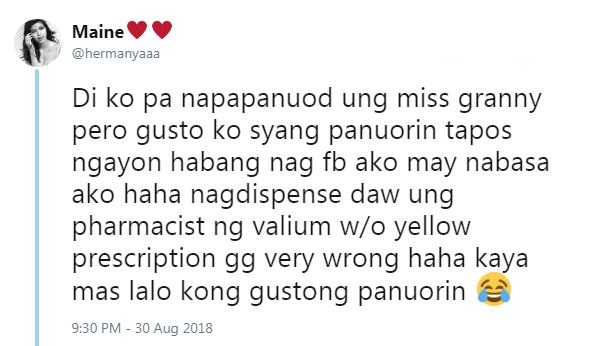 Di ko pa napapanuod ung miss granny pero gusto ko syang panuorin tapos ngayon habang nag fb ako may nabasa ako haha nagdispense daw ung pharmacist ng valium w/o yellow prescription gg very wrong haha kaya mas lalo kong gustong panuorin 😂
Mark Joed tweeted about how much he loved the movie, with the exemption of its Valium scene.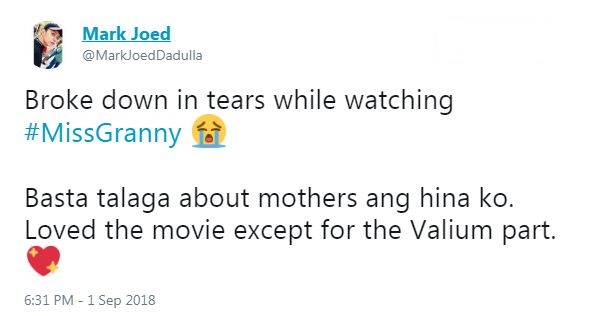 Broke down in tears while watching #MissGranny 😭

Basta talaga about mothers ang hina ko. Loved the movie except for the Valium part. 💖
Viva Films released a statement.
Because of the confusion of those who watched, Viva Films released a statement on their Instagram account. They explained that the understand the harmful effects of Diazepam and "regrets the confusion" over the scene.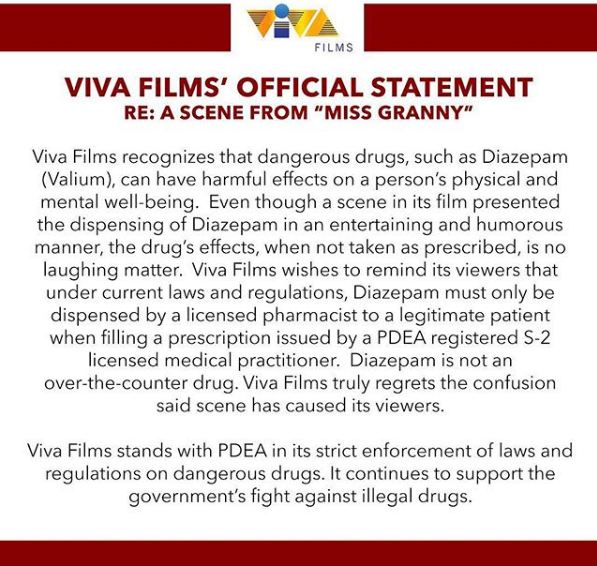 Viva Films recognizes that dangerous drugs, such as Diazepam (Valium), can have harmful effects on a person's physical and mental well-being. Even though a scene in its film presented the dispensing of Diazepam in an entertaining and humorous manner, the drug's effects, when not taken as prescribed, is no laughing matter. Viva Films wishes to remind its viewers that under current laws and regulations, Diazepam must only be dispensed by a licensed pharmacist to a legitimate patient when filling a prescription issued by a PDEA registered S-2 licensed medical practitioner. Diazepam is not an over-the-counter drug. Viva Films truly regrets the confusion
said scene has caused its viewers. Viva Films stands with PDEA in its strict enforcement of laws and regulations on dangerous drugs. It continues to support the government's fight against illegal drugs.