Inigo Pascual expresses his disappointment over parents who leave their children on the road, begging for money.
His followers have mixed opinions about how he worded his concern and suggested that he should learn more about the said problem.
As the Christmas season is rapidly approaching, street people asking for money can't be avoided, especially on the major roads of the metro.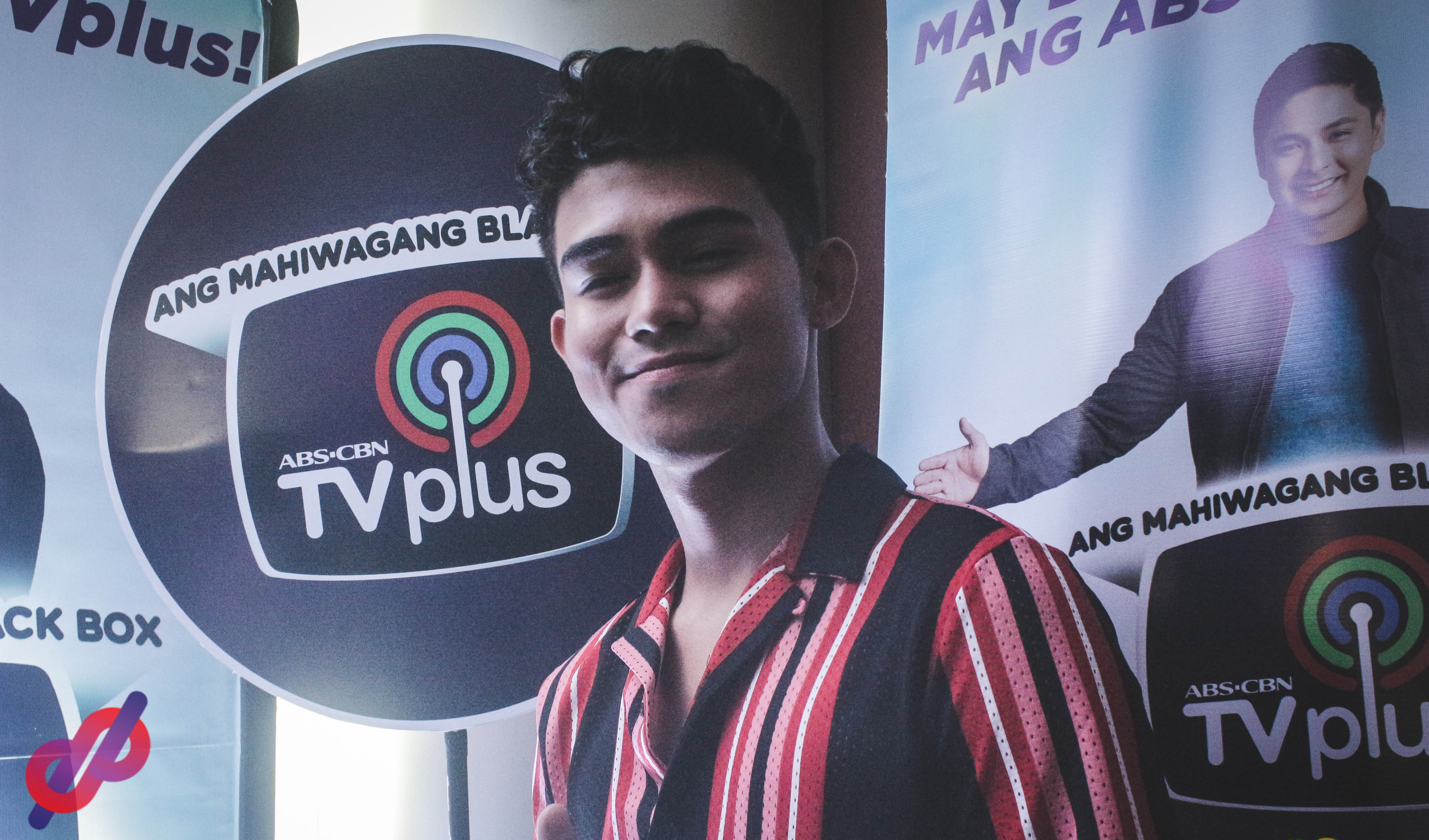 Kapamilya star Inigo Pascual can't help but tweet about what he feels whenever he sees kids asking for alms from motorists. He expressed that kids should enjoy their childhood and have the freedom to grow.
He then added his disappointment towards the parents who chose to let their kids roam around the streets begging for food and money.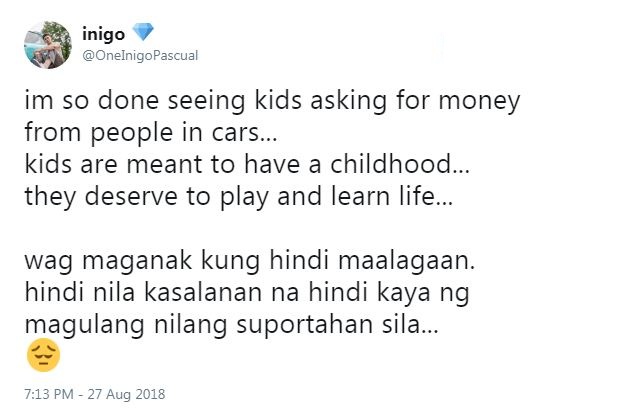 im so done seeing kids asking for money from people in cars…
kids are meant to have a childhood…
they deserve to play and learn life…

wag maganak kung hindi maalagaan.
hindi nila kasalanan na hindi kaya ng magulang nilang suportahan sila…
Pascual seconded the thoughts of a netizen who replied that those said parents even blame the government for everything.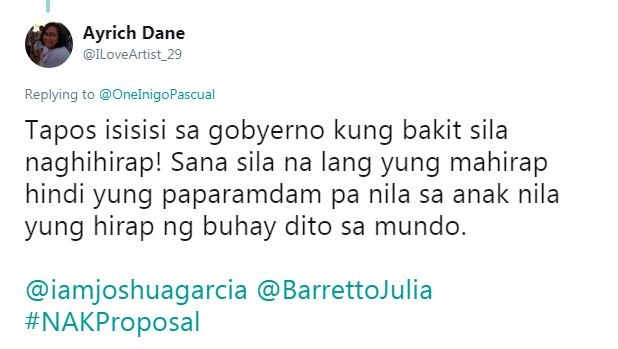 Tapos isisisi sa gobyerno kung bakit sila naghihirap! Sana sila na lang yung mahirap hindi yung paparamdam pa nila sa anak nila yung hirap ng buhay dito sa mundo.

@iamjoshuagarcia @BarrettoJulia #NAKProposal
The young actor said that the government does have its flaws, however, it's unfair to blame every single thing to those in authority.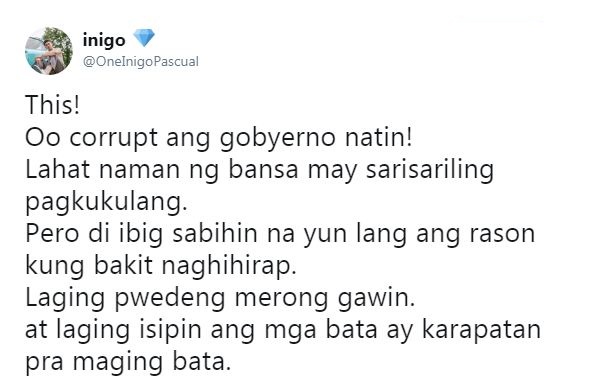 This!
Oo corrupt ang gobyerno natin!
Lahat naman ng bansa may sarisariling pagkukulang.
Pero di ibig sabihin na yun lang ang rason kung bakit naghihirap.
Laging pwedeng merong gawin.
at laging isipin ang mga bata ay karapatan pra maging bata.
His intentions are good, but there are some netizens who hoped that he could have worded his message better. Twitter user @chacastano explained that it's also not the people's fault if they were born poor, thus it results to them doing anything to survive.
She also emphasized that most of those people have no access to the government's social services as they are actually not the government's priority.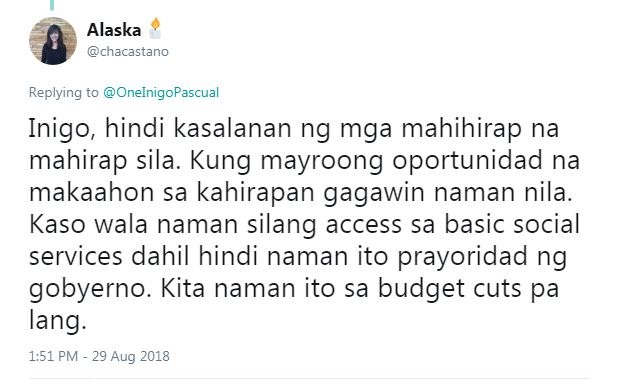 Inigo, hindi kasalanan ng mga mahihirap na mahirap sila. Kung mayroong oportunidad na makaahon sa kahirapan gagawin naman nila. Kaso wala naman silang access sa basic social services dahil hindi naman ito prayoridad ng gobyerno. Kita naman ito sa budget cuts pa lang.
@DeusSexPH suggested that he should use his platform to spread about the importance of sex education.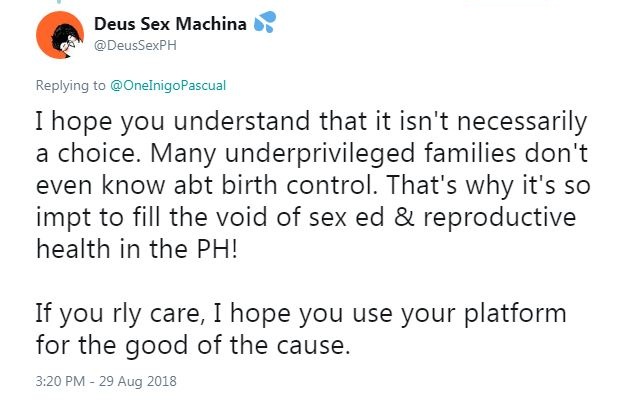 I hope you understand that it isn't necessarily a choice. Many underprivileged families don't even know abt birth control. That's why it's so impt to fill the void of sex ed & reproductive health in the PH!

If you rly care, I hope you use your platform for the good of the cause.
The netizen added that contrary to what Pascual is implying, it is the government's fault for not doing anything about the problem.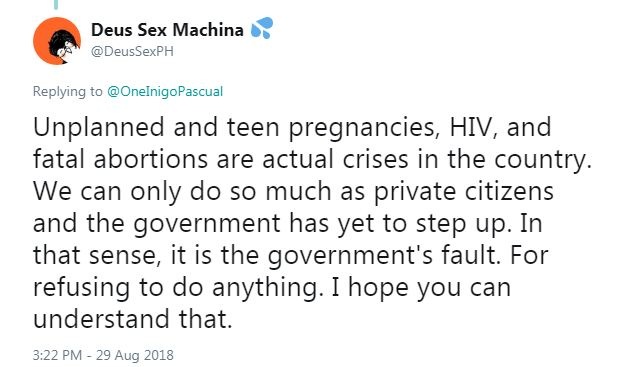 Unplanned and teen pregnancies, HIV, and fatal abortions are actual crises in the country. We can only do so much as private citizens and the government has yet to step up. In that sense, it is the government's fault. For refusing to do anything. I hope you can understand that.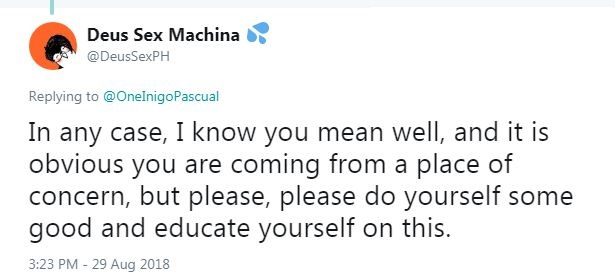 In any case, I know you mean well, and it is obvious you are coming from a place of concern, but please, please do yourself some good and educate yourself on this.
This Twitter user urged Pascual to listen to those pointing out what's wrong with his first statement.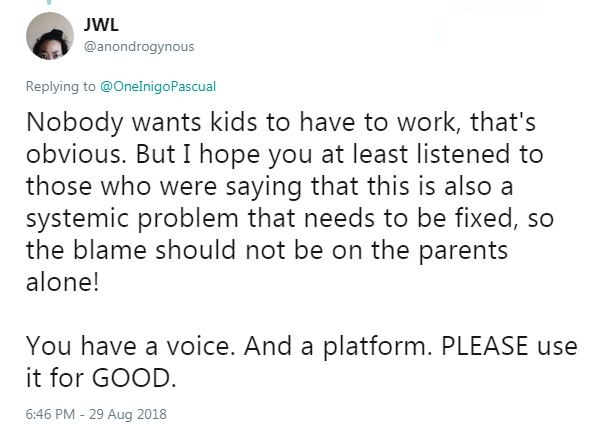 Nobody wants kids to have to work, that's obvious. But I hope you at least listened to those who were saying that this is also a systemic problem that needs to be fixed, so the blame should not be on the parents alone!

You have a voice. And a platform. PLEASE use it for GOOD.
@laurencecoke3 said that the reason for the contradicting tweets that the actor is receiving is because he said it in a way that people may easily misinterpret.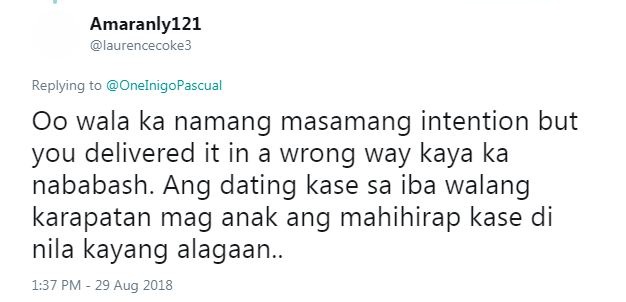 The TV personality is currently an ambassador for children of World Vision, a non-profit development and advocacy organisation dedicated to working with children, families and communities to overcome poverty and injustice.