Daughter danced with her father at the Ninoy Aquino International Airport.
The father was supposed to surprise her (the daughter) during her debut celebration, but due to flight delays, he wasn't able to make it in time.
Overseas Filipino Workers sacrifice so much just to earn enough money to give their family a comfortable life.
They miss several special occasion as they are far away, however, as much as they want to witness it, they can't as they are too far away.
As many Filipinos can relate to this situation, the video of a father dancing with his daughter immediately went viral on Facebook.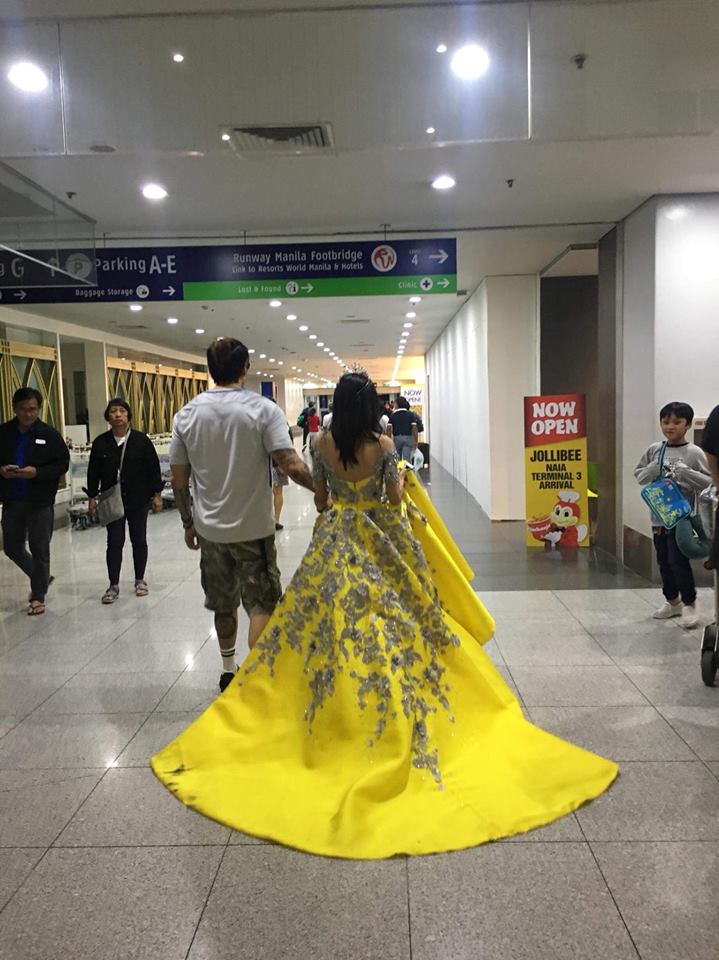 Lindsay Liv Limon's father, Noel, is an OFW from Kuwait. He planned to surprise his daughter at her 18th birthday party, but an unfortunate occurrence happened.
Due to multiple delays at the Ninoy Aquino International Airport (NAIA), he got home a day later. Lindsay's party was on August 18, but her father arrived on at 12:50 a.m. of August 19.
The party was done but the celebration wasn't over until Lindsay has danced with her dad so she decided to go straight to the airport.
She has posted clips and photos of the toughing moment, showing her and her father dancing in the middle of NAIA.
In her Facebook post, she said that her father's arrival was supposed to be a surprise but due to a couple of delayed flights, her father didn't make it in time. She's still happy as they had the chance to dance.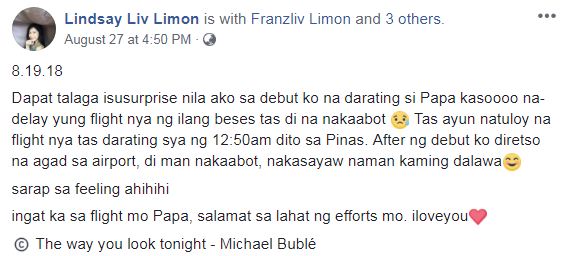 8.19.18

Dapat talaga isusurprise nila ako sa debut ko na darating si Papa kasoooo na-delay yung flight nya ng ilang beses tas di na nakaabot 😥 Tas ayun natuloy na flight nya tas darating sya ng 12:50am dito sa Pinas. After ng debut ko diretso na agad sa airport, di man nakaabot, nakasayaw naman kaming dalawa☺️

sarap sa feeling ahihihi

ingat ka sa flight mo Papa, salamat sa lahat ng efforts mo. iloveyou❤️

©️ The way you look tonight – Michael Bublé
She said that even in a unusual setting, the dance was still priceless to her. "That moment was priceless. Sobrang sarap sa feeling. Nakakaiyak and at the same time nakakagalak. I felt so happy, nawala pagod ko."
Lindsay added that she didn't mind all the people watching them because all she wanted was to make her father happy.