Twitter user blamed President Duterte over an indecent proposal she received.
Netizens replied that the President is not to be blamed for the incident. 
President Rodrigo Duterte is known as a straightforward and blunt person. His speeches often trudge into controversial issues as religion, sexuality, and rape.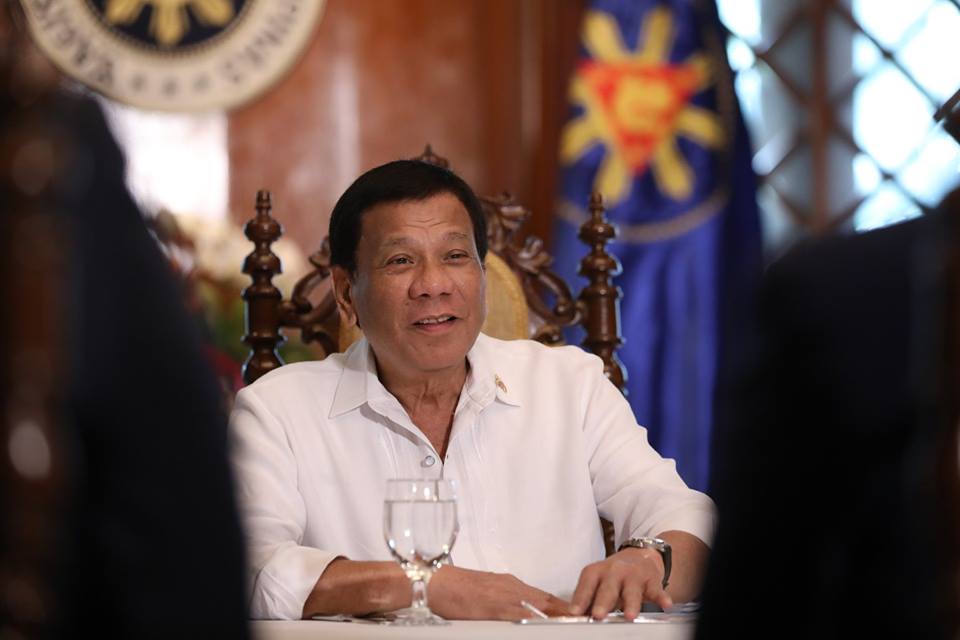 Filipinos and foreigners alike have mixed reactions when it comes to his statements. Some say that he should be careful of what he says, while others imply that it's okay as those are his own opinions.
A particular netizen, however, tweeted about what she claimed to be the effect of Duterte's rape remarks.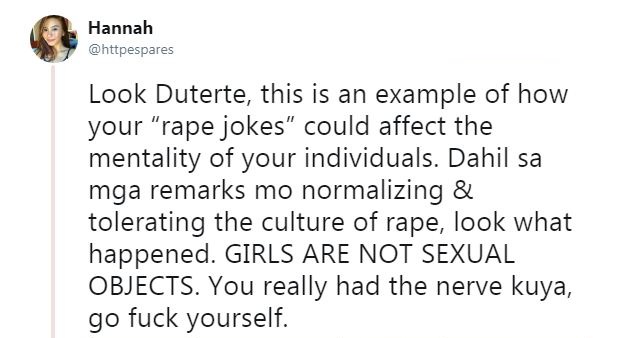 Look Duterte, this is an example of how your "rape jokes" could affect the mentality of your individuals. Dahil sa mga remarks mo normalizing & tolerating the culture of rape, look what happened. GIRLS ARE NOT SEXUAL OBJECTS. You really had the nerve kuya, go fuck yourself.
She attached a screenshot of a twitter user that is allegedly harassing her. Hannah told a certain @JAEYYYYYYZZZ to stop as it is indecent. The man replied that he just wants her to notice him so he hopes that she won't take it seriously. When the girl told him to talk to her more seriously, he admitted that he feels sexually attracted to her.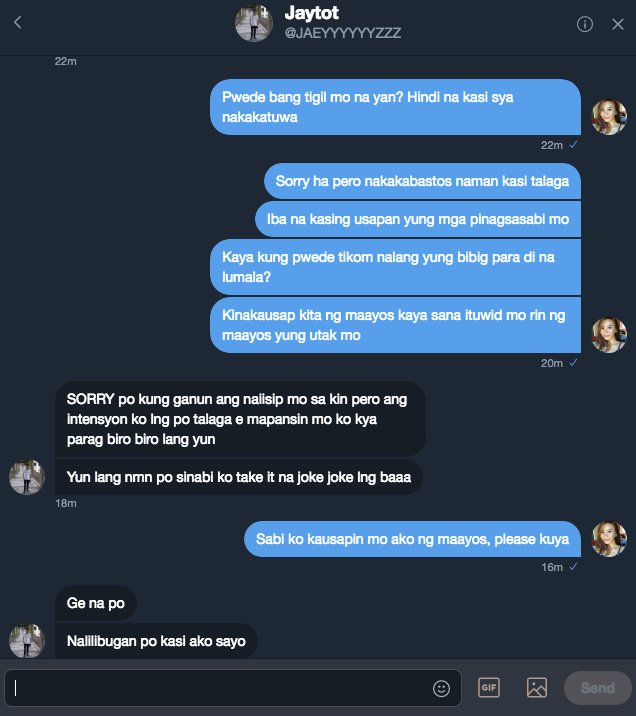 The netizen added that he won't say sorry as "normal lang naman [yun] sa lalaki". He also urged her to delete her tweet or else he will rape her.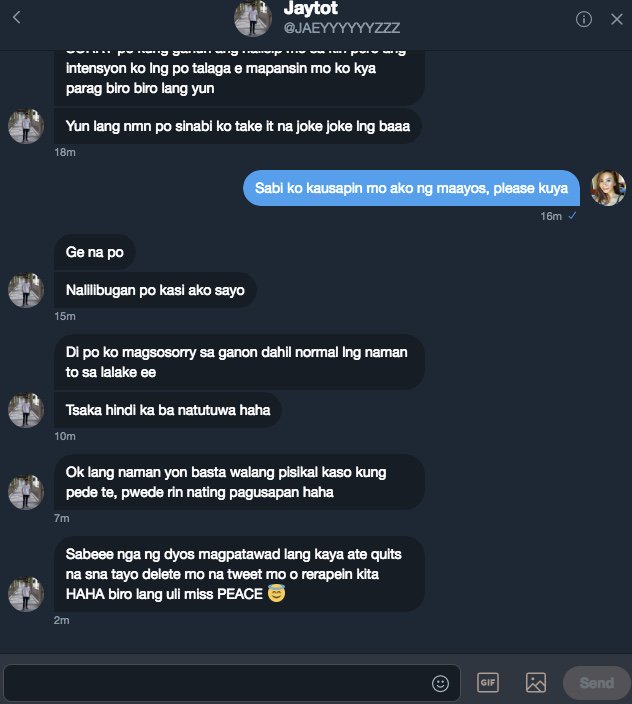 In a separate tweet, Hannah added that this situation should be taken seriously because it's disrespectful and is never a compliment.

Let this be a way to enlighten everyone na yung mga gantong sitwasyon are supposed to be taken seriously. Hindi sya basta bastang mga salita lang kasi nakakabastos talaga. it will never make girls feel good. AND no way it will ever be a compliment, @JAEYYYYYYZZZ. Don't be stupid.
Twitter user @Mrcxism explained that what the guy claimed as "normal" is actually not normal as it can be called as "virtual exhibitionism".

"Normal sa Lalake"

Actually it's considered an abnormality. What he's doing can be called "virtual exhibitionism" Kailanman hindi naging normal act gamitin ang "rape" as an object for humor.

He has a tendency to commit the crime he was "joking" about.
Another netizen contradicted Hannah's statement against Duterte, stating that such behavior has long existed "Ninoy-days ago". He added that the problem is not always because of the President.

Ha? Boys like this already existed Ninoy-days ago. Blame his parents, not the Pres. of PH. In fact, even us, supporters of the Pres., are not happy about his latest statement.

Di nga tumino mga tao sa panahon nya, kay Duterte pa kaya? Nasa tao ang problema, di sa Presidente.
@lewisken02 replied that Duterte is only being blamed as he is the leader and has an influence over people.

Kaya lang naman sinisisi si DU30 dito eh kasi ginagatungan nya ang pag iisip ng tao. Dahil sa sinabi nya, pwedeng mag lead sa possible rape, and like this as an clear example ni ate. Tinitingala kasi si DU30, Hes the leader, he has impact on many people including young ones 🙂
@SADnu_prutasz said Duterte may be one of the reasons, however, people also have their own decisions.

We can say na isa rin sa mga dahilan si Duterte sa ganyang attitude. Pero, let's just always remember na..nasa tao padin naman yan kung gagaya ba sya or hindi. If you are an educated person, you'll never talk like that to anyone, lalong lalo na kung di mo ka close..☺ just saying
And another Twitter user shared the same sentiments implying that other Filipinos just want to bring the President down.

Luh nasisi si duterte. Nasa tao yan ate. Stop the blaming. Di naman lahat eh sya na. Ganyan yung "ibang kapwa pinoy" hilahan pababa. Wag naman sana lahat isisi sakanya. Ps: not dutertards or du30 fan.. Just my cents
@nopenotthefirst urged her to report it to the proper authorities.

Honey, you can report this freaking SOB sa NBI. This counts as harassment. I hope you can get his profile photo. They can take care of the IP address tracking. Update us.
@AceBCDE also encouraged Hannah to file a case against the netizen.

May batas para dyan. Panag usapan namin sa school. Please, kasuhan mo. 
@ClarkMaligsa apologized in behalf of those who have disrespected people before. He added that he hopes that they will realize the effects of their action.

Let me be the one to apologise to you and to all the people that has experienced this maltreatment from these animals. Hopefully with this post people will be more aware of their wrongdoings and start to think about the consequences of their actions before acting on them.