Netizen posts about Makati City Pound taking a homeless woman's pets.
The homeless grandma cries about the pets that she lost to the enforcers just because she has no house.
On August 1, Facebook user Lyn Joy Roble posted videos showing enforcers forcefully obtaining a homeless woman's pets.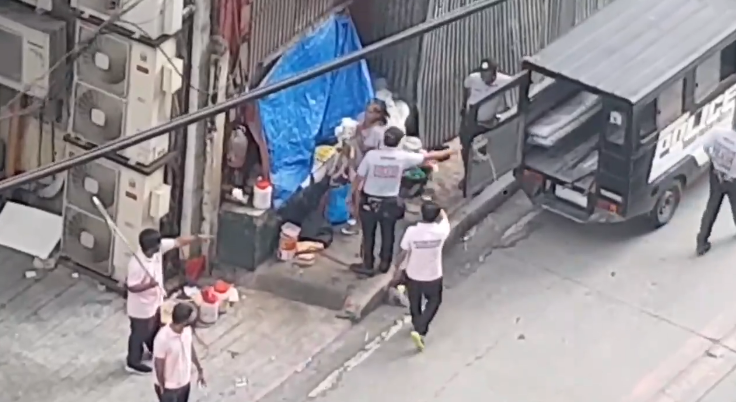 Six men can be seen crowding around the lady's shack, trying to get her dog named "Brolly".
In an interview conducted by Roble, the old lady expressed her sadness upon losing her only dog. She also shared that the enforcers took a few other pets before.
She said that the dog get to protect her from people who steal her stuff and even if she doesn't have any money, she really is fond of her dog.
"Hindi naman nakakalat eh nakatago naman. Nakatago naman yung aso sadyang kukunin talaga nila.
"Ang aso nalang yung pinaka mahal ko. Yung aso yung nagtatago saking pag nananakawan ako. Hindi na nga ako nananakawan ngayon dahil sa aso ko. Nakatago naman yung aso ko. Ilalabas ko nalang pag tumatae siya. Pero wala namang taeng nakalagay sa kalsada dahil kinukuha ko yun eh.
"Ang sama sama ng ginawa nila sakin. Ang aso ko. Ang pinaka mahal kong aso. "
According to one of the comments by Roble, she immediately ran to the grandma as the latter was crying. The Netizen even suggested that she'll keep the dog first and the grandma agreed to do so, however, her condo building only allows small dogs.
"Tumakbo ako pababa dyan kasi lakas ng iyak ni Nanay, sabi ko wag naman nila kunin yung aso dahil sa kanya yan, need pa daw ng mga requirements at tamang pag aalaga sa aso at hindi rin daw talaga pwede dyan kasi pinapaalis sya dyan sa kalsada, so sabi ko ampunin ko muna yung aso pumayag naman yung matanda para hindi lang maibigay sa kanila, kaso nung humingi ako permit sa gramercy mga small dog lang daw and pwede at need pa ng approval. So baka may gusto dyang mag ampun ng aso ni nanay pan samantala."
In an update made by Roble, she said that 'Brolly', the old lady's dog, got adopted and and will be release on August 6 to a new owner.

"UPDATE: The dog 'Brolly' was held in the Makati Pound overnight and will now be released on Monday 6th August to a new owner, who lives nearby and was on-hand to provide assistance with the situation yesterday and today.
Nanay is obviously saddened that she is unable to keep her friend and companion with her as she had done up until yesterday under her direct supervision, due to the reason concerning the city ordinance, however not all is lost, because Brolly will continue to receive the love and care by a member of the local community, who has already rescued several dogs in recent months, and this is an acceptable outcome for Nanay.
I would like to thank everyone who shared my concern about this situation, the response and support by the public has been overwhelming, which was unexpected. 'Brolly' will now have a home."