Kris Aquino attended the premiere of Crazy Rich Asians at the CL Chinese Theatre in Los Angeles, California
Aquino wore a gown by young Filipino designer Michael Leyva and completed her look by accessories, make up, and hair, all done by Filipinos
Kris Aquino attended the green carpet premier of the movie adaptation of Crazy Rich Asians wherein she played as Princess Intan. The event was held at the TCL Chinese Theatre in Hollywood.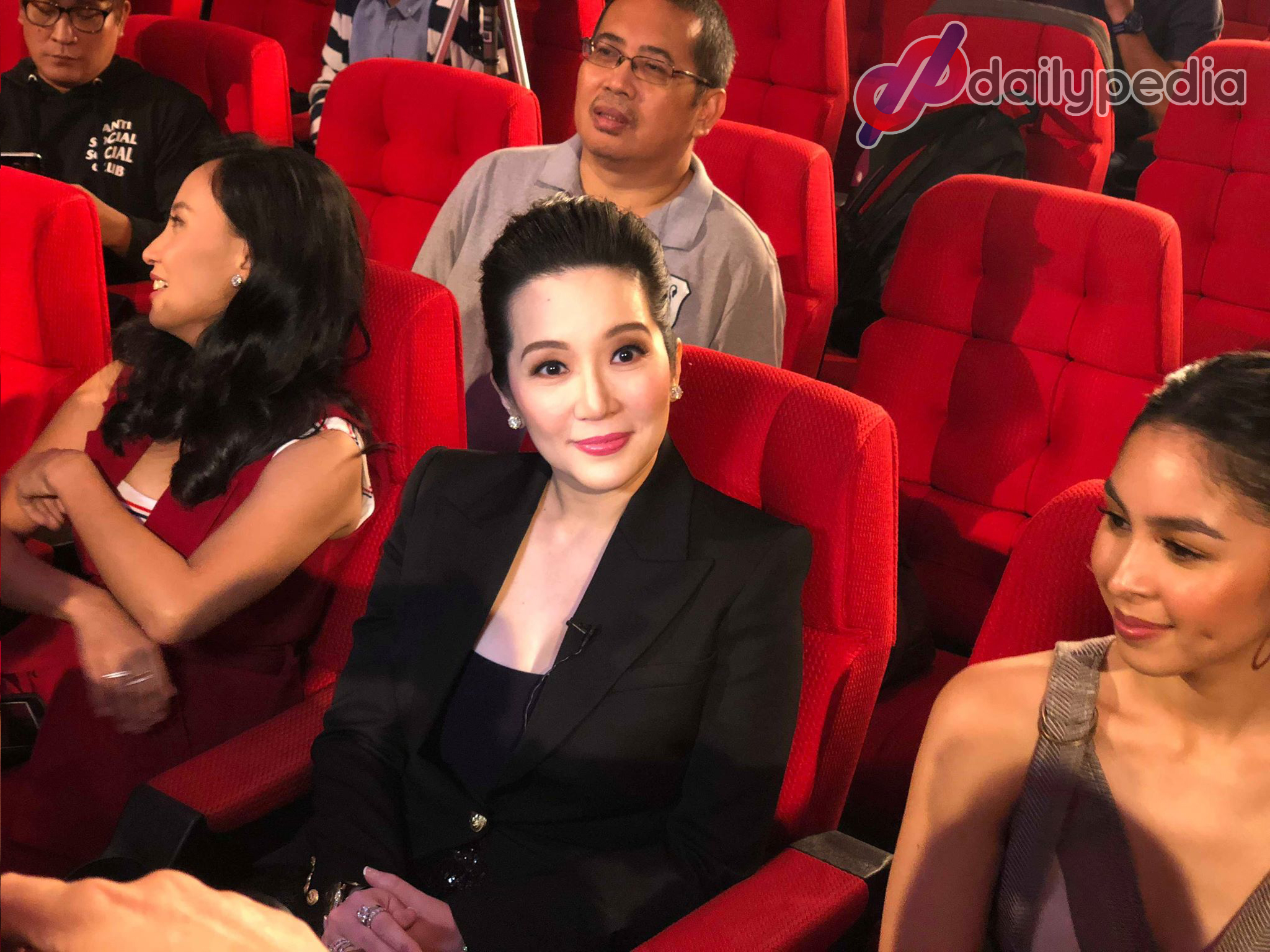 The actress wore a bright yellow dress by young Filipino fashion designer Michael Leyva and is escorted by her son, James. Aquino sporting a yellow outfit did not come as a surprise as the color has been a symbol of her family for decades now.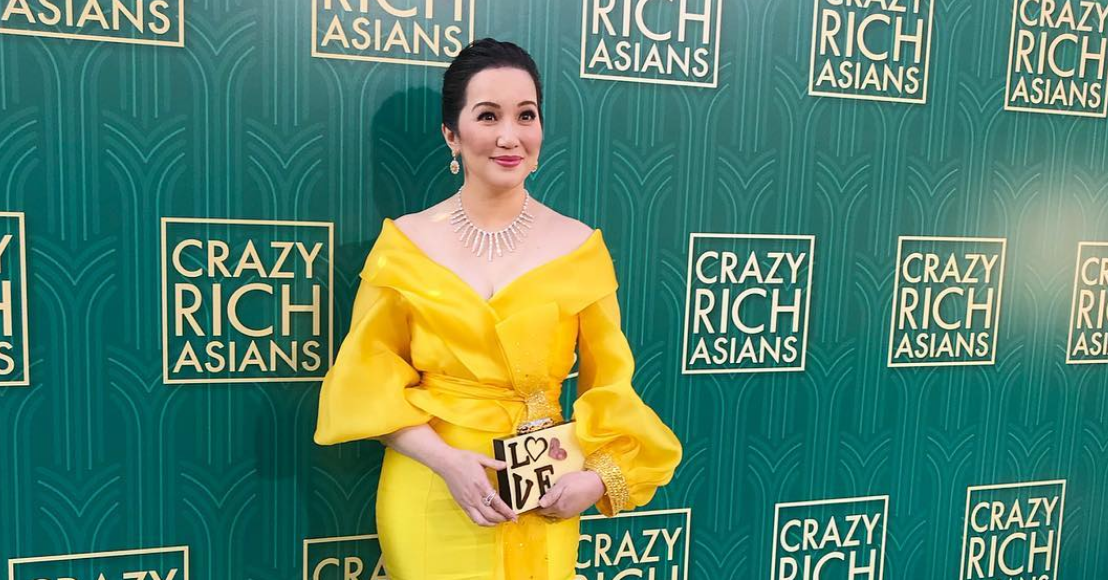 In a video she shared on her Instagram page, she shared that she tried five different gowns by Leyva and another Filipino designer, Francis Libaran.
Video Courtesy of Kris Aquino | Instagram
We tried 5 gowns- by @francislibiran8 & @michaelleyva_… i'm definitely wearing 1 of these. My jewelry was created by @diagoldjewelry Makeup is by @rbchanco. Many thanks to now LA based @pinantonio for my hair. #kaysarapmagingpilipino #pinoypride 🇵🇭 See you all at the Hollywood red carpet premiere of @crazyrichasians. 💛💙❤️ (song credit: Impossible Dream sung by @jedmadelaofficial from the album Paalam, Maraming Salamat from @starmusicph)
Filipino pride can be seen in her whole ensemble as her jewelry was from Cebu-based Diagold, make-up was by MAC artist RB Chanco, whose roots are from Laguna and Masbate, and hair was styled by Pin Antonio, who traces her roots from Tarlac, Bulacan, and Antipolo.
On the other hand, Aquino's on screen dress was by well known Filipino designer Michael Cinco, make-up was by Bicolano make-up artist Juan Sarty, and hair was by Butuanon Nante Alingasa and Jonathan Velasco.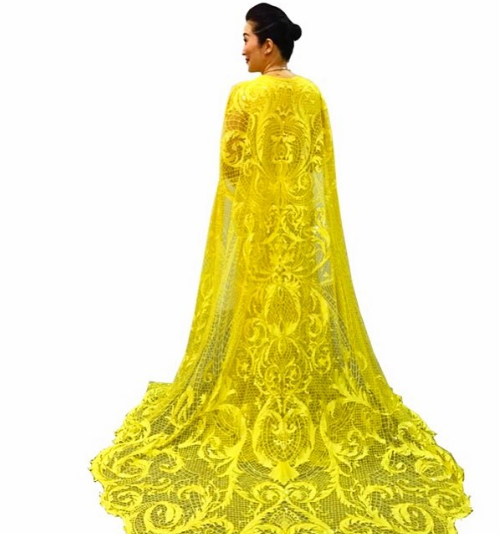 This is the back shot of the gown i wore as Princess Intan in @crazyrichasians, created by @michael5inco who originally came from #Samar… i chose this picture as my last post before we fly home because for the rest of my life i shall look back at the experience of being part of @crazyrichasians as a turning point… i felt when auditioning for this that there was absolutely nothing left to lose & whether i was included or not- i gave it my very best… seeing the proud, smiling faces of all our fellow Filipino Americans lining Hollywood Boulevard made me realize that the greatest gift this movie gave me was that it gave me that special opportunity to make us Filipinos feel good about ourselves & our contribution to the global workforce…

There's a point in the movie when Rachel (@constancewu) is told that she would never be "enough" -a part of my heart felt that many of us at one point in our lives have all been made to feel that BUT tonight's premiere, walking down that imperial green carpet, in a yellow gown w/ a prominent yellow ribbon a lasting,meaningful symbol of sacrifice & the Filipino worth dying for, fighting for, and living for-made by a young Filipino designer @michaelleyva_ in his #Rizal workshop by Filipino cutters & sewers, wearing jewelry lent to me by @diagold_ph based in #Cebu, w/ makeup done by @rbchanco who traces her roots to #Laguna & #Masbate, and my hair styled by @pinantonio, this girl whose parents hail from #Tarlac, #Bulacan, and #Antipolo, w/ her son who can also trace his roots to the #Negros Region, watching myself on that big TCL Chinese theater screen w/ makeup done by #Bicolano @juansarte & hair by #Butuan born & raised @nantealingasa & @jonathanvelasco__ from #Quezon City, styled by Filipino Chinese @kimiyap & @boopyap, i felt we are SPECIAL because iba ang Filipino pag sumuporta at magmahal…

Thank you for truly restoring my FAITH na #kaysarapmagingpilipino