Anytime Fitness El Pueblo Ortigas branch gave away Bong Go ballers in support for the SAP's said senatorial run.
The page received a backlash resulting for them to delete the post.
Anytime Fitness Ortigas Branch faced a backlash after posting photos of their staff giving away ballers in support of Special Assistant to the President Bong Go for his candidacy in the upcoming 2019 Senatorial Elections.

In their Facebook post, they announced their support for Bong Go with the hashtags #BongGoforSenator, #LetsGoBongGo, and #ReadySetGo.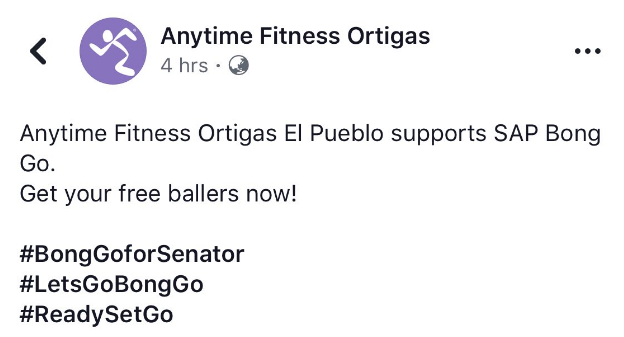 Anytime Fitness Ortigas El Pueblo supports SAP Bong Go. Get your free ballers now!

#BongGoforSenator #LetsGoBongGo #ReadySetGo
The branch immediately received online criticisms right after they have uploaded the photos.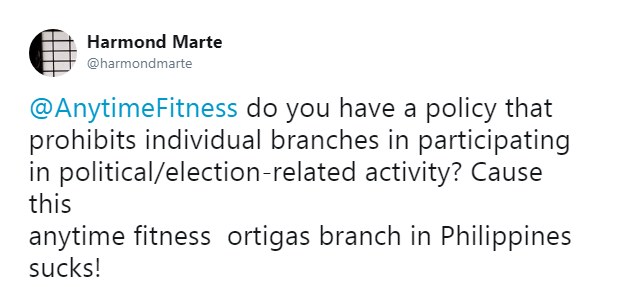 @AnytimeFitness do you have a policy that prohibits individual branches in participating in political/election-related activity? Cause this
anytime fitness ortigas branch in Philippines sucks!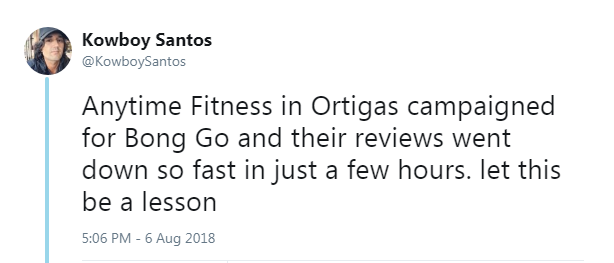 Anytime Fitness in Ortigas campaigned for Bong Go and their reviews went down so fast in just a few hours. let this be a lesson
The Facebook page has now deleted the post, disabled the ratings, and allegedly been deleting comments made by angry Netizens as well.
Image: Screengrab from @tr1pnautic's tweet

So tinanggal ng Anytime Fitness Ortigas yung post kay Bong Go, yung comment section, pati na rin yung ratings.

Guilty AF.
The page has issued a public apology statement, saying that they have no affiliation to politics, religion, and any other issue.
Image: Screengrab of Anytime Fitness Ortigas' Facebook post

In light of recent events, Anytime Fitness El Pueblo is officially apologizing to everyone affected by our recent post, especially our members and our greater Anytime Fitness franchise family. It was not our intention to alienate or isolate any part of our community or to make anyone feel unwelcome in our home. Anytime Fitness prides itself on being a place for everyone to get to a healthier place, without any affiliation to politics, religion, and any other issue. The post has since been taken down and we promise to improve our services to you.
Moreover, Anytime Fitness Philippines' Country Manager released a statement regarding this issue:
"We are deeply saddened that this has happened to our Anytime Fitness Philippines community. We worked with Anytime Fitness El Pueblo immediately after the post went live and came to a mutual agreement that this is not in keeping with the Anytime Fitness brand, which has no affiliation to any platform, political or otherwise. The club is taking responsibility for this lapse in judgement. We are a health and wellness platform and have always advocated for inclusivity, health, and diversity. And as such, should not use our platform for political purposes.
Anytime Fitness has policies in place to ensure our messaging and communication is unified across all our franchises. As a brand, we do not endorse nor sponsor any affiliation. This issue is currently under review with our internal management.
We are working with our franchisees and the greater Anytime Fitness network to ensure that this will not happen again. We thank our members for their support and understanding as we move forward and strive to get to a healthier place.
Sincerely,
Ryan Cheal
Country Manager for Anytime Fitness Philippines"