The vanishing trick is a trending joke on the social media platforms that is usually done with pets.
An OFW used the vanishing trick to say goodbye to his son easier as he goes to Canada to work.
The vanishing trick has been trending all over social media platforms these days.
It is the trick that a person hides behind a large portion of cloth, and runs away immediately before the cloth lands on the ground to make it seem like he 'disappeared'. It is usually done for pets.
On the other hand, we all know how difficult it is to say goodbye to our families here in the Philippines and go work abroad. This one dad thought of the vanishing trick as a creative way of saying goodbye to his son, without having to witness the child cry.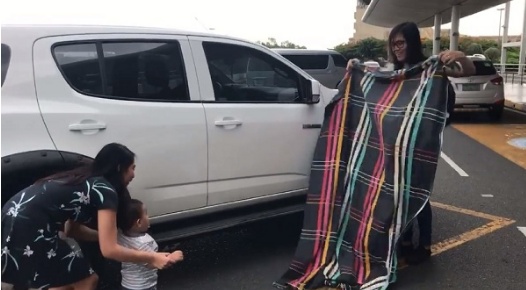 In a post by OFW and netizen named Nafson Tolentino, he shared a video of his 'vanishing trick' with his son before he headed to Canada. He used a blanket to cover himself before 'disappearing.
His son looked a bit disinterested at first but was confused the moment his dad was gone.
The trick amused netizens but others warned him that the trick might cause a psychological effect on the kid especially that he looks like he's just around one year old. It also has been suggested not to let family members drop you off at the airport to say goodbye and just say your farewells at home wherein it's much easier to distract them with things.
You can watch the full video below: OFW uses vanishing trick to say goodbye to his son
Video courtesy of Nafson Tolentino | Facebook