Netizen tweets about his former professor's comments against gay teachers.
In the professor's post, he encouraged the Dep-Ed to ban gay teachers in elementary.
Despite receiving contradicting comments, the professor continues to defend himself as he states that they just don't understand the message of his status.
Pride month just ended a few days ago but the stigma against the LGBT community is still present in today's society.

A Twitter user, James Dellogado, exposes his Spanish professor's Facebook status urging the Department of Education to ban gay teachers in elementary. He further explains that this is due to gays having their "own peculiar way of speaking" that may affect their male students.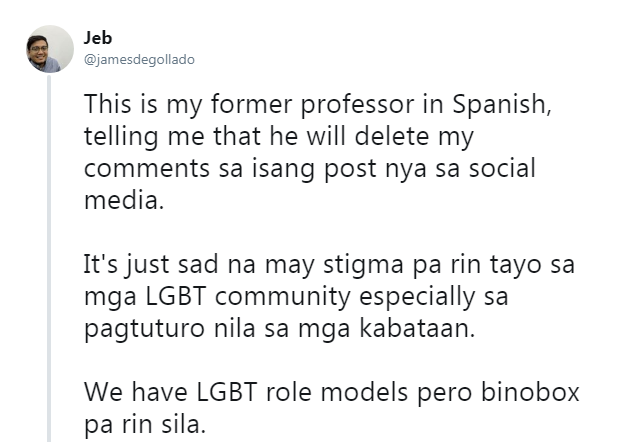 This is my former professor in Spanish, telling me that he will delete my comments sa isang post nya sa social media. It's just sad na may stigma pa rin tayo sa mga LGBT community especially sa pagtuturo nila sa mga kabataan. We have LGBT role models pero binobox pa rin sila.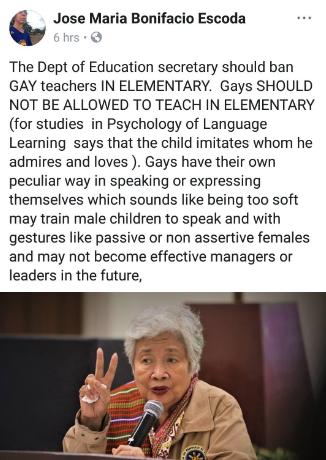 James contradicted his professor's words stating that he had a gay teacher when he was in elementary but he still grew up as a straight and faithful.
The netizen further stated that he's thankful for that specific teacher for he has taught good values.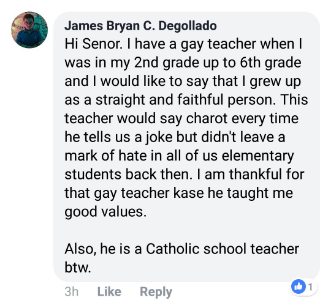 The professor further defended his comments and stated that "it seems like many of you graduates graduates can not defend or criticize as INTELLECTUALS products of miseducation products of martial law or past martial law too much computer computer games." He then encouraged students to ask their school to get back what they paid for their education. "kung ako sa inyou bawiin niyo mga binayad nyo sa school"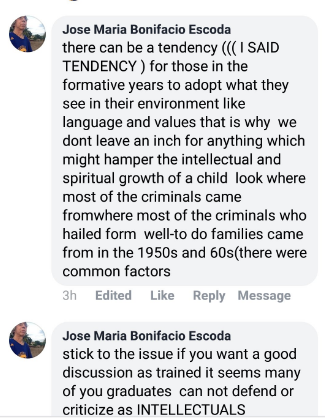 James then explained that even if the child learns something at the age 5-14 years old, regardless of gender, it still doesn't affect the individual's character as "language is dynamic" and "humans can adapt".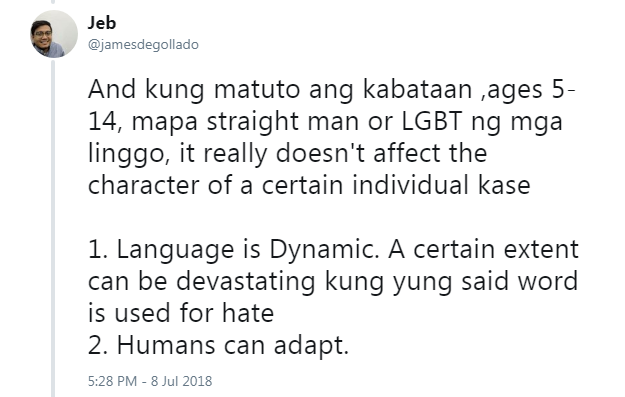 The netizen further stated that he is saddened by the fact that the homosexuals, especially the Christian ones, are the ones surrounded with hate and bigotory.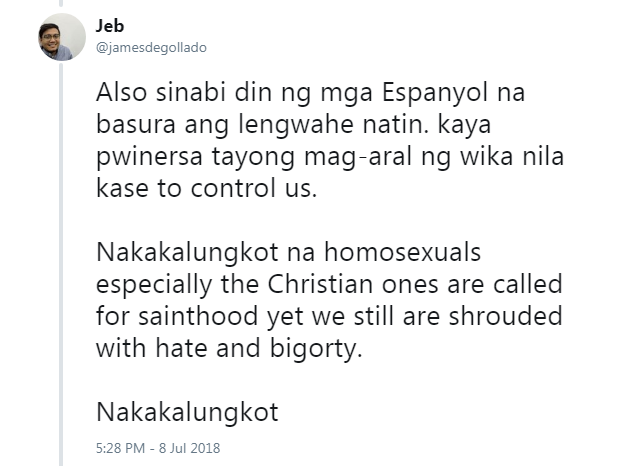 The professor then made additional comments that he is not referring to the change in sexual orientation but the effect of gay teachers in the manner of speaking of males students. He stated that speaking "too malambing with downward tone is not okay as the best way to speak English".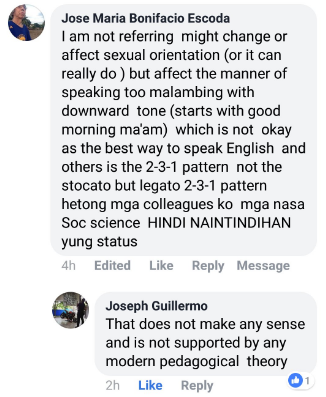 A colleague of the professor commented that their opinions were meant to shed light.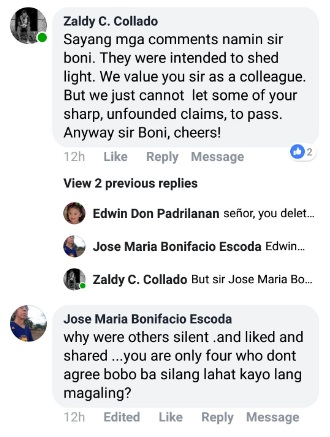 The professor then unfriended James and the netizens shared their support and appreciation for the netizen's effort to defend the LGBT community.

In this cloud of hate, thank you for speaking out and up for the comnunity as a true ally. It still sucks out here, but knowing that we aren't truly alone in our fight to be heard, respected and seen as human beings is a miracle in itself. Maraming salamat, Sir!
Blogger named Tonyo Cruz replied that maybe the ones that should be banned are teachers who are homophobic at bigots as kids shouldn't be exposed in ideas pertaining to discrimination, hate and self hate.

Siguro ang dapat ipagbawal na maging teacher ay mga homophobic at bigots. Kasi baka saktan, maltratuhin at bastusin nila ang mga batang LGBT. Ang mga bata ay di dapat maexpose sa mga mali ay delikadong idea gaya ng discrimination, hate and self-hate.

Marami na ding openly homophobic (and ultraconservative) na mga leaders na kalaunan ay naexpose — dahil na rin sa kanilang kalibugan — na mga predator pala o nag-e-engage sa homosexual activities, same-sex prostitution, etc. Ginagamit lang pala ang homophobia as smokescreen.