Netizens call out Your Face Sounds Familiar Kids as Sheena Belarmino allegedly sang a curse word at her performance of Nicki Minaj's "Starship"
YFSF Kids production denies the allegations 
The June 3rd episode of ABS-CBN's Your Face Sounds Familiar Kids ended the week with a bit of controversy as netizens claim to have heard a curse word during Sheena Belarmino's performance of Nicki Minaj's "Starship".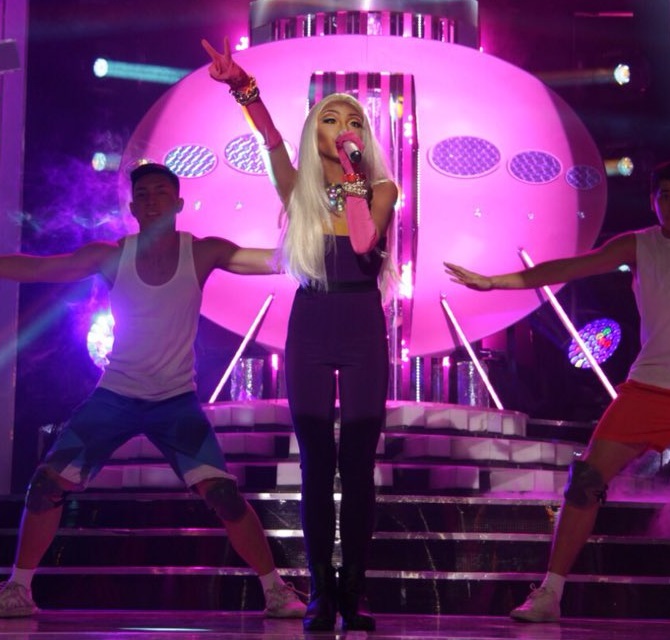 As the original lyrics goes sings:
Starships were meant to fly
Hands up and touch the sky
Let's do this one last time
Hands up (We're higher than a motherf*cker)
Twitter users noticed and claimed that the show did fail to bleep out the word or present a cleaner version to stand by it's "G" rating by the MTRCB.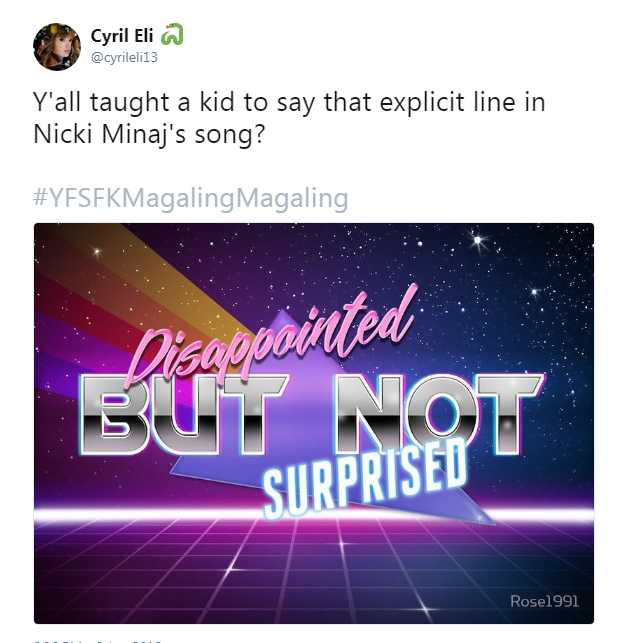 "Y'all taught a kid to say that explicit line in Nicki Minaj's song?" 

"Is it just me or the kid did really said "Motherfucker"? Haha".

"I'm having second thoughts why they allowed "MOTHERFUCKER" to be mentioned in the song, given that its a kid singing the song"

"Did Sheena really say the bad word?"

""Well higher than a motherfvcker" that girl kid impersonating nikki minaj. Seriously ABS CBN???!!!"
The negative claims were denied by the production team on Twitter shortly after the issue began.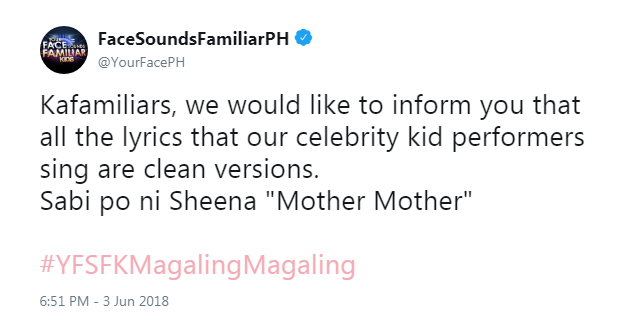 "Kafamiliars, we would like to inform you that all the lyrics that our celebrity kid performers sing are clean versions. Sabi po ni Sheena "Mother Mother""
In spite of the clarification from Your Face Sounds Familiar Kids, the Twitter users continue debating over the said curse word.
Watch Sheena Belarmino's performance here as Nicki Minaj:
The episode crowned Esang de Torres as she performed Christina Aguilera's song "Beautiful".