Nowadays, the tactics and ways of criminals to trick and victimize people gets more and more creative. As their tricks gets revealed one by one, they tend to think of new unknown was to continue what their doing.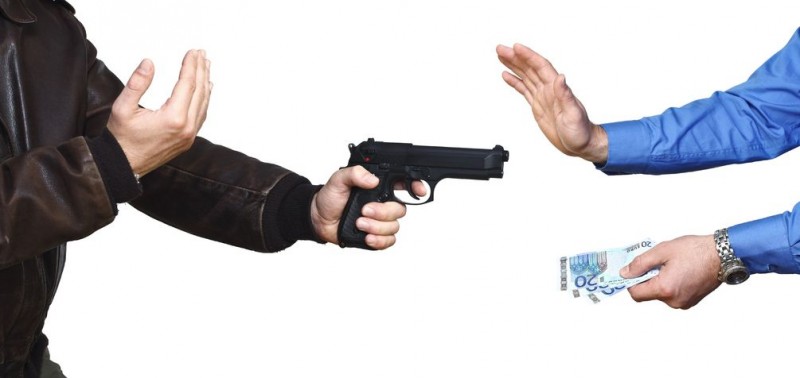 Last May 30, netizen named NurZaidy Mascod revealed a "modus" he experienced at Camus Street, Elpidio Quirino Avenue in Davao City.
In his Facebook post, Mascod narrated how a man tried to trick him by grabbing hold of his arm while yelling that he should take a look at the person riding the motorcycle as the guy did something bad to him. The netizen clapped back that he knows what the man is doing and threatened him by saying that he'll call the police.
The man, however, didn't stop as he asked the Mascod angrily if he knew the guy on the motorcycle. This time, the victim toughened up and said "G*go ka, anong gusto mo?" while he gets ready to defend himself.
After their exchange, the man suddenly left him alone.
Unsure of the situation that happened, Mascod warned everyone and told them to be careful of sketchy people around.
Read the full post below: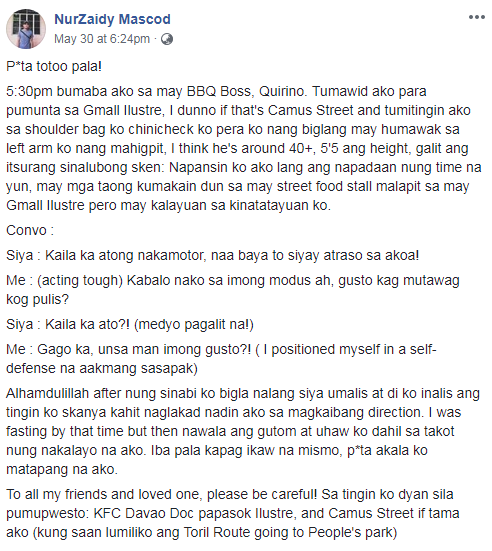 "P*ta totoo pala!

5:30pm bumaba ako sa may BBQ Boss, Quirino. Tumawid ako para pumunta sa Gmall Ilustre, I dunno if that's Camus Street and tumitingin ako sa shoulder bag ko chinicheck ko pera ko nang biglang may humawak sa left arm ko nang mahigpit, I think he's around 40+, 5'5 ang height, galit ang itsurang sinalubong sken: Napansin ko ako lang ang napadaan nung time na yun, may mga taong kumakain dun sa may street food stall malapit sa may Gmall Ilustre pero may kalayuan sa kinatatayuan ko.

Convo :

Siya : Kaila ka atong nakamotor, naa baya to siyay atraso sa akoa! ( Do you know the person in the motorcycle, he has somthing to settle with me!)

Me : (acting tough) Kabalo nako sa imong modus ah, gusto kag mutawag kog pulis? ( I know your modus, do you want me to call the cops?)

Siya : Kaila ka ato?! (medyo pagalit na!) (Do you know that person?!)

Me : Gago ka, unsa man imong gusto?! ( I positioned myself in a self-defense na aakmang sasapak) (Stupid, what do you want?!)

Alhamdulillah after nung sinabi ko bigla nalang siya umalis at di ko inalis ang tingin ko skanya kahit naglakad nadin ako sa magkaibang direction. I was fasting by that time but then nawala ang gutom at uhaw ko dahil sa takot nung nakalayo na ako. Iba pala kapag ikaw na mismo, p*ta akala ko matapang na ako.

To all my friends and loved one, please be careful! Sa tingin ko dyan sila pumupwesto: KFC Davao Doc papasok Ilustre, and Camus Street if tama ako (kung saan lumiliko ang Toril Route going to People's park)"
Based on the Weekly Average Crime Trend monitoring conducted by the National Capital Region Police Office – Regional Investigation and Detective Management Division, the Weekly Average Crime Rate of crimes has decreased by 29.29 percent from 329 last year to 231 recorded incidents this year. However, citizens should still be careful and alert especially when traveling alone crowded areas.