President Rodrigo Duterte makes a bold statement once again regarding the belief of the Christian church
Celebrities and politicians reacted to the president's "who is this stupid God?" statement
President Rodrigo Duterte as sparked controversy once again when he called God "stupid" in a speech last June 22 in the opening of  2018 National ICT Summit in Davao City.
"So God was lonely, so he created paradise and that's planet Earth. And God said, 'I will create man,' so there was Adam. God found that Adam was lonely, so he took one of his ribs and created woman. But God doubted his creation so he tested it. He called a snake and told it to give an apple to Eve.  Eve ate it and gave it to Adam. And so malice was born.

Who is this stupid God?  You created something perfect and then you think of an event that would destroy the quality of your work. How can you rationalize that God? How can you believe him? So now we're all born with an original sin. Even in the womb, we already have sin. What kind of religion is that?"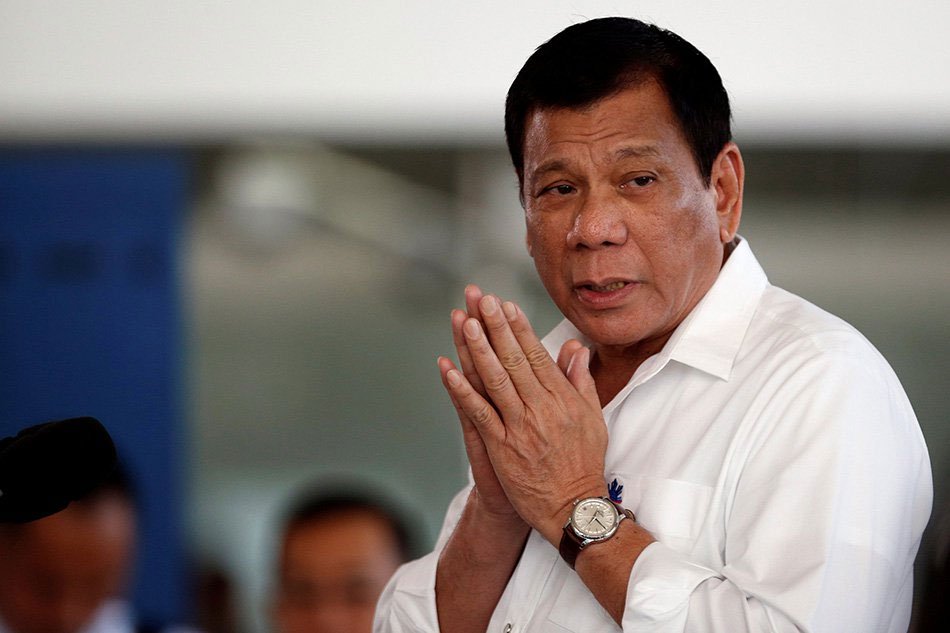 Celebrities and politicians react to the president's bold statement:

Actor Enchong Dee:"Full on Blasphemy… tsk tsk… I wonder how his followers will defend him this time"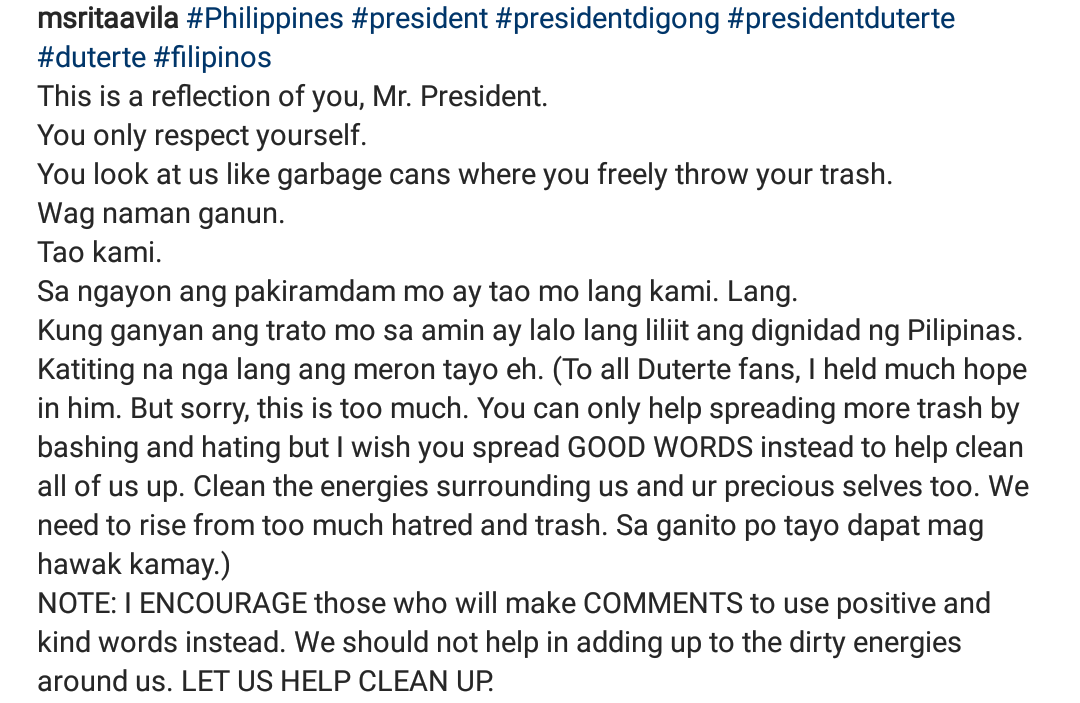 Actress Rita Avila: "This is a reflection of you, Mr. President.
You only respect yourself.
You look at us like garbage cans where you freely throw your trach.
Wag naman ganun.
Tao kami.
Sa ngayon ang pakiramdam mo ay tao mo lang kami. Lang.
Kung ganya ang trato mo sa amin ay lalo lang liliit ang dignidad ng Pilipinas.
Katiting na nga lang ang meron tayo eh. (To all Duterte fans, I held much hope in him. But sorry, this is too much. You can only help spreading more trash by bashing and hating but I wish you spread GOOD WORDS instead to help clean all if us up. Clean the energies surrounging us and ur precious selves too. Te need to rise from too much hatred and trash. Sa ganito po tayo dapat mag hawak kamay.)
NOTE: I encourage those who will make COMMENTS to use positive and kind words instead. We should not help in adding up to the dirty energies around us. LET US HELP CLEAN UP."
Friends and colleagues of Rita Avila commented on her Instagram post, expressing their agreement to her statement.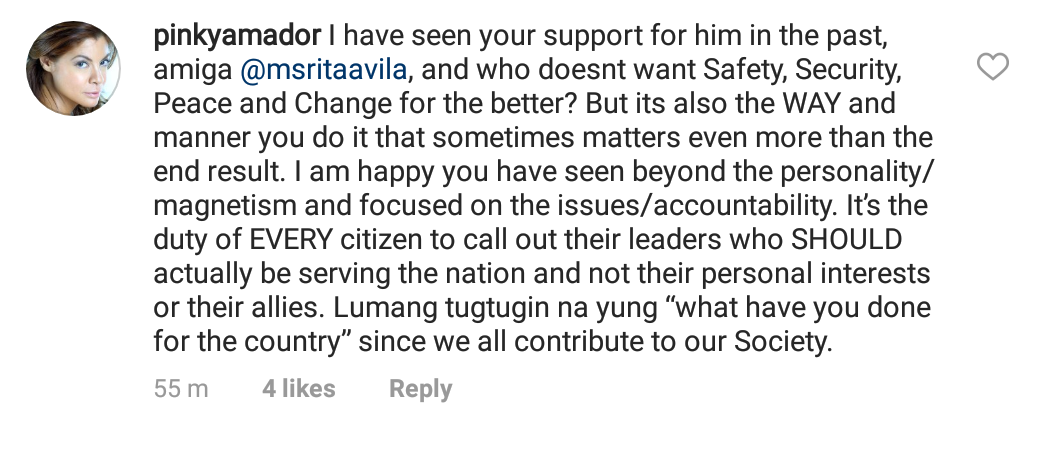 Actress Pinky Amador: "I have seen your support for him in the past, amiga @msritaavila, and who doesn't want Safery, Security, Peace, and Change for the better? But it's also the WAY and manner you do it sometimes matters even more than the end result. I am happy you have seen beyond the personality/magnetism and focused on the issues/accountability. It's the duty of EVERY citizen to call out their leaders who SHOULD actually be serving the nation and not their personal interests or the allies. Lumang tugtugin na yung "what have you done for the country" since we all contribute to our Society."

Actress Carmi Martin: Grabe na bibig nitong si duterte. Ang walangya! Salbahe!
Physician and medical anthropologist Gideon Lasco: "Christians and non-Christians alike should condemn the insensitivity and rudeness of this man, who thinks of himself as a deity."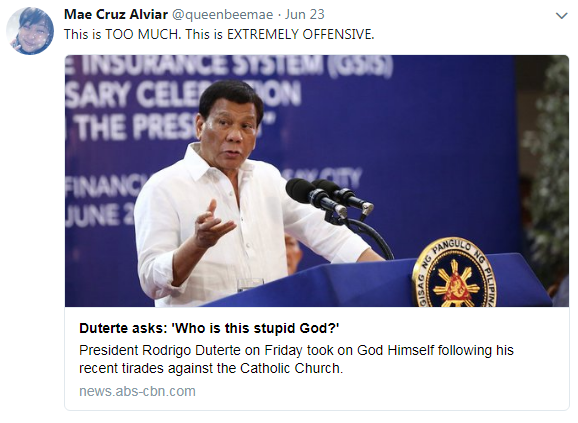 Director Mae Cruz-Alviar: "This is TOO MUCH. This is EXTREMELY OFFENSIVE."
Politicians also called out the president for his statement.
Opposition Senator Antonio Trillanes IV posted on his Twitter account that the president's behavior is "the height of arrogance of power" and it should be clear that "Duterte is one evil man".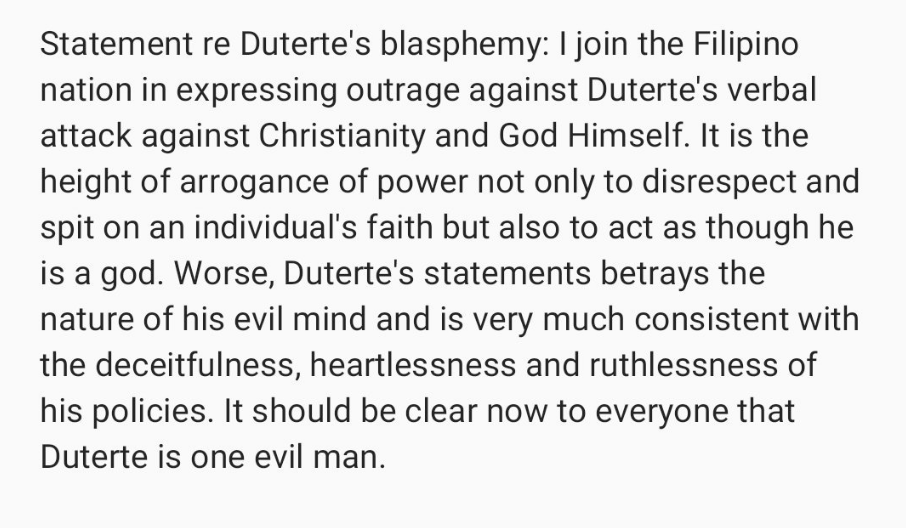 Statement re Duterte's blasphemy: I join the Filipino nation in expressing outrage against Duterte's verbal attack against Christianity and God Himself. It is the height of arrogance of power not only to disrespect and spit on an individual's faith but also to act as though he is a god. Worse, Duterte's statements betrays the nature of his evil mind and is very much consistent with the deceitfulness, heartlessness and ruthlessness of his policies. It should be clear not to everyone that Duterte is one evil man.
Senator Panfilo Lacson also expressed his disagreement with the president's sentiments.
"Between him and my God to whom I pray every single day and with whom I've found solace and comfort in all my difficult times, I don't even have to think of my choice. May my God forgive him and make him atone for all his sins,"
The Presidential Spokesperson Harry Roque then defends statement saying that it is the personal belief of the president and that Duterte has his own spirituality and people should not give it any meaning.
"Iyan po ay personal na paninindigan ng pangulo… Tingin ko ang ating pangulo ay merong personal na spirituwalidad pero nasa kanya na iyan at hindi na kinakailangang bigyan ng interpretasyon"