A student of the University of the Philippines (UP) shared how his mom defended him from his friend's mom criticizing about his facebook post; protesting against the government.
The post has gone viral and earned various feedback.
The mother thought and believed that his son is just being 'radical'.
It was all about President Rodrigo Duterte's supporter, who posted on Facebook about how she would react if she learned about her son protesting against the government.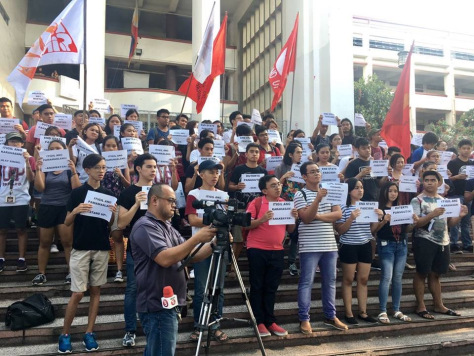 The issue began after Duterte stated that he would have student activists kicked out of UP for walking out of their classes just to go on demonstrations and rallies.
Twitter user with a handle @antonthefighter shared his opinion on the issue. He also posted on his Facebook account on February 3, Saturday.
The following day, he then shared via Twitter on how his mother, Hedda Joy Tady Tan, have gone savage and replied to a friend who messaged and criticized his post.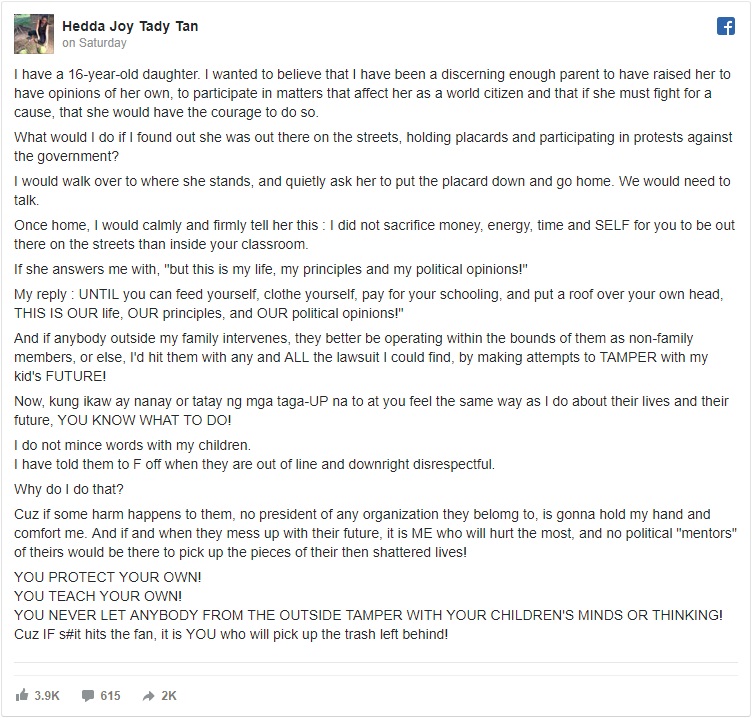 He wrote on Twitter: "My mom channeling her inner Jaclyn Jose's 'Bitch ka lang, ako super bitch' attitude and scolded her 'amiga' for being a 'mahaderang frog'. Mukhang may nasirang friendship at nagsaulian ng kandila dahil sa isang fb post ko. Lol.
"Ano ba kasing problema niyo sa mga taga UP? lels."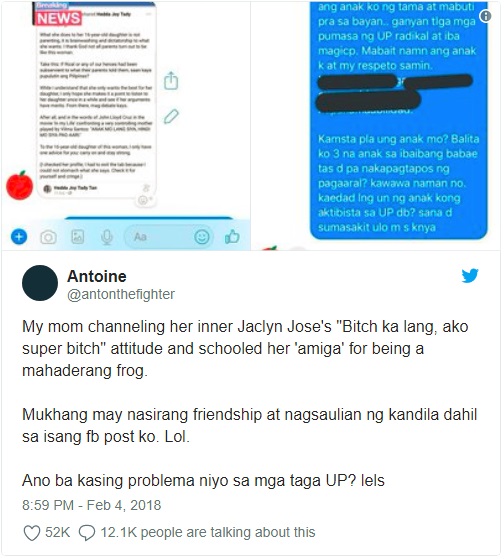 His mother ranted on Facebook that as long as her son is still living under her roof, he has to live by her principles and political beliefs.
His mother's amiga posted: "Amiga, nakita mo na ba 'yung fb post ng anak mong aktibista sa UP? Napaka-rebelde mag-isip baka sa susunod kayo suwagin niyan."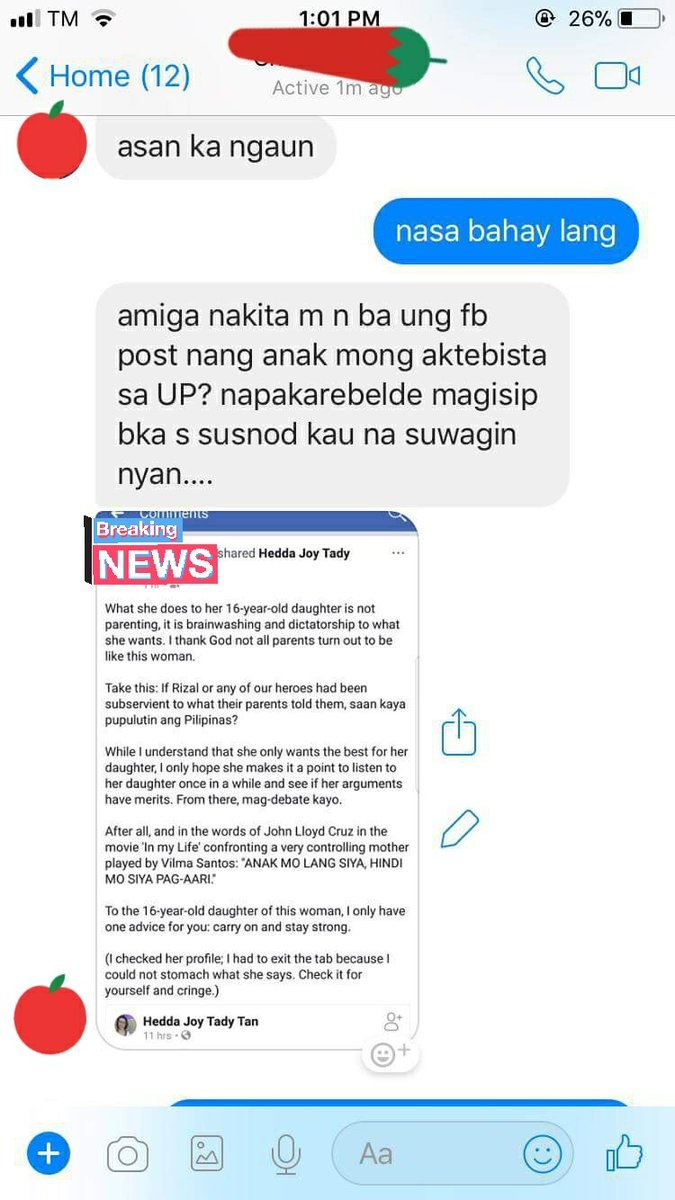 His mom, Mrs. Tan replied that it's okay for her son to think of what is right for the country and it goes to show that UP students are just radical thinkers. She added that her son is still kind and respectful.
Furthermore, his mother asked her amiga: "Kamusta pala 'yung anak mo? Balita ko 3 na anak sa iba-ibang babae tapos hindi pa nakakapagtapos ng pag-aaral? Kawawa naman 'no.
"Ka-edad lang yun ng aktibista kong anak sa UP di'ba? Sana hindi sumasakit ulo mo sa kanya."
Her amiga's only reply was "K".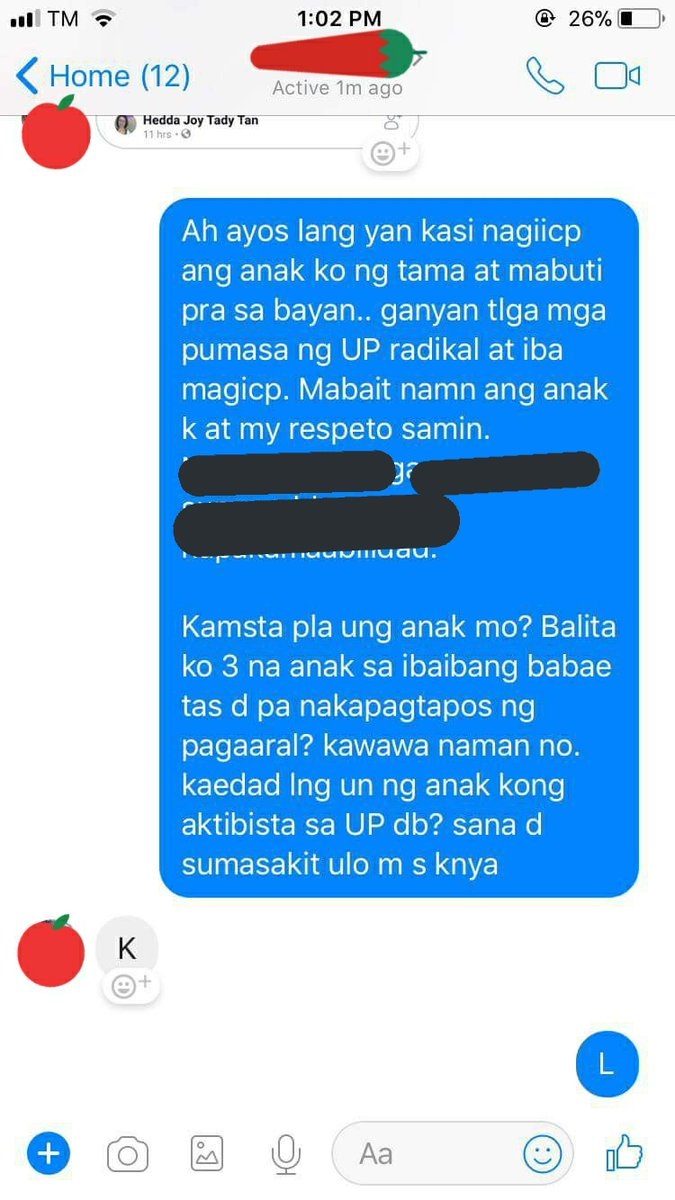 Antoine also shared his recent realization, "Kampi pa rin naman pala sa akin ang nanay ko despite our disagreements sa aking pagiging tibaque.
One word lang for her FO-ed amiga:
D E S E R V E 😂😂😛😛"
He also clarified, "OMG THIS THING BLEW SO FAST. AND NOTIFS ARE CRAZY. ANG DAMI. Clarification lang though na hindi si "amiga" ang tunay na kalaban; it's the system. And we yearn to change that system. Kalma po tayo. I'll try to respond to some engagements as soon as I get home. Magandang araw"