A man named Jocen Gonzales Gatela shared an extraordinary story on his Facebook account.
He was on his way home when he noticed a group of kids using rugby.
Gatela stopped by and had an unexpected conversation that changed their lives.
Most of the time, whenever people encounter street kids who are using rugby, they would do everything to avoid them afraid that these kids might cause ruckus in the streets. In worst cases, resort to stealing or extortion.
For this reason, no one wants to talk or even go near them as they fear that these rugby kids might do something bad to them.
However, one citizen named Jocen Gonzales Gatela was brave enough to have a conversation with a group of kids using rugby.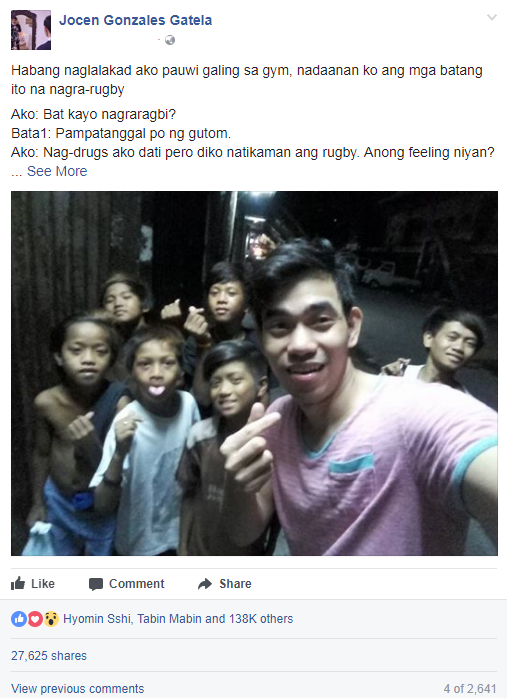 Gatela shared this incident to his Facebook account and revealed why street kids spoil themselves on rugby.
Read the life-changing story below:
"Habang naglalakad ako pauwi galing sa gym, nadaanan ko ang mga batang ito na nagra-rugby
Ako: Bat kayo nagraragbi? 
Bata1: Pampatanggal po ng gutom.
Ako: Nag-drugs ako dati pero diko natikaman ang rugby. Anong feeling niyan?
Bata2: Nawawala po sa sarili."
Gatela asked them why the kids were using rugby and how it feels. Given the fact that they are mere street kids, food is not always accessible to them which is why they resort to rugby to erase the feeling of hunger.
"Ako: Nagnanakaw ba kayo? 
Bata3: Hindi po. Di bale na mamalimos wag lang magnakaw.
Bata4: Di bale na matakaw wag lang magnakaw. (Sabay tawa)
Ako: (Tuwang-tuwa)
Bata1: Kuya pengeng okra. Ikaw yung nagbigay ng okra sakin dati nung bumili ako sa inyo.
Ako: (minumukaan yung bata) ah oo. Ikaw nga yun. (Umuwi ako kumuha ng okra tapos bumalik.)
Ako: Pano mo kinakain ang hilaw na okra? 
Bata1: Sinasawsaw sa asin minsan sa toyo.
*At this point, masaya na durog ako sa loob ko. Masaya kase nakakausap ko pa sila ng matino pero durog na ako kase ang saklap pero wala akong magawa para sakanila.
Ako: Kumain na kayo? 
Bata1: Hindi pa po.
Ako: Kaen tayo."
He was curious whether they steal from people just like what the other street kids would do, but the kids told him that they are nothing like them. Despite their status, they would choose to feel the hunger rather than to do wrong.
"*Pagkatapos kumaen
Ako: Mula ngayon gabi-gabi na tayo magmi-meet dito ah. Magba-Bible study tayo.
Bata5: Sige kuya. Ngayon na!!
Bata4: Bukas na. Walang dalang Bible si kuya. 
Ako: (Hagalpak ng tawa. Oo nga naman.) Tara pag-pray ko nalang kayo.
*After mag-pray
Ako: Tara picture tayo. Post ko sa fb.
Bata1: Kuya oppa posing. 
Ako: Ano yun? 
Bata1: Ganito oh. (heart sa daliri) 
Ako: Ah sige. Hahaha (Wala akong alam kaya nakiuso nalang ako)
Ang akala ko, ako lang ang tutulong. Ang hindi nila alam, mas natulungan nila ako at mas naturuan nila ako. Na-refresh ako sa presence nila. Salamat mga tropa, kitakits bukas!:)
Gatela encouraged the kids to do Bible study with him every day, which the kids gladly agreed to. What's more amazing is that they know what Bible looks like as they were the ones who noticed that Gatela wasn't carrying one, which simply proves that poverty isn't a hindrance to be a believer of religion.
On the other hand, the netizens who had seen the post praised the street kids for being just and for proving that not all street kids are the same.
What are your thoughts on this matter? Did it change your perception about street kids?