A Facebook user, who prefers to hide her identity by the name Suzy Bae, shared a horrifying experience that occurred to her just recently.
In the video she posted, she caught the man red-handed who was jacking off at her outside the window.
The perverted man even offered her a five hundred bill in exchange of a sexual intercourse.
Incidents of sexual assault have been rampant these days.
Offenders are getting bolder when it comes to their lust, to the point wherein they would even get close to their victims just to satisfy their needs.
Usually, a pervert tries to touch up their victims or take a good look on their private part. But in this case, the maniac even jacked off outside his victim's window.
A female netizen who hid her identity and posted this incident on a dummy account with the name Suzy Bae, shared her experience with a perverted man whom she caught doing his deed while watching her.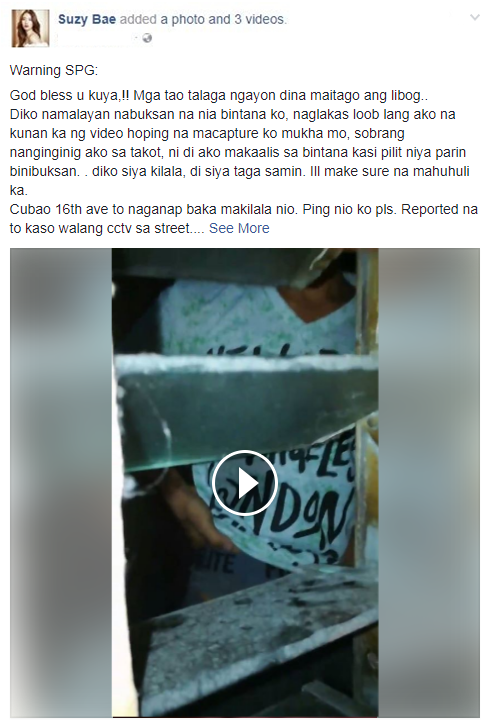 Read her full post below:
"God bless u kuya,!! Mga tao talaga ngayon dina maitago ang libog..
Diko namalayan nabuksan na nia bintana ko, naglakas loob lang ako na kunan ka ng video hoping na macapture ko mukha mo, sobrang nanginginig ako sa takot, ni di ako makaalis sa bintana kasi pilit niya parin binibuksan. . diko siya kilala, di siya taga samin. Ill make sure na mahuhuli ka. I posted it here kasi iba ang power ng social media, mahuhuli ka rin kuya."
According to her, she didn't notice that the man had opened her window. He took a video of him, hoping to get a closer look at his face in the camera.
"Cubao 16th ave to naganap baka makilala nio. Ping nio ko pls. Reported na to kaso walang cctv sa street.
FYI I didnt know na nilabasan si hayop. Video yan umaga na. Nakita ko nalang. And yes I was alone so there's no sense to shout he'll surely run away so I did the best thing. Capture a video kahit nanginginig na ko para kahit papano may proof ako. At habang nagvivideo ako tinitignan ko siya to make sure na wala siyang dalang baril kaya di masyado kuha mukha. Come on people just cooperate. Diko gagamitin dummy account ko if gusto ko ng Fame."
Moreover, she wasn't able to ask for help as she was alone that night and she was too scared to get out of the house given the fact that the man was just outside her place.
In the video, when the man was caught, he immediately fixed himself and tried to encourage her into an intercourse by offering her a five hundred peso bill.
"Sa bashers sa english ko, yeah I didnt even know na nagenglish ako until I played back the video, dala cguro ng adrenaline rush and all. Well let's hope na hindi mangyari sanyo to kasi surely iba yung feeling pag andun kana. You can't think straight, u would not know ano uunahin mong gawin, I closed the window for a moment, nag isip ng gagawin and reopened it to take the video, I took the risk para kahit papano I have something to show sa police.
So again if u know this guy in person for sure makikilala nio sa video, sa damit, sa figure sa kamay may bulok siyang ngipin sa harap."
The next morning, she noticed that there was some sort of juices outside her window in the same spot where the maniac was jerking off.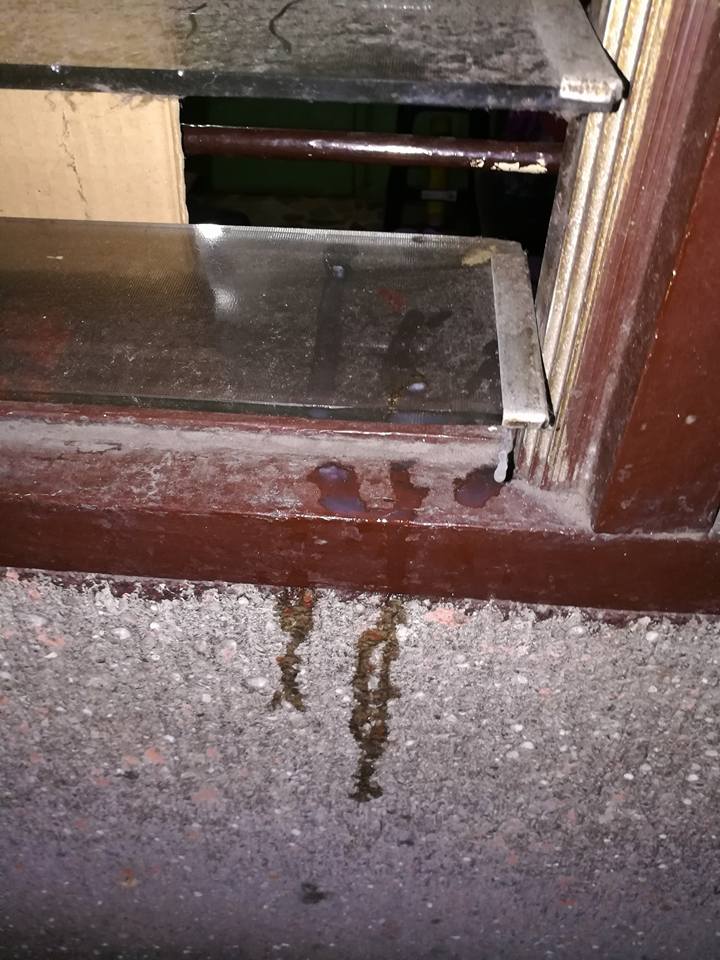 "Update, may nakakilala na sa kanya, at madami na pala reklamo against him, diko alam bat pinapakawalan pa siya, earlier today nakita ko siya sa harap ng bahay. FYI nanghingi ako ng tulong, mabilis lang talaga takbo nia. Nung nakita nia ako tumakbo siya. Nagroronda na po sila para hanapin siya dahil walang permanent na address. Thanks sa lahat ng nagshare!! GBU"
The good thing is, the offender was already identified and is being searched by the authorities.
Meanwhile, the netizens expressed their sympathy towards her.
Sexual assault is an occurrence which no one knows when and where will happen. To be safe, always check your place and make sure there is no possible way for a stranger to access your shelter when you're inside.
Also, it will be helpful to keep an item that can be useful for self-defense just in case a similar incident happens to you.
What are your thoughts on this issue? Do you know any similar instances like this? Share your story below!