Mayor Lani Mercado accidentally 'liked' a tweet criticizing her husband for being a 'thief'
A viral tweet from a parody account posted a photo of Bong Revilla's campaign ad, with 'magnanakaw' plastered on the tarpaulin
The senatorial candidate is still facing separate graft cases, despite being acquitted of plunder charges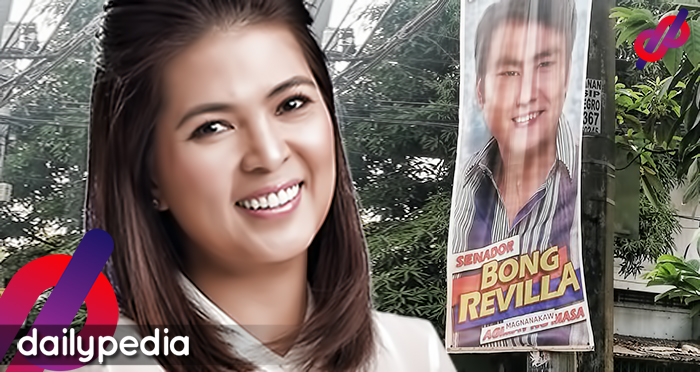 A Twitter parody account, centering on Philippine politics, posted on Wednesday a photo of Ramon "Bong" Revilla Jr.'s campaign ad with a "correction"—the word "magnanakaw" plastered on the tarpaulin, which piqued the attention of Twitter users, even that of the senatorial candidate's wife.
The account, Malacañang Events and Catering Services, recently posted a follow-up tweet showing an alleged screenshot of Lani Mercado-Revilla's Twitter page, where the "Likes" section displayed that she has "liked" the tweet that the parody account posted of her husband.
The actress-politician currently serving as Mayor of Bacoor has denied this, saying that "I didn't approve this. Fake news…"
Because of that, the original poster has called her a "denial queen," with one netizen accusing the mayor that she is the same as her husband Bong – already caught in the act but still lying their way through it.
It may be noted that Bong Revilla is still facing separate Priority Development Assistance Fund (PDAF) graft cases despite being acquitted last year of the crime, in relation to the pork barrel scam case.