Japanese man Toco, whose childhood dream was to become a dog, recently fulfilled his aspiration in a remarkable way. Through a custom-made and realistic collie dog costume, Toco's dream of transforming into a canine companion became a reality.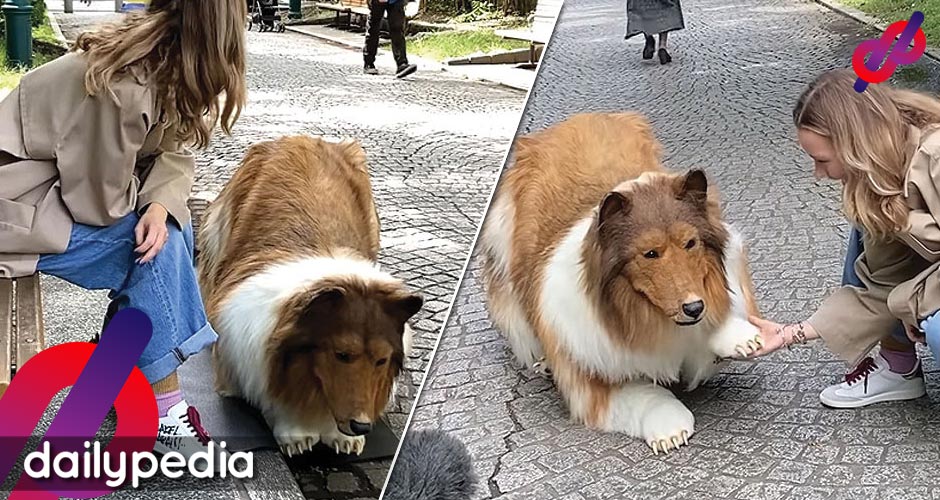 The extraordinary costume, which took over a month to create, came with an astonishing price tag of higit $14,000 or PHP760,000. Toco proudly showcased his impressive canine metamorphosis on his YouTube channel, where the video quickly gained immense popularity, amassing 3.6 million views since its posting on July 21, 2023.
Introducing himself as Toco, he expressed his excitement, "My name is Toco, I wanted to be an animal, and I became a collie."
The authenticity of his transformation was astonishing, as he imitated the actions of a real dog, from walking to rollovers, to the amazement of onlookers at the park.
The video was originally filmed in 2022 for a German TV program but was only recently granted permission for public posting. It showcased not only Toco's portrayal but also captured the amusing reactions of other dogs upon seeing him.
The remarkable costume was crafted by Zeppet, and its spokesperson proudly stated, "Modeled after a collie dog, it reproduces the appearance of a real dog walking on four legs."
While the video revealed Toco's dream fulfillment, it also shed light on his discreet approach. Toco confessed to keeping this aspect of himself hidden from friends, fearing they might find it odd. Even his family and co-workers were caught off guard upon learning about his extraordinary alter ego.
"I rarely tell my friends because I am afraid they will think I am weird," Toco admitted in an interview with British publication Mirror. "My friends and family seemed very surprised to learn I became an animal."
Given his reluctance to disclose this unique hobby to those around him, Toco remains steadfast in keeping his dream-like endeavor shielded from the public eye.
As Toco continues to inspire curiosity and amusement among viewers, it becomes evident that his lifelong dream has truly become a reality with the help of an intricately designed costume. In the eyes of many, Toco's remarkable journey stands as a testament to the boundless possibilities of pursuing one's dreams, no matter how unconventional they may seem.