According to a report by Jun Veneracion on '24 Oras', a motorcyclist in San Jose Del Monte, Bulacan, is in a coma. This is after colliding with a pole while riding on the Quirino Highway.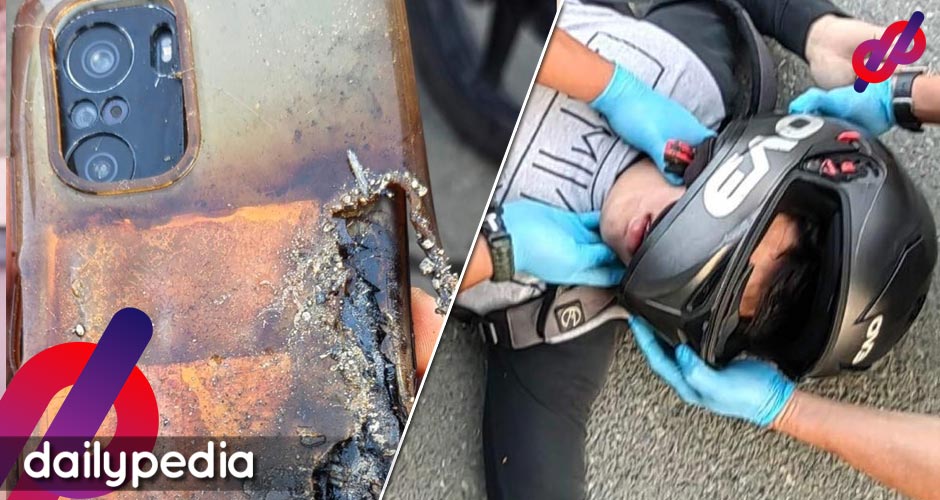 Jhonelle Paches was discovered unconscious by traffic enforcer Sharwen Ching-Tai on Sunday.
It is believed that the victim's cellular phone exploded while he was riding, causing him to lose control of his motorcycle.
The burnt cellular phone was discovered next to the victim.
"Pumasok sa isip ko nag short yung phone niya nagkaroon ng paso ang dito niya, dahil sa cellphone na napaso nawalan ng control yung driver," Ching-tai said.
The victim's family received confirmation of the incident from his friends who were present and provided a first-hand account of what happened.
"On the scene po nakita nila wala ng malay ang kapatid ko at 'yung cellphone na pumutok nakadikit pa po sa tiyan niya," the victim's sister said.
The victim collided with a pole while riding uphill on Quirino Highway, resulting in his motorcycle's destruction and helmet damage.
"Comatose pa rin po talaga sya hanggang ngayon, meron po siyang hematoma sa utak. 'Yung sunog po niya meron siyang third degree burn dahil sa pagputok ng cellphone," victim's sister added.
According to an electrical engineer, the cellphone explosion may have been caused by sweat entering the device.
"Nabasa yung battery pumasok yung pawis doon sa battery so once na pumasok yung positive negative didikit yun nagkaroon ng explosion," electrical engineer Norman Oblanca said.
The electrical engineer explained that sweat is more hazardous than rain, particularly when it comes into contact with electronic devices.
"Lahat ng maalat like pawis yan malakas mag absorb ng current 'yan," Oblanca added.
Experts recommend that individuals wear a waist pouch or other items to store their mobile phones while on the move.
"Huwag nating ilagay sa katawan natin lalo na pag nagmotor ka at sa kasikatan ng araw maaring maulit ito," said Bobby Esquivel, Director, City Traffic Management and Sidewalk Clearing Operations.