Beauty pageant website Missosology apologized for attacking former vice president Leni Robredo's foreign trips.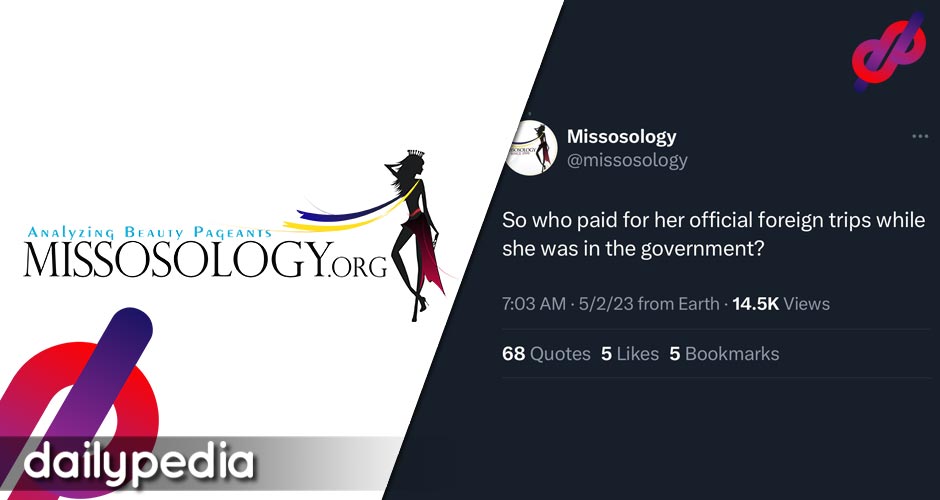 In a now-deleted tweet, the Missosology official Twitter account questioned Robredo's recent travels abroad.
"My question is who paid for her foreign trips while she was in the government?" the account asked on May 2 before getting deleted following backlash.
The account then issued an apology but no one bought it.
First nag comment ang "staff" kuno as a snide, tapos nag comment uli supporting the first comment. Yung interval is 5 hours. Bwahahaha. Tapos hours pa uli bago mag delete. 🤡 Now sasabihin na erroneous kasi di political ang misso? Clown. I see you 🤣🤣🤣 https://t.co/hKIytUOFDW pic.twitter.com/ut5fJFvBoJ

— Mikkhael (@markymarksworld) May 2, 2023
Ameer, Pawee, Stephen, Bong doesn't have access to this Twitter account. Only in FB and IG.

— Missosology (@missosology) May 2, 2023
While we recognize no one should be cancelled because of their political beliefs, this account is about pageants and NOT politics

— Missosology (@missosology) May 2, 2023
https://twitter.com/KafosoMo/status/1653355758640087043
Netizens believe whoever handled the account made the mistake of not switching to a burner.
https://twitter.com/markymarksworld/status/1653302032420462594?s=20
Akala talaga ni @missosology gandahan lang ang beauty pageants. Pageantry should always be political. Women's voice is political. Herstory!

In short, amacanna accla. https://t.co/nxIGK6i5Ml

— AltABSCBN (@AltABSCBN) May 2, 2023
accla dalawang beses talaga? anong erroneously posted, tanga lang ba? https://t.co/Z3MtUJd4R3 pic.twitter.com/WmODGq8zkf

— John ジ (@johnnraymundo) May 2, 2023
Lol pinagsasabi mo? Tuwang tuwa nga kayo pag political questions tinatanong sa mga beauty queens tapos issegrate niyo pageantry sa politics? Hello naman sa mga pa pageants nga mga city sponsored by its LGU. Also stop the hypocrisy dahil ang pageants dito sa PH run by politicians https://t.co/TJpLjVBBnR

— Keens (@kenoizaleo) May 2, 2023
Questions about Robredo's trips started with Wilhelmina Junghan commenting on her post.
" Are you on a Government working trip or just a fun travel (WITH FAMILY) paid for by FILIPINO taxpayers?" she asked before accusing Robredo of mishandling funds.
She surely gets her weed from Cavite!!! pic.twitter.com/ZUvKMuwa3E

— Pingping Will Tweet (@PingpingTweets) April 29, 2023
However, many questioned the account's authenticity.
Early demise of a social media account? We're not really sure if the person in the pic is the actual Wilhelmina. Socmed is a playground for crooks, trolls & cowards & fraudsters. So, if she's really "it," Mader, just make another account. And stay away from intelligent stuffs. pic.twitter.com/TrTN8RSZtp

— DAVAOMIGRANT (@nabunturanguy) April 29, 2023
Robredo defended herself, saying, "Not one of my foreign trips was ever charged to the government."
The Department of Foreign Affairs provides recommendations regarding the type of visit a Head of State should make when visiting a country. These recommendations may fall under the categories of a state visit, official visit, or working visit.
Robredo served as vice president for six years, receiving an annual budget of less than one billion Philippine pesos.
Despite this limited funding, the Office of the Vice President (OVP) has played an active role in providing services across the country through various projects and initiatives.
Among these were the 'Angat Buhay' program, which aimed to alleviate poverty and has since become a non-governmental organization, and the 'Bayanihan e-Konsulta' program, a free teleconsultation service.