TV Patrol anchors have gone viral after struggling to deliver their final spiel.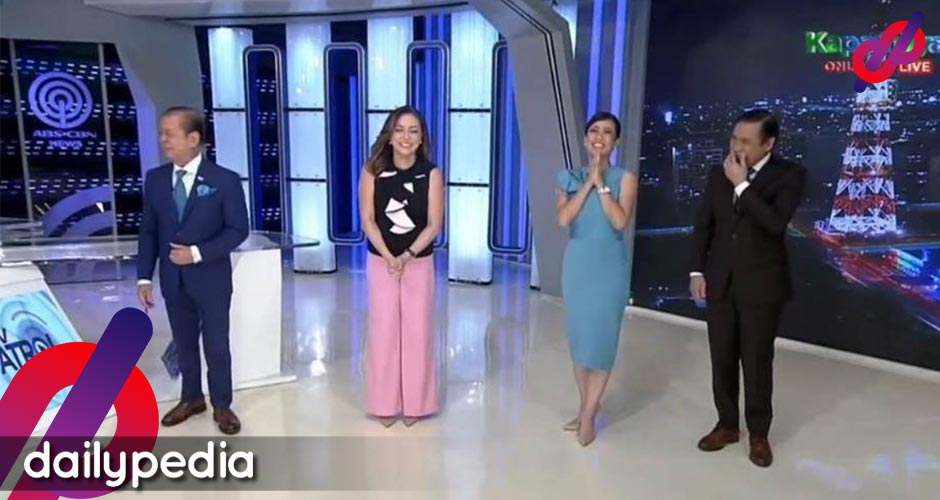 Karen Davila, Bernadette Sembrano, Noli de Castro, and Henry Omaga-Diaz couldn't control their laughter when delivering their final lines during the conclusion of the program's Feb 28 episode.
Davila was the first one to laugh.
"At yan ang mga balitang… binantayan namin… para po sa inyo. Ako po si Karen Davila," she said as she giggled uncontrollably.
Davila was then followed by Sombrano, who also started laughing.
"Ako po si Bernadette Sembrano. Nandito po kami para sa inyo, saan man sa mundo."
"Hay naku. Kaya mo yan," Sombrando said as she looked at Omaga-Diaz.
And it appeared that Sombrano's laugh was contagious, which affected Omaga-Diaz.
"Makuha kayo sa tingin. Ano mang hamon, ako po si Henry Omaga-Diaz," he said.
De Castro, who laughed with them the entire time, was the only one who delivered his spiel perfectly.
"Ako naman po ang inyong kabayan si Noli de Castro. Maraming salamat at magandang gabi, bayan."
Netizens couldn't stop laughing either after watching the clip.
https://twitter.com/walkingnozomi/status/1630541664711487488?s=20
https://twitter.com/Heart_Melts/status/1630973741378469889?s=20
https://twitter.com/JCgachalian/status/1630608292455260160?s=20
https://twitter.com/rienalyn_sabz14/status/1630591160795414528?s=20
tawang tawa ako BSHSHSHAHHAHA #TVPatrol

— icy (@icym4tcha) February 28, 2023
https://twitter.com/jamesvitaliano/status/1630557104745635840?s=20
Initially, people didn't know what the anchors were laughing about.
https://twitter.com/atthebigdom/status/1630542197832695808?s=20
Apparently, they were laughing because De Castro made a joke before they gave their outro.
Before the show ended, Gretchen Fullido briefly talked about the viral 2×2 photo of BGYO member Gelo. Netizens thought that he looked "cute" in the picture.
After Fullido's report, De Castro is heard saying, "Henry, mas cute ka d'yan."
Ate B @atebsembrano ito po ba yung reason?pic.twitter.com/Q3HntTIU8Z

— Rhaine (@Samantharhaine2) February 28, 2023