Go down memory lane with these nostalgic American TV shows that kids from the '90s and early 2000s grew up watching on ABS-CBN's Primetime block.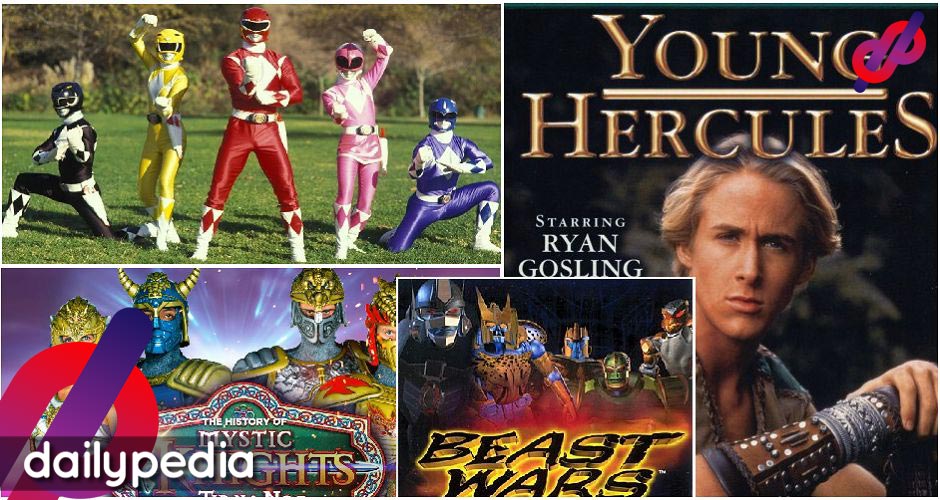 If you were born in the '90s, there is a big chance you did not allow a day to pass without seeing an episode of your favorite TV show. Some of you even sneaked past bedtime just so you could not miss these fantastic shows, which unfortunately aired on primetime.
Back in the day, when ABS-CBN's flagship newscast on primetime ran for just 30 minutes, and primetime soap operas aired on much earlier time slots (6:30-8:00 pm), what dominated the dramas and late-night news were American TV shows. From good-looking teenagers morphing into bright-costumed superheroes to charming young Ryan Gosling as Hercules, the late primetime shows of that era were just too addictive to resist.
Mystic Knights of Tir Na Nog.
This series was one of very few American-made Tokutsatsu that ABS-CBN aired on its late primetime block in the early 2000s. Produced the massively popular, Mighty Morphin Power Rangers, Mystic Knights of Tir Na Nog was one of Saban Entertainment's efforts to produce its Tokusatsu brand without adapting an original Japanese material.
The series drew inspiration from Irish and Celtic mythology and was similarly starred by teenage actors. On ABS-CBN, the program aired on an 8:30 PM, Friday slot.
Young Hercules.
ABS-CBN started airing Young Hercules at the turn of the 21st century. It was one of the Network's syndicated primetime offers, which included animated shows, Latinovelas, and American fantasy shows.
It was a prequel to the television series Hercules: The Legendary Journeys that aired [originally] on Fox Kids Network. It starred then-teenage actor Ryan Gosling.
Mighty Morphin Power Rangers.
This series is undoubtedly Saban Entertainment's most successful title, having achieved commercial success and spawned several TV series and movies.
In the Philippines, the original series aired in a late primetime slot every Friday. The series was a rating magnet, which explains why ABS-CBN allowed it to complete its run from 1995-1999. The series followed five teenagers who were bestowed great morphing powers by the sentient being, Zordon, to fight the evil forces of Lord Zedd and Rita Repulsa.
Beast Wars.
This animated TV series is a sequel to the '80s animated TV series, The Transformers, which is the direct predecessor of the massively-successful movie franchise. The series followed the bloody rivalry between machine transforming factions, Predacons and Maximals.
ABS-CBN aired the series every 8:00-8:30 pm on Fridays, in 1999.
Which of these TV shows do you remember? Do not forget to share your thoughts and recollection about them in the comment section.