Eraserheads fans have called to exclude lead guitarist Marcus Adoro from the band's upcoming reunion in December.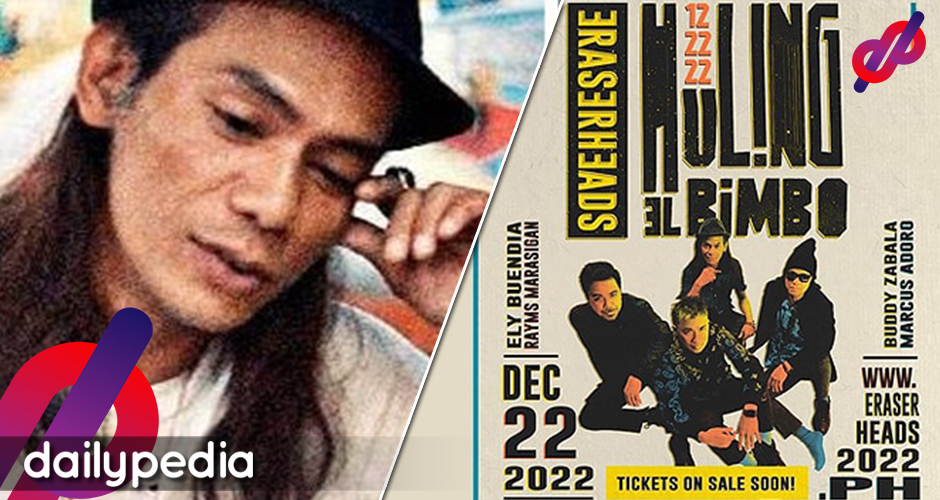 Adoro has been accused of repeatedly abusing his ex-lover and singer-songwriter daughter Syd Hartha in the past.
In 2019, Hartha shared screenshots of what appears to be a conversation between Adoro and his ex-lover, indie film actress Barbara Ruaro. She said her father had been slamming her head on the wall for some reason.
"Tinatama niya ulo ko sa pader," she wrote.
"sa halos isang taong madalas ko siyang nakakausap at nakakasama, nabigyan na ng kasagutan lahat ng bitbit kong katanungan noon. hinding hindi ko makakalimutan iba't ibang klase ng abuso na dinanas ko sa kanya. kaya pala ako nilalayo ng nanay ko at iba pang mga kamag-anak ko sa kanya. kaya pala," she added.
Hartha said Adoro wasn't in her life for 15 years and later realized why her family kept her away from him after they reconnected.
"Hanggang ngayon, araw araw kong bitbit yung takot na baka mangyari ulit ito sa akin o sa kahit sino man. sana magsilbi itong gabay sa lahat. this monster could be anywhere now doing who else knows what. let's watch out for each other," wrote the now 20-year-old singer.
Ruaro was the first to detail the abuse Adoro engages in with people close to him. One photo showed her with a black eye, apparently caused by the guitarist.
View this post on Instagram
"I experienced all sorts of abuse under the hand of a narcissistic man. The vicious cycle he has created for himself and others should be put to a stop. I will share my story soon," she said on Instagram.
The rest of her body was also all bruised up.
View this post on Instagram
As much as the fans would like to see the band's original members perform again, allowing Adoro to get on stage just doesn't seem right.
https://twitter.com/btrzkji/status/1571728139646283778?s=20&t=oGw53Q3ck8P8ZfN6LY0WuQ
huling el bimbo with marcus adoro?!hard pass. i like eraserheads & i'm thrilled about the reunion but i hope they address this issue. their bandmate needs to be jailed.

— َ (@misschaviste) September 19, 2022
tw // abuse

just to inform/remind you all that their lead guitarist, marcus adoro, is an abuser. he abused his daughter and ex partner physically & verbally.

celebrating this reunion is like celebrating the presence of an abuser still free from the consequences of his actions. https://t.co/Bc3mV27BYU

— shie (@metabvco) September 19, 2022
Before we celebrate to Eheads' comeback concert, let's not forget that Marcus Adoro is an abuser. He doesn't deserve any support and a spotlight. He's trash. Walang kwentang ama. Bastos.

— cj | franseth official loveteam era (@hellofranseth) September 19, 2022
As much as I wanna be excited about the alleged comeback, it's also very disappointing na parang nagkalimutan na lang sa nangyari kay Marcus Adoro considering pati sarili niyang anak na si Syd Hartha ay naging vocal about the history of abuse.

— Celina (@maybeitsceline) September 18, 2022
Ok. Nabawasan na ang pgiging excited ko after ko nabasa ang tungkol kay Marcus Adoro.

— 🧏‍♀️🎀F🧲🎼©️[email protected]🎀💅🏼 (@HelloMy2ndAcct) September 20, 2022
hold them all accountable. by having him in the concert and not speaking out, despite having full knowledge of the abuse, the rest of the band are enabling him. silence only empowers the abuser. to think i was so hyped for this before i learned what a monster marcus adoro is. https://t.co/UbguRbiVHl

— ● ○ ° #11103 #NEVERFORGET (@iiennne) September 19, 2022
Ruaro also said that Adoro's camp requested that she take her posts down as it affects the guitarist's work.
"This is not the first time I am being convinced that the abuse was my fault, that I should be held accountable for the loss of my abuser's livelihood, and that I should remove my posts as proof of forgiveness… I will not be silenced; not this time. We will not back down." she claimed in a now-deleted post.
"Yes, Marcus Adoro abused us—in more ways than one. No, we are no longer together and in contact with each other," she said in a separate post.
Ruaro is still coping with the abuse. She is currently in a relationship with actor Romnick Sarmenta whom she shares a child with.
Meanwhile, Hartha thanked netizens for not forgetting Adoro's disturbing past.
salamat sa mga di nakalimot😊🖤

— syd hartha (@sydhartha) September 19, 2022
In an interview with ANCX, Ely Buendia's manager Diane Ventura said it was unfair to call the band's lead vocalist an enabler of Adoro.
"One of Ely's non-negotiable conditions prior to signing was precisely that Marcus resolve his issues otherwise Ely would not work with him. This was promised by Marcus' management which was why we even reconsidered.
"To call Ely an enabler is categorically false and absurd. We do not condone abuse that is absolute. We acknowledge the pain and suffering of the parties involved and we seek accountability.
"However, we will do what we can to encourage peace, resolution and will never get in the way of possible reconciliation or second chances between families, We are hoping for good to come out of this." she said.