Agriculture Senior Undersecretary Domingo Panganiban was slammed by netizens for blaming the oversupply of garlic and cabbage on farmers.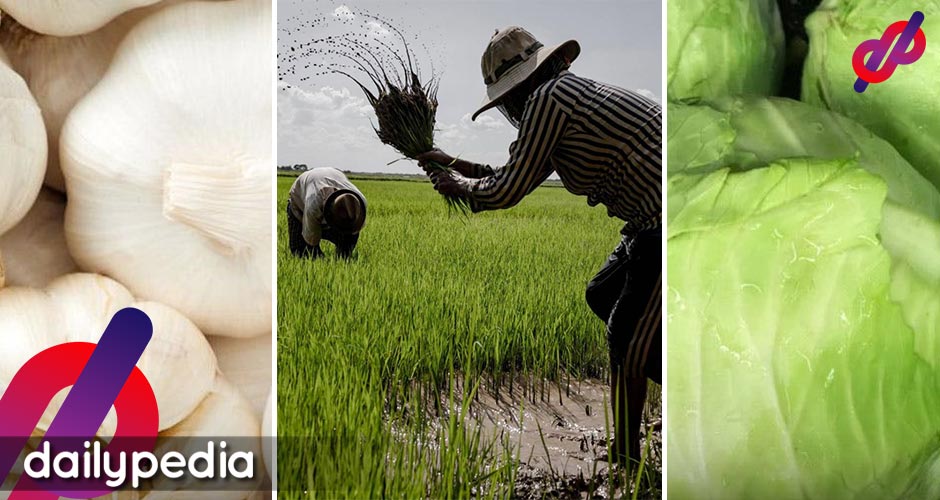 In a radio interview, Panganiban said farmers lack the foresight on the market for their products which leads to spoilage.
"They plant crops but they don't think about the market for their harvests,"  Panganiban said of garlic and cabbage farmers on September 7.
Pres. Bongbong Marcos has yet to officially appoint a DA secretary and is temporarily heading the agriculture sector.
"They plant crops but they don't think about the market for their harvests," Panganiban said in response to the surplus of garlic in Batanes and cabbage in Benguet.
"The situation in Batanes, the farmers plant their regular crop during this season but they don't think about whether they have a market to sell it to," he said in Filipino.
"It's the same in Benguet. They plant their regular crops but they don't think about what is happening in the markets," he added.
On Sept 6, Batanes Gov. Marilou Cayco said that there was an oversupply of 25 tons of garlic which was caused by the imported garlic and the reduced bulk purchase by DA Region 2.
Netizens called on Panganiban to resign over his statement.
@USEC Domingo Panganiban, you better RESIGN sir.

— CD (@misscheii) September 8, 2022
Please quit your post. The farmers need people in DA who will help them with their problems. You don't know your job. https://t.co/ubMQz3KYtc

— Ma'amSyj🇵🇭 (@MaamSyj) September 8, 2022
DA Undersecretary, we need you to PAUSE for a while and think about what YOU said. Bakit po natin isisisi sa mga farmers ang issue na 'to? Make it make sense, Sir Domingo Panganiban. https://t.co/vvF0lVCidZ

— daniela (@ddanireyess) September 9, 2022
Agri Usec Domingo Panganiban you are a MORON.

That's YOUR F*CKING JOB TO SEAMLESSLY BRIDGE SUPPLY AND DEMAND OF AGRI PRODUCTS IN THIS COUNTRY!!!

YOU ARE A MORON for blaming farmers for producing… that is their job!!! NOW DO YOUR F*CKING JOB!!! https://t.co/e0mO2tdc86

— KDramaTruth 🎬 (@Truthsayer0000) September 9, 2022
Instead of blaming farmers for oversupply Sr. Usec. Domingo Panganiban should instead help them as the prices of garlic and cabbage in some areas are still high. DA's comprehensive inventory in the market might help them with what to plant.https://t.co/8XUuPruiRX

— AndyJCuevo (@Andyjuachon) September 9, 2022
DA Undersecretary Domingo Panganiban joined my hate list.

— ianwhatiam (@iamwhatiam300) September 9, 2022
https://twitter.com/sammikinsz/status/1568483620360437761?s=20&t=bNql1yc7qRS0PL3SxJc86w
Wow, what a statement Me. Domingo Panganiban…. How did you become an undersecretary? you really deserve your title… 'under' secretary…. Baka ni hindi ka marunong ng gregg shorthand? https://t.co/HRyG8a7cHp

— HungryYears (@PamTocino) September 9, 2022
Meanwhile, there exists a video of a Benguet farmer disposing of his cabbage harvest due to how low the prices are for the produce.
The DA said that it would assist farmers in plating other substitute crops to meet the demands of the market.
"What we're going to do is give them a product that will substitute for the crop they are planting for this season so they are not at the mercy of middlemen," Panganiban said, adding that the DA will also do something to assure that farmers have steady buyers.
Pambansang Kilusan ng mga Samahang Magsasaka legal and policy advocacy officer Rene Cerilla welcomes the proposal but suggested that importation be lessened.
"We're not saying stop importing. But the country continues to import even if there is available supply of crops in the country, and this has been causing losses to farmers," he said.
Panganiban recommended that the Batanes garlic be sold to nearby areas such as the Ilocos region.
"If not, it will be brought to Manila but the price will be higher because of the transport cost," the DA official said.
Batanes garlic currently goes for P100 per kilo and will only shoot up to P150 a kilo if transported to Manila via plane due to logistic fees.
Last month, the DA in a congressional hearing said that the Philippines is facing a garlic shortage in the second half of the year.