The Metropolitan Manila Development Authority (MMDA) clarified on Tuesday that the recent flooding along the Manila Baywalk and adjacent areas could not be directly attributed to the dolomite beach.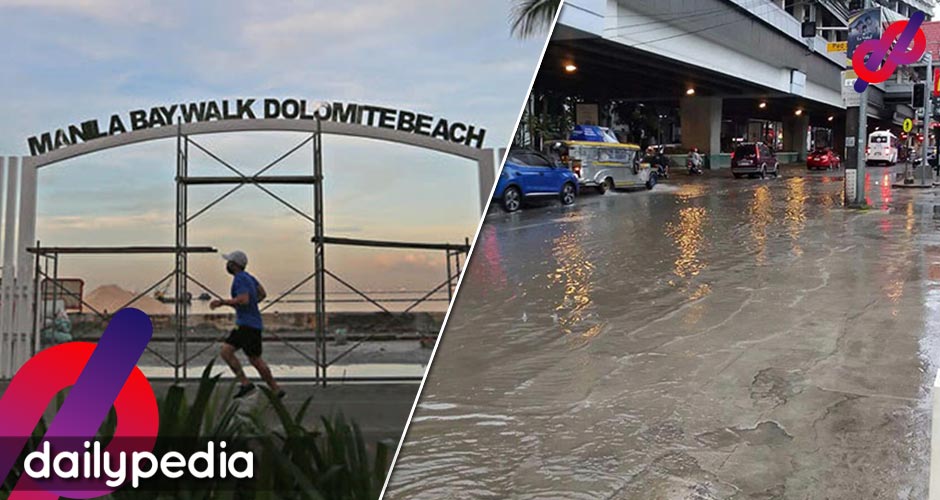 MMDA Acting General Manager Baltazar Melgar said the beach "has no connection" to the flooding areas.
"The reason why flood water subsided slowly during heavy rains last Friday was the ongoing construction of three pumping stations (Padre Faura Drainage, Remedios Drainage, and Estero De San Antonio) and a pipeline by the Department of Public Works and Highways (DPWH), which is expected to be completed by October," Melgar said in an interview at the Juan Luna Elementary School in Sampaloc, Manila.
He explained that the pumping stations are part of the "engineering solutions" to make Manila Bay "swimmable" and reduce the coliform level count in the area's waters.
The MMDA seeks to work with the DPWH in using a mobile pump to discharge water directly to Manila Bay.
"These storm waters can be safely discharged directly into the Manila Bay because it can be diluted," he said.
The MMDA previously said  the flooding happened because of the pumping stations' mandatory closure due to the Dolomite beach. Once the drainage systems are completed, sewage water will be diverted to a treatment plant and routed into Manila Bay.
The pumping stations are connected to a sewerage system that would treat water before discharging into Manila Bay. Because of this, floodwater had to be discharged via Balete pumping station unto the Pasig River. (2/2) @gmanews

— Joseph Morong 🇵🇭 (@Joseph_Morong) August 8, 2022
"Hindi pa natatapos yung project ng DPWH, yung pumping station saka installation ng pipe," Melgar told GMA News Online. "So mabagal ang pag-subside ng tubig-baha." he added.
In the meantime, the Pasig River will be forced to receive the floodwaters.
Netizens were all over the Duterte project.
Stupid is forever talaga. Dolomite pa more! https://t.co/IroCE4tmoa

— JC Punongbayan, PhD (@jcpunongbayan) August 9, 2022
PAGBAHA SA METRO MANILA, IISA ANG ITINUTURONG DAHILAN.

ANG PAGSARA NG WATER OUTLET MULA SA DRAINAGE PUNTANG BAYWALK,

PARA DI MASIRA ANG DOLOMITE BEACH?

— Storymaker (@Moneyma78808638) August 8, 2022
The Dolomite beach project is one of the top reasons why we have floods around UN to Taft area. Three drainage systems are closed because of the unfinished construction of the man made beach. A beach that created a river inside a city. #Dystopia pic.twitter.com/hycqfCn3F7

— Jilson Tiu (@jilsonstiu) August 9, 2022
The Dolomite project was arguably the most controversial project under the previous administration, given that it was constructed at the height of the pandemic.
The Dolomite beach project was the stupidest project ever done by the Government. https://t.co/9PqozruzWx

— nikki (@macronikki) August 8, 2022
Duterte spokesman Harry Roque said the beach was good for the people's "mental health."
wHAT F MAGSWIMMING SEBONG SA DOLOMITE BEACH ?????? good 4 mental health yEZ

— horangdan avi ☀️ (@4hongjisoo) August 10, 2022
Sabi ng mga MEMA, ang Dolomite beach daw ang dahilan ng pagbaha sa Maynila. Tingnan ito, ganito ang Maynila ng sinaunang panahon: pic.twitter.com/oGxw1N1Vu7

— PEDXINGISMO (@criocksz) August 10, 2022
The Manila Dolomite beach project exacerbates the production of flood hazardscape in Manila. DENR refuses to believe us, and even called us "bayaran." https://t.co/tvrRPvIbYB

— Timothy James Cipriano (@geograteej) August 8, 2022