ABS-CBN has produced some of the most successful localized versions of international game shows.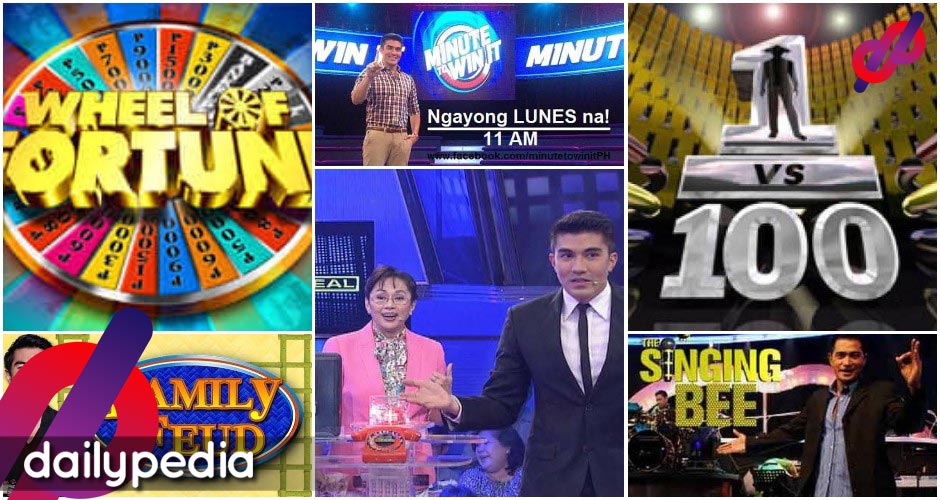 There was a time when major networks in the Philippines were racing against each other to get the rights to produce the local versions of global hit shows. It became a trend for a TV network to produce a local version of a globally popular game show as soon as the rival network gave up the rights.
In the Philippines, alot of those international game shows became household names, courtesy of ABS-CBN. Below are 8 of those game shows, and their respective hosts speak volumes of its massive popularity. Luis Manzano took over the hosting duty from 2012 until the show's finale in 2016.
1 vs 100 (2007).
Based on the game format developed by Endemol (Big Brother, Deal Or No Deal), 1 vs 100 aired on ABS-CBN's weekends from August 2007 to April 2008. It didi not have the same success as its predecessor, but it arguably had one of the most-interesting game formats that ever graced the local television.
Bet on Your Baby (2013).
Based on the American game show of the same name, Bet on Your Baby features families who try to guess their toddlers' next moves to win the grand prize. Judy Ann Santos hosted the local version of the show, which was shared on ABS-CBN's weekday pre-primetime slot. It aired its last episode in September 2017.
Deal or No Deal (2006).
There is no doubt that the Kris Aquino-hosted Kapamilya, Deal or No Deal, remains today as one of the most successful international game show formats to have a local TV version. The fact that it occupied a Primetime Bida slot for three years and ruled the TV rating game,
Family Feud (2016).
This massively popular and successful international game show probably had the most number of versions on local television. ABC 5 aired the first version of the show in 2001, with Ogie Alcasid serving as its presenter. GMA Network bought the format's local rights and aired its second version from 2008 to 2011. In 2016, ABS-CBN aired the third version of the show, with Luis Manzano as its host. Luis Manzano's father, Edu, notably also hosted the Kapuso version of the show, which feature two families trying to beat each other by guessing the top answers of 100 people to various survey questions. In 2022, GMA Network reclaimed the local rights of the show, with Dingdong Dantes as its new host.
Minute to Win It (2013).
Minute To Win It was one of ABS-CBN's highest-rated daily game shows. Luis Manzano hosted it from 2013 to 2019. The game challenges contestants to perform a series of physical tasks within one minute successfully. It had several format tweaks to accommodate players from different age groups.
National Bingo Night (2009).
Called 'Pinoy Bingo Night' in the Philippines, this interactive game show drew inspiration from the popular card game, Bingo. Kris Aquino, known-then as the Philippine Queen of Game Shows, presented the show. The show suffered low ratings, which prompted ABS-CBN to cancel it after just one season.
The Price is Right (2011).
Like Wheel of Fortune, The Price Its Right also and two versions in the Philippines. TV5 (formerly ABC 5) aired its own version from 2001 to 2002, with Dawn Zulueta as its presenter. ABS-CBN debuted its own version in 2011, with Kris Aquino as its presenter. The show lasted for only six months on the air.
The Singing Bee (2008).
Originally, action star Cesar Montano hosted it from 2008-2010, The Singing Bee is a fun karaoke game show that requires player to fill in missing lyrics of the song performed by the show's live band. Roderick Paulate and Amy Perez took over the hosting job, when the show returned in 2013. It aired its last episode in 2015.
Wheel of Fortune (2008).
TV5 (formerly ABC 5) produced the first version of this smash game show on local television in 2001, with BB Gandanghari (then Rustom Padilla), serving as its host. ABS-CBN tried its luck on the format in 2008, with Kris Aquino as its new host. Zara Aldana and Jasmine Fitzgerald served as that edition's puzzle assistants.
Don't forget to share your thoughts and recollection about these shows. Did your favorite make it on the list? Drop a comment below.