The content creator-turned-movie director promised to deliver historical accuracy with his upcoming film, Maid in Malacañang, while also allowing "other version of the truth" to surface.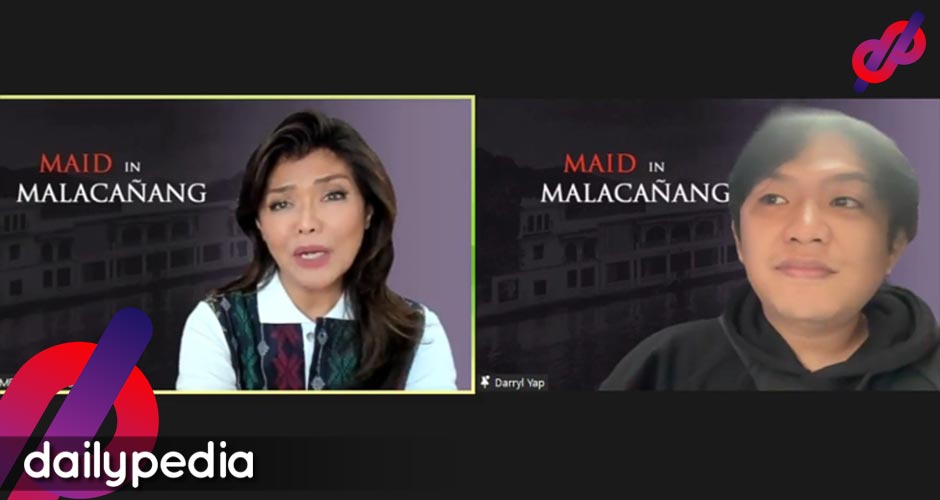 The director of the upcoming Viva Films production, Maid in Malacañang, took a swipe at those who accused him and his work as a mere effort to revise the history of the Marcoses. 
During a virtual press conference on June 25, the producers, the director, and cast members of the highly-anticipated movie answered questions from members of the press and blogging community.
One of the most interesting questions asked is how Yap would ensure the historical accuracy of his film.
"Just like what Senator Imee said, for like four months now, we've been together like every week, and we've been talking and talking about what's happening. So the birth of 'Maid in Malacañang' actually, is an amalgamation of all the question and answer portion of Darryl to Senator Imee," he said.
Yap has notably worked with the lawmaker in the director's 'Lenlen' series, a parody series streamed online, that many viewed as black propaganda against former Vice President Leni Robredo.
"Ang nakikita lang kasi natin is the choreographed, disciplined of the First Family Marcos then, eh" he added. The Jowable director also promised that his film will tackle not just about the Marcoses but it will show facets and dynamics of a family under crisis.
Yap believes that his work will accurately depict history. 
"Maybe if we minus a little entertainment value and the cinematic appeal of it, I think it's very accurate," he explained.
He also stressed the versions of truths, that he believes should also be shed upon. He promised to draw parallels between existing versions of history and what the Marcoses claim to be true.
"I also prioritize the parallelism of the existing history and the side of the Marcoses. Ang katotohanan naman ay maraming bersyon, pero lagi namang nagtatagpo sa kung ano talaga ang nangyari"
"The truth has many versions, anyway, but they always converge at that one point that depicts what truly happened" he said.
While Viva's Vic del Rosario and Senator Marcos, themselves, admitted that Yap has been Viva's 'spoiler brat', some of his decisions, especially when it comes to creative matters, apparently get rejected. Senator Imee Marcos was asked if there are parts of Yap's original script for the film that she did not approve.
"Oo marami,kasi salbahe si Darryl. Nakakaasar (Yes, a lot actually, because Darryl is naughty. It's annoying)' she said.
The film is envisioned by Viva to be its most-viewed film in history, hence the budget it was willing to shell out for the production of the film. The target release is set for July 20, 2022. Vic Del Rosario said he intends to have the film also shown in cinemas.