A magna cum laude graduate of Camarines Sur Polytechnic Colleges has been accused of plagiarizing a valedictory address of another cum laude graduate from a different reputed college in Manila.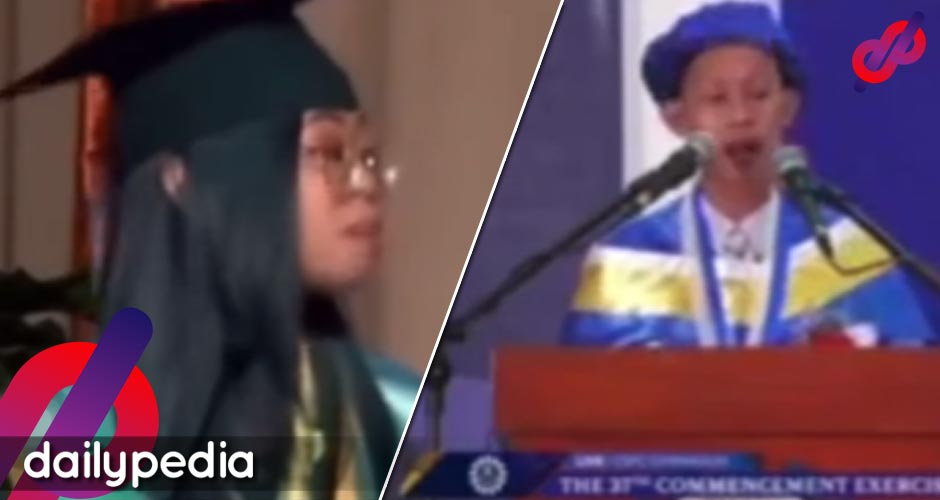 Jayvee Ayen, who finished top one, gave a speech about stereotyping "superior" and "inferior" college courses. He said people should avoid considering what a certain student chose as their major.
"Lang… a shortened Filipino word for 'lamang', which means mere just or only…" Ayen said.
The theme he went with was also the theme used by Mariyela Mari Hugo, a cum laude graduate from the Far Eastern University. The latter delivered her speech at the Philippine International Convention Center o PICC Plenary Hall in 2019. Netizens noticed that their speeches sounded awfully similar.
The video comparison immediately went viral on TikTok.
Ayen defended himself, saying that he didn't mean to copy off anyone and was just inspired.
"I mean not to plagiarize. Naka-relate lang din ako nang sobra noong mapanood ko yung video kaya may mga lines o thoughts ako na nainput, na tumutugma sa 'Lang video'," he explained on the "The Spark Publication," the official Student-Community Publication of the Camarines Sur Polytechnic Colleges.
He said the similarity of his speech to Hugo's was just a coincidence.
"I am really sorry po. Hindi ko intensiyon na i-plagiarize yung speech niya. Nagkataon lang na same topic yung gusto kong i-address," he added.
'HINDI KO PO INTENSYON NA I-PLAGIARIZE 'YUNG SPEECH NIYA'

Jayvee Ayen, the Camarines Sur Polytechnic Colleges Batch 2022 Top 1 and Magna Cum Laude, said it was not his intention to plagiarize the "Lang?" speech of Mariyela Mari Hugo, a Far Eastern University graduate. pic.twitter.com/iPAlKHVuSs

— SAGISAG (@Sagisagph) July 13, 2022
Due to the controversy, netizens were given a reason to do a background check on Ayen. They found out that he is a "kakampink," a term used to refer to the supporters of the Leni-Kiko tandem.
Speaking to Balita Online, Hugo said Ayen should have acknowledged her speech.
"The issue has already been brought to my attention by concerned netizens."
"While one may have good intentions, one must still check if the means to actualize those intentions are also ethically acceptable. Borrowed ideas, even inspirations, should be cited or at the very least, acknowledged."
"I hope that this issue serves as a reminder to everyone to review and uphold their standards," she said.
Ayen has since deactivated his social media accounts. Meanwhile. Camarines Sur Polytechnic Colleges issued an apology to Hugo.
"We knock on the generosity of hearts of everyone to allow this to pass without hatred towards the person as he moves on to start a career in his life," the school said.