Heneral Luna, a highly acclaimed 2015 biopic film, is among the most historically accurate Filipino movies in recent memory, except for one scene.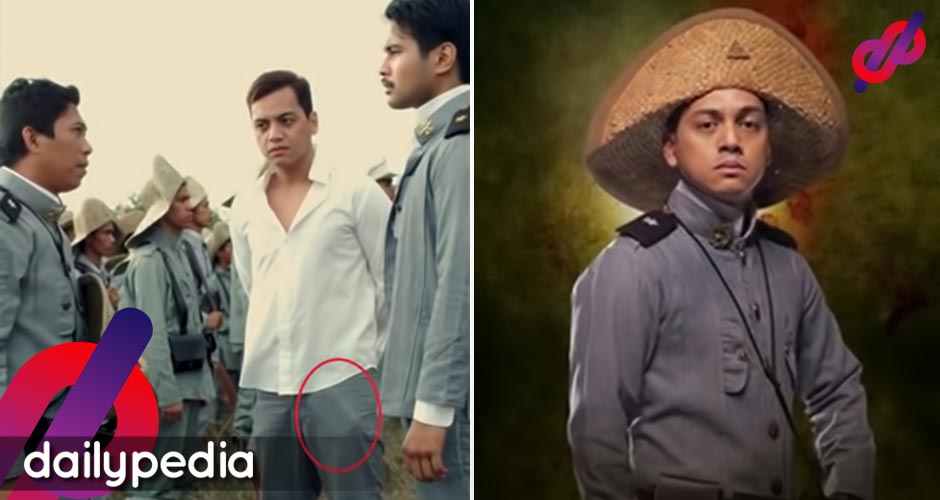 The scene in question has Archie Alemania as Capt. Eduardo Rusca. It's the 32 minutes of the film where Alemnia's character had an interaction with two others.
At first, it seems like a normal shot. However, a closer look showed something bulging out of Alemania's left pocket that resembles a smartphone.
The inconsistency was brought to light by netizen Rainier De Jesus.
De Jesus noticed Alemania's pockets after watching the film again.
"Matagal na napalabas ang Heneral Luna (2015) pero pinanood ko ulit. Ngayon ko lang napansin na isa sa mga aktor na si Archie Alemania (nakaputing polo) bilang Eduardo Rusca, may (parang cellphone) sa kaniyang bulsa. #cellphonesabulsa," he wrote on Facebook.
The movie's setting is in 1898 when electronic gadgets didn't exist.
De Jesus also said the square-shaped item in Alemania's pocket also protrudes in other scenes.
Other netizens also noticed what appeared to be a discrepancy in the film.
watched #heneralluna yesterday. was that a cellphone on archie alemania's pocket? or was that capt. rusca's version of a black book? :p

— Faiqah D (@faiqah4press) September 27, 2015
Some said that the item could just be a cigarette case.
Alam kaya ni Archie Alemanya na nasa bulsa nya ung cellphone nung kinunan tong scene na to? May Cellphone na pala nung panahon ni Heneral Luna? HAHAHA Basahan ng Artikulo una yan! #HeneralLuna pic.twitter.com/qjwJmudjy7

— KURT (@Mrkurtski) December 1, 2018
Heart Evangelista in Mulawin vs. Ravena got subjected to the same controversy and scrutiny.
Based on the photos, a smartphone was sticking out of her costume.
Samantala, rich kid pala si Alwina. May dalang iPhone sa Avila. #MVRPasya pic.twitter.com/XpN9Xd5pb3

— ♛ 𝕥𝕙𝕖𝕛𝕠𝕙𝕒𝕟𝕤𝕒𝕝𝕒𝕣𝕕𝕒 ♛ (@johansalarda) May 24, 2017
However, in a revisit to the official episode, a phone is nowhere to be found.