Senator-Elect Alan Peter Cayetano surprised Filipinos when he called on the public to give president-elect Bongbong Marcos a chance to prove himself as a leader.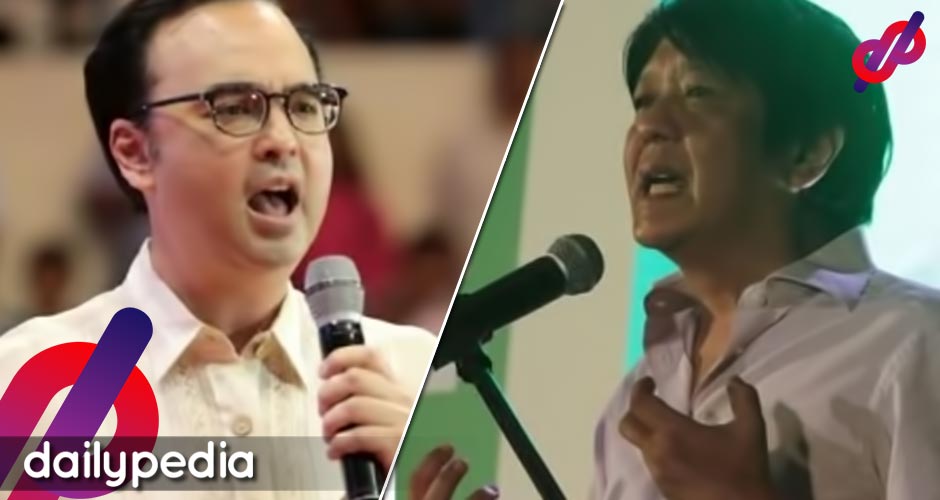 During the 2016 vice presidential debate, Cayetano went viral for pressing Marcos over his absence during hearings on corruption and his family's plundering of the country.
Last week, Cayetano said he'd like to see what a Marcos presidency could accomplish,
"He was elected. He's set to be proclaimed. Give him a chance. Let's see what he does, and let's judge it later on. It's easy to judge him and his family before this — that's clear," Cayetano said in a press briefing. 
"But now, Filipino have spoken: He's what we want as president. So let's judge him based on his actions when he's already there. But as I was saying, let's not follow blindly," he added.
When asked about his criticism of Marcos in the said debate, Cayetano said: "When you have certain principles, they don't change. They don't really change. Did I retract?"
"Having said that, there are issues regarding the Marcos family that will remain, and it's up to them to answer them. It's up to you in media to hound them on that," he added. 
Cayetano placed seventh in the senatorial race with 19,295,314 votes.
Filipinos are finding it difficult to digest Cayetano's stance on his former rival given that he was like an attack dog during the 2016 debate.
Asan na yung Cayetano na nanggrill noong 2016? Yung ang daming facts na binuga?
"Cayetano was one of Marcos Jr.'s fiercest opponents during the vice-presidential campaign in 2016, highlighting in election debates the Marcos family's issues of corruption and ill-gotten wealth." https://t.co/bTC4VzNzOa

— Eilyn Yatco (@mspainteilyn) May 18, 2022
Anyare sir AP Cayetano? Have you forgotten this all at once? At what cost?https://t.co/m0FOUTkarH

— d'bullybear (@vin0ric0) May 19, 2022
Some are still hoping that the Supreme Court would disqualify Marcos, leading to a Robredo presidency.
Even the notorious rival for VPresidency in 2016 Cayetano is warming up with Pres-elect Marcos. Pero si Leni, hayun- still bitter. 🤪 Still dreaming, SC will disqualify PBBM. https://t.co/J8mJKlQzpi

— A L C H E M i S T ® (@RyanRZambrano) May 18, 2022
Cayetano has a history of flip-flopping on several issues.
This was the guy who slammed Marcos Jr in his face how thievery and corruption were committed by the latter in a 2016 debate. Now the same guy is saying give him a chance. Cayetano, you're a 🤡 pic.twitter.com/EzTN4tZQDS

— Ms Fed Up (@ms_julstomany) May 19, 2022
ulol. @alanpcayetano

this you?https://t.co/uwZY3k4L5w

— WhiteNoise (@monday_demos) May 18, 2022