The hitmaker sent encouragement to those who aspire to conquer the world of songwriting as he did: "Don't lose fire.."
It is a very timely and compelling message for all those who are striving to penetrate their chosen fields but easily get disheartened by challenges brought by intense competition, and rejection.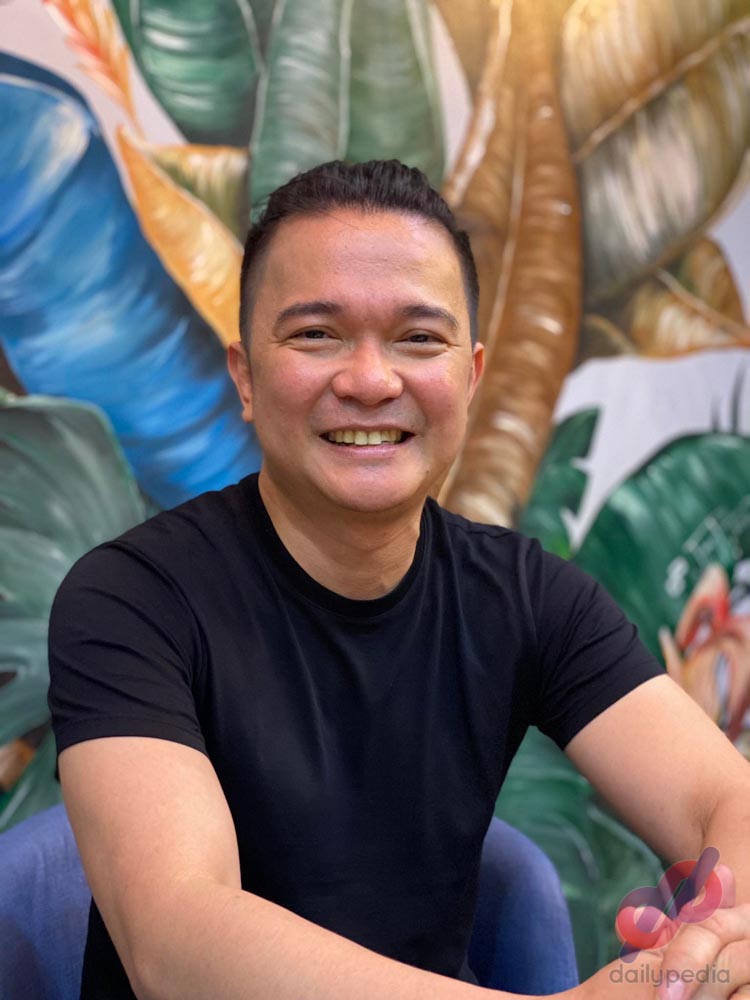 Speaking to members of the press, Manalo shared his recollection of his humble beginning, his path toward making hit music, and his plans for the future. He remembered 'Tara Tena' the very first song he wrote as an amateur songwriter, and how it encapsulated his passion for music and nationalism. 
"Amateur man ako, 'yun ang naging grand prize winner," he shared, noting how it became a rally song for the youth, especially at a time when the country has descended into a political turmoil. 
Manalo wrote the song as an entry to ABS-CBN's Himig Handog Sa Kabataang Pilipino, at a time when the country was still reeling in the wake of the historic EDSA Dos.
Asked which among his hits he considers being his biggest, he agreed that it is Pinoy Big Brother's original theme song, Pinoy Ako, sung by the 2000s band, Orange and Lemons. 
"Naging anthem na s'ya eh…kahit hindi PBB nagagamit s'ya like sa Olympics, SEA Games, and everytime may Pinoy pride (It already became an anthem…even beyond PBB…it gets used at Olympics, SEA Games, or every time we get that rare Pinoy pride moment)" he noted.
Manalo has so far released more than 300 recordings. 
He shared that he has worked with almost every local legend and fast-rising new singers and that he aspires to make more international collaborations, in the future. Among those he has already worked with, he paid utmost tribute to Mr. Pure Energy, Gary Valenciano, whom he regarded as someone he will always get starstruck with. He notably wrote Ililigtas Ka Niya, one of the anthemic official sound tracks of the Kapamilya drama, FPJ's Ang Probinsyano, and sung by Valenciano. He shared his dream of working with other local greats like Jose Mari Chan and Basil Valdez
Other than writing music, Manalo was also at the creative helm of hit albums by several platinum-selling artists, including Erik Santos, Christian Bautista, Juris, Moira de la Torre, Piolo Pascual, Charice (now Jaken Zyrus), Jed Madela, KZ Tandingan, Iñigo Pascual, and Yeng Constantino. He also wrote and produced soundtracks for various TV shows and movies. He said that most of these artists are very likely to appear in his upcoming anniversary concert, which he shared is slated to be held on October 15 at Resorts World. 
He also shared that while he already produced as many songs as he can remember, he can not recall a single moment when he felt tired of doing the same thing over and over again. "Ang dami ko na palang nagawang songs and hindi ko naramdaman na naging uninspired ako, na napagod ako ever (I realized I've produced too many songs already, and yet I have never relaly felt tired or lost the inspiration in doing more).
He did not stop at the height of the pandemic, and he was in fact, among those who kept Star Music thriving after the ABS-CBN shutdown. He produced the now iconic 'He's Into Her' theme, which is sung by the sensational P-POP idol group, BGYO.
Manalo shared how he was able to write hundreds of songs that each represents the many human emotions. "Hindi puwede sa mga creatives like me na walang feeling. Kailangang laging may extremes). It's not possible for creatives like us to not have any feeling). It's either extremely heartbroken or sad ka o extremely inspired or happy ka, doon lumalabas 'yung outpouring ng emotions, and then nagkakarooon ng conception (It's either you're extremely sad or happy, that the emotions come out, and the creation of music begins). You create something that's very exciting, na output mo" he shared, noting he's at his most creative when he's on the extremes of either sadness or happiness.
While he has already received hundreds of accolades from top award-giving bodies in the country, Manalo shared that it took him many rejections and falls before he got that much-awaited momentum to propel in the world of music-making. "I had received so many 'Nos' in my life. I still get a few rejections until now. But the first 'Yes' that I got that changed my life was Himig Handog Song Fest,"
Humbled when one member of the press addressed him as a music legend, Manalo admitted that he can not say, what qualities exactly make someone a music legend. 
"Ang secret lang talaga eh passion at dedication mo sa craft. Kung baga everytime na gagawin mo siya, gagawin mo ang best mo (The secret really is your passion and dedication to your craft. You do your best every time you get the chance)" he said, as he also shared that it is not all about the earnings that make a songwriter legendary, but the dedication he put into every work that gives him a long-term value.
Manalo shared that there is no formula in coming up with a hit song, but he shared that "A hit is when people relate to young song" he said, likening the art of songwriting to cooking, where everyone has his unique recipe for the same dish. "Para pakinggan ng tao nang paulit-ulit, kailangan siyang nakakarelate (for people to play your song over and over again, it needs to be relatable)" he added.
As part of the celebration of his 20th anniversary, Manalo is also set to release a compilation containing his hit songs re-imagined by a diverse set of local artists. It is one of the three upcoming projects he shared, with the other two being the musical series, Lyric and Beat, (which will utilize his hit songs and new songs he will write for the show) and his anniversary concert at Resorts World.