Philippine National Police (PNP) chief Dionardo Carlos has been criticized for admitting that the PNP helicopter, an H125 Airbus, that crashed in Quezon province was supposed to pick him up at the Balesin Island after he spent some "private time" at the said place.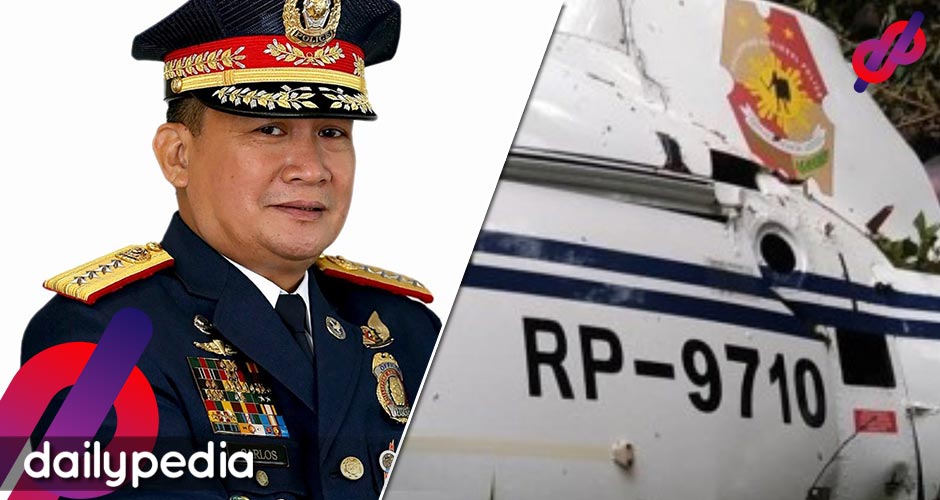 "I regret that the accident happened and never wish harm to my personnel nor losses to the organization," said Carlos in a statement.
"Rest assured that a thorough investigation is being undertaken," he added.
He revealed that he was supposed to leave on Monday via private transport.
"However, I was informed that due to unforeseen circumstances, said private transport would only be available in the evening of Monday.
"The flight directive was allowed and issued following PNP rules and regulations," he explained.
Unfortunately, the aircraft crashed. The casualties include Police Patrolman Allen Noel Ona and injured Lt. Col. Dexter Vitug, the pilot, and Lt. Col. Michael Melloria, the co-pilot. The cause of the crash has yet to be determined.
Interior Secretary and National Police Commission chairperson Eduardo Año reasoned that the trip was legal despite it happening for personal reasons.
"He's the CPNP (chief PNP) and as the CPNP attending to official functions, it is just rightful for him to use the PNP chopper," Año told reporters.
"Hindi mo mahihiwalay ang private time from an official time.Bilang CPNP, Kasama ['yan] sa privileges as head of org," he added.
Netizens noted the abuse of power displayed by Carlos.
Wow. He has no shame admitting he was gonna be fetched by the PNP chopper after spending "private time".

Iba rin. Taxpayers ang tagabayad ng fuel nya😡 https://t.co/m7Yu0frofM

— Budget Babe (@znsuzara) February 22, 2022
DILG Usec. Jonathan Malaya denied claims that Carlos is related to the owners of the resort.
Sally Jonson statement on the private time of the Chief PNP & his family in Balesin island resort: The fact that PNP's high official are being invited at Balesin would only mean one thing – that these government officials can be bought by the Ongpins to keep their mouths shut🤬. pic.twitter.com/Qj807ZvT7z

— ABS-CBN News (@ABSCBNNews) February 22, 2022
Nasa beck and call niya ang helicopter.
May membership sa Balesin.
Private time simula Sunday afternoon hanggang Monday morning.

Ibang level magbakasyon ang opisyal ng PNP. Ano na nga ang salary grade mo, PNP Chief Dionardo Carlos?#RESIGN https://t.co/EtUplTuIOS

— ✨✨ #KulayRosasAngBukas ✨✨ #LeniKiko2022 ✨✨ (@lou_kas) February 22, 2022
What happened was truly a tragedy, and people can't help but blame Carlos for it.
Someone died dahil sa pa-VIP treatment mo at ginamit mo pa ang government chopper for personal use. Kung meron ka pang konting hiya sa sarili mo at sa sambayanang Pilipino PNP Chief Dionardo Carlos, sana man lang ngayon pa lang mag RESIGN ka na. https://t.co/jjl4FX35oH

— EggtlogNaMaalat (@EggtlogNaMaalat) February 22, 2022
A PNP personnel died because of this so-called "privilege". At least show some remorse in your statement and hold yourself accountable, Police General Dionardo Carlos.

— Faizza Tanggol⁷ (@FaizzaTanggol) February 22, 2022
Apparently, the crashed PNP chopper was on its' way to Balesin island to pick up PNP Chief Gen. Dionardo Carlos.

What is the PNP Chief doing in Balesin island and are we paying for his vacation?

— Lean Porquia #ResistTheFascist (@IanMakabayan) February 21, 2022
Condolences and prayers sa officer na namatay. Ano kaya ang iniimbestigahan ni PNP Chief Dionardo Carlos sa Balesin, na chopper pa ang pinangsundo. https://t.co/oMZHnJSwxa

— Gladi8r ⛳ (@jnpangilinan79) February 22, 2022