Filipinos continue to bring home the bacon in 2021, not only for themselves but for the entire nation.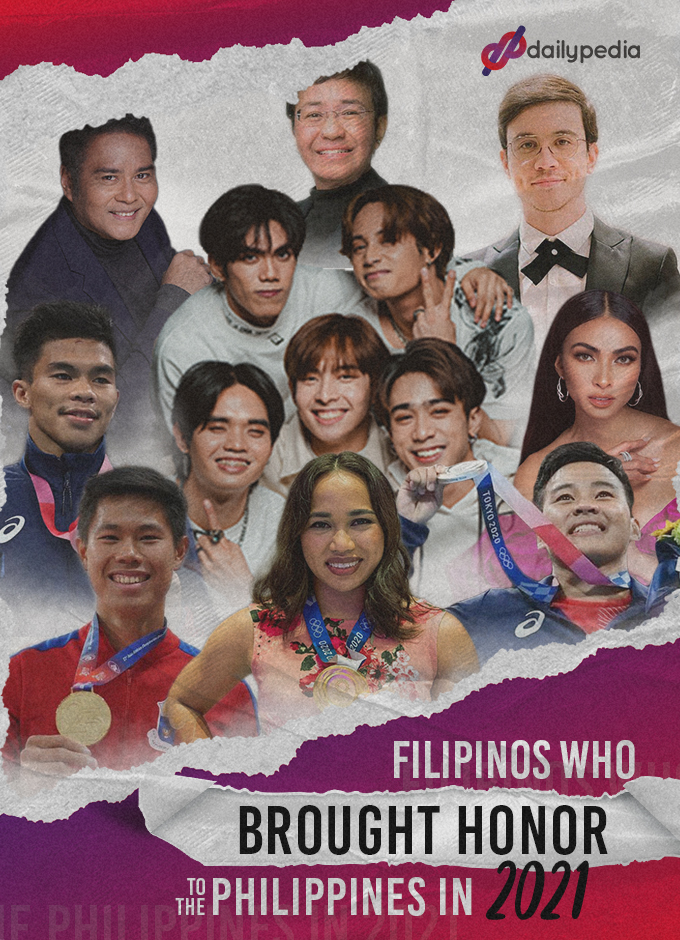 In 2021, Filipinos from various fields hoisted the Philippine flag with pride and honor. From a beauty queen who is first to get to Miss Universe's Top 5 in years to an Asian pole vault champion…to the first Filipino to ever get awarded the prestigious Nobel Prize, the glory that these people of incredible distinction brought to the country, is truly unprecedented.
The following are nine Filipino history makers who roared the loudest in 2021:
Arjo Atayde, Asian Academy Creative Awards Best Actor.
The brilliance of the Filipino actor has long been showcased on the global stage, but it's not something that comes by without extensive artistic efforts. It's a massive undertaking that only the finest actors find ease in pulling off. Atayde is one of those actors whose stellar portrayal as 'The Bagman', on the eponymous iWantTFC series, is one magnificent to behold and one that deserves the highest of acclaims like the Best Actor trophy from the Asian Academy Creative Awards.
Beatrice Gomez, Miss Universe Philippines.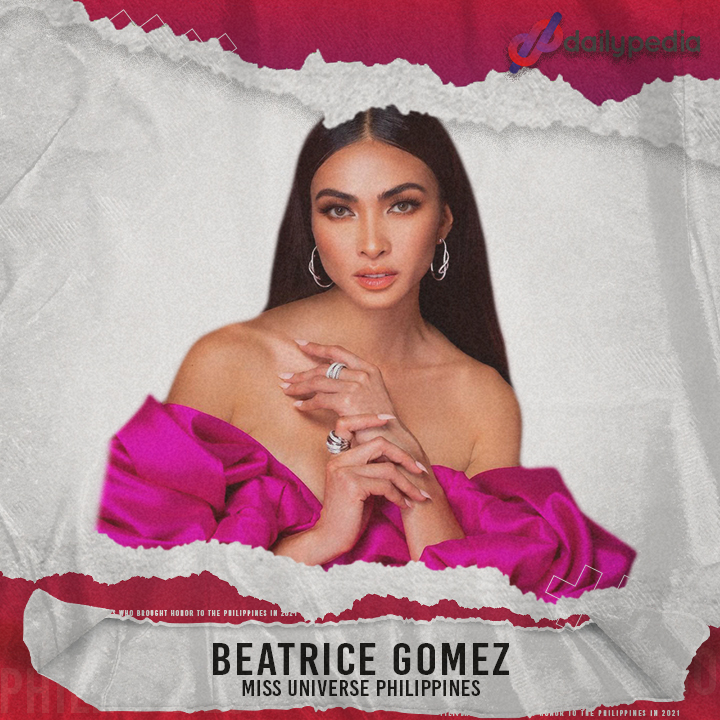 Representing the Philippines at a beauty pageant stage as prestigious as Miss Universe alone is a task not many can pull off. But Gomez did more than just that, and she is the first openly-bisexual Filipino woman to represent the country at Miss Universe. Moreover, she is the one to end the country's two-year Top 5 drought at the said beauty pageant. The powerful message of inclusivity, representation, and women empowerment she delivered, makes her a unique personality who's undoubtedly poised to become a history maker.
Carlo Paalam, Olympic silver medalist.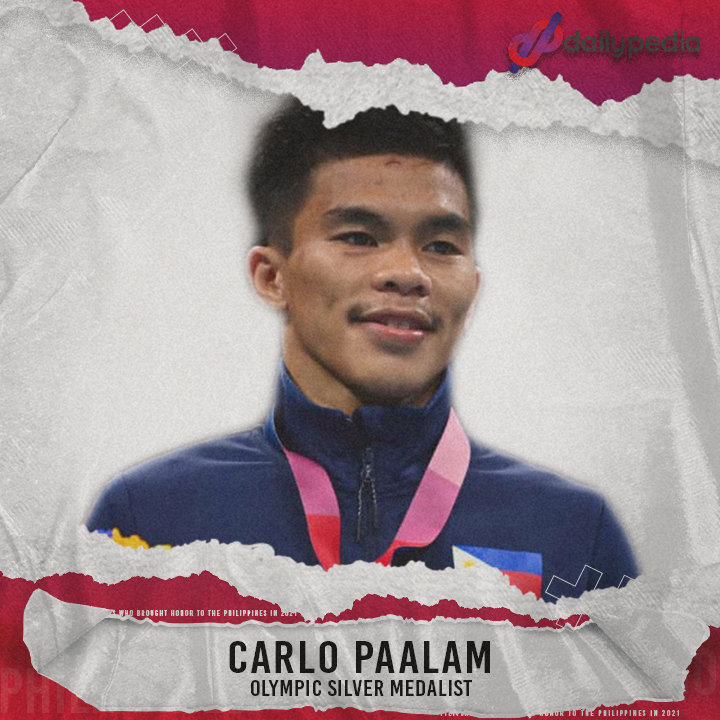 Paalam is the first Filipino boxer to replicate Onyok Velasco's victory at the 1996 Atlanta Olympics, ending Philippine boxing's 25-year drought at the global sports event. His victory suggests future big milestones, but it is also a call for further support to Filipino athletes who are vying for honor on the global stage.
Cinderella Faye Obeñita/Alexandra Faith Garcia/Maureen Montage, international beauty pageant titlists in 2021
Although it's no longer a surprise, the Filipina beauty soaring again took center stage in 2021, with multiple titles being brought home simultaneously by Filipino beauty queens. Obeñita the country's winning spree in October by bringing home the Philippines ' second Miss Intercontinental crown, while Alexandra Faith Garcia scored our first Miss Aura International title a few days later. On the other hand, Maureen Montagne brought home the Miss Globe crown in late November.
EJ Obiena, Asian pole vault record holder.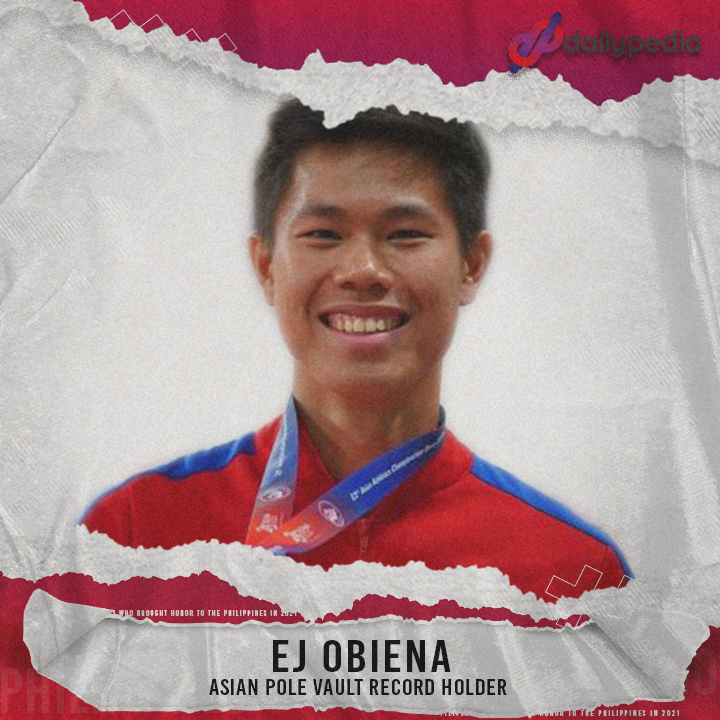 It's such a gargantuan to dominate a sport traditionally lorded by Western superiors; that's why it's a bit surprising and amusing to finally see a Filipino make a name in the pole vault, an athletic sport that remains foreign to most Filipinos. In September, Obiena pulled off a historic 5.93 meters, enough for him to shatter existing Asian records for the sport. It's a humongous turnaround after he fails to secure a podium spot at the 2020 Tokyo Olympics and the Philippine Sports Commission fiasco he got in, this year.
Hidilyn Diaz, First Filipino Olympic gold medalist.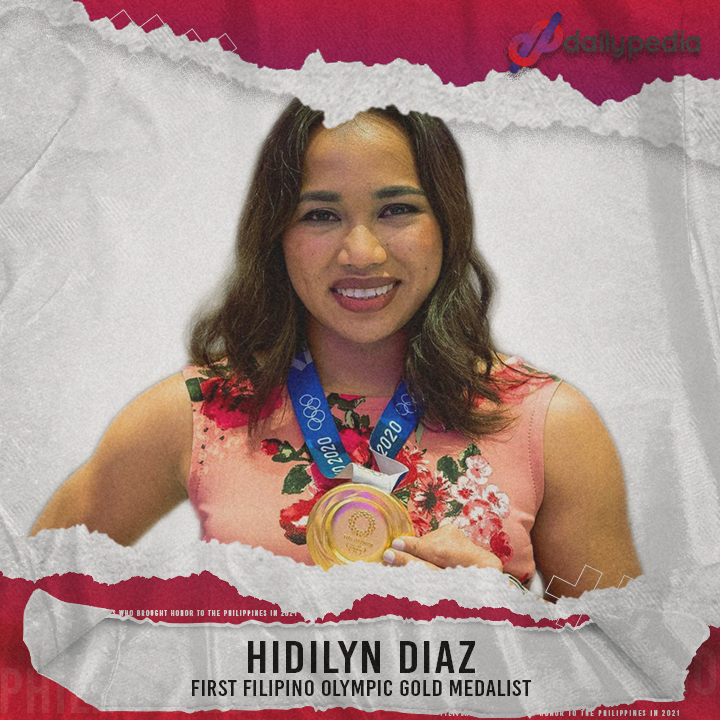 Diaz's victory at the 2020 Tokyo Olympics as the first Filipino to bring home the elusive Olympic gold is an inordinate feat that might remain among the Philippines' most glorious moments in sports for several decades to come. Her success does not only underscore the women's increasingly important participation in history-making, which deserves all possible commendation.
John Arcilla, Venice Film Festival's Volpi Cup for Best Actor.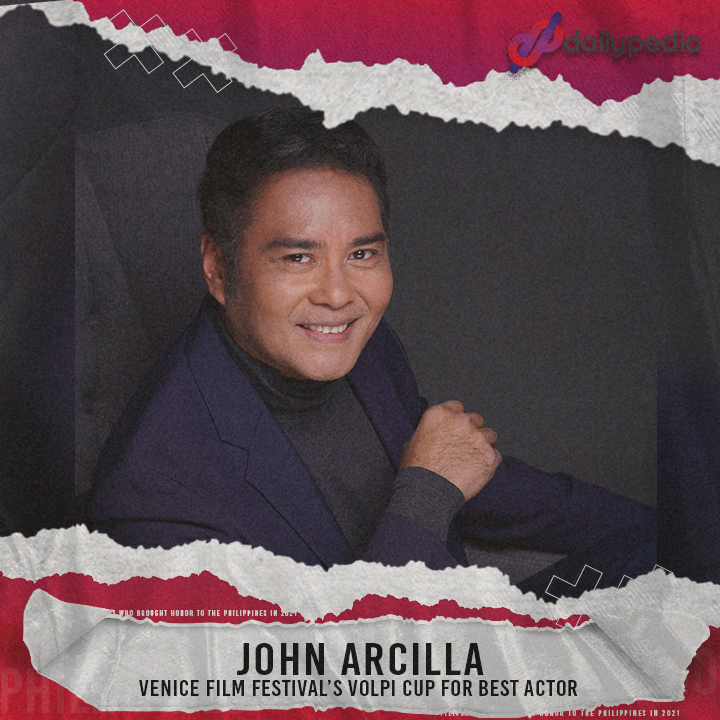 Arcilla had no struggle essaying his role in Erik Matti's sequel to his critically-acclaimed feature, On The Job. Years of proving his mettle in tackling challenging characters have made Arcilla completely evolve to the exemplary actor that he is now. In On The Job: The Missing 8, he proved just how exceptionally brilliant he has been, although his nefariously wicked role on the FPJ's Ang Probinsyano could be enough to convince us he's a performer to die for.
Maria Ressa, First Filipino Nobel Laureate.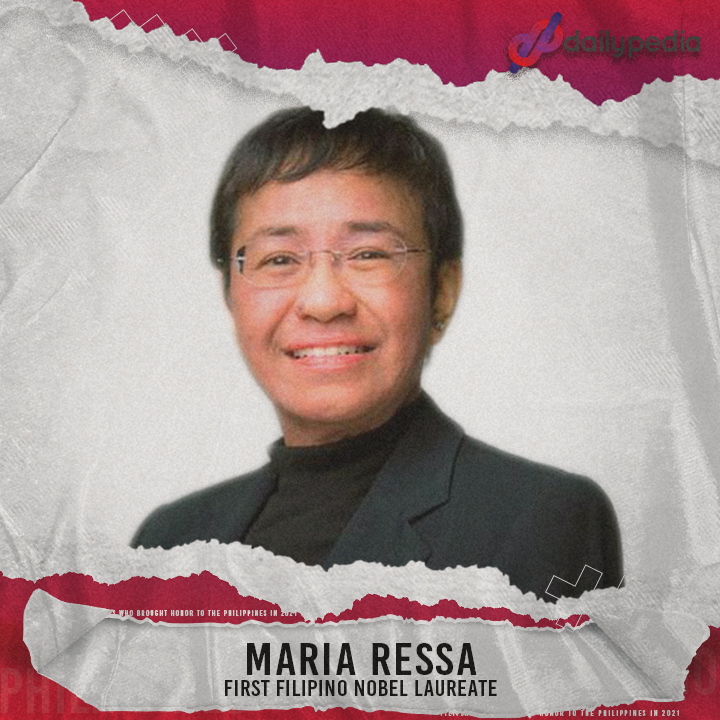 The quest for truth continues in the Philippines, which international media organizations and various human rights advocates tagged as among the most dangerous places to practice journalism. Ressa's emergence during these dangerous times seems to underscore the dire situation of truth-seekers in the Philippines and thus should be honored with great appreciation. Ressa's taking home the first Nobel Peace Prize for the Philippines is screaming proof of her utmost dedication to get the people's version of events makes it to the headlines.
Nesthy Petecio, First Filipina boxer to win an Olympic medal.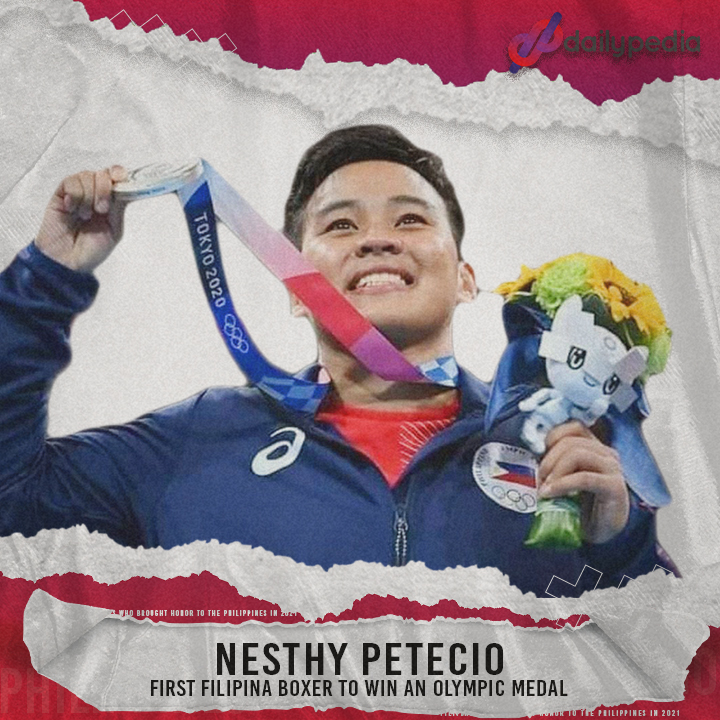 In a sport largely dominated by men, the attention paid to female athletes is as scarce as the honor given to them in any field. Our struggle to break free from stigmas that kept women from participating in certain male-dominated sports was bleak until Petecio's silver medal win at the Tokyo Olympics brought about discussions about the rarely pondered-upon issue.
SB19, First Filipino act to be nominated at the Billboard Music Awards.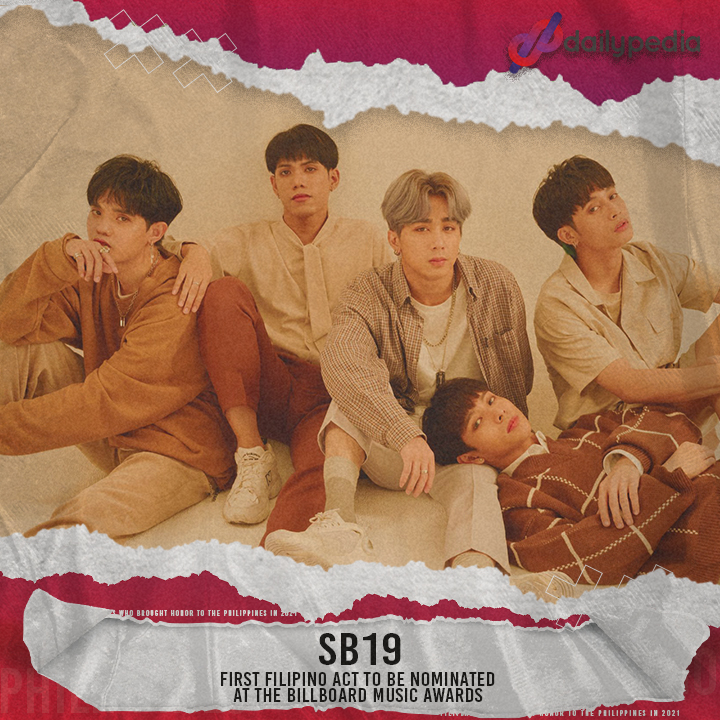 Breaking through at the international music arena alone is a feat not too many Filipino acts pull off with ease. This year, SB19 earned the distinction of being the first-ever Filipino act to get nominated at the Billboard Music Awards, vying alongside musical greats, BTS, Ariana Grande, BlackPink, among others, and proving they are worthy of being called P-POP Kings. Recently, they made another entry to OPM's history books as the ones to dethrone the global smash group, BTS, from Billboard's new chart, Hot Trending songs.
Did you think we're missing someone who should be on this list? Join the discussion by dropping a comment in the comment section below: